By Amanda Branam
Arizona Daily Wildcat
Friday, March 25, 2005
Print this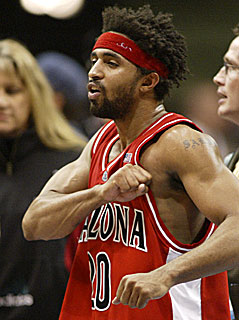 KEVIN B. KLAUS/Arizona Daily Wildcat
UA senior guard Salim Stoudamire celebrates after knocking down the game-winning shot last night as the No. 3 seed Wildcats defeated No. 2 seed Oklahoma State, 79-78, in Allstate Arena in Rosemont, Ill.
ROSEMONT, Ill. - It came down to the last shot.
Luckily for Arizona, Salim Stoudamire was there to take it - again.
The senior guard hit a jumper with just under three seconds remaining to elevate the No. 3 seed Wildcat men's basketball team over No. 2 seed Oklahoma State 79-78 last night.
With his shot, the Wildcats advance to the regional final tomorrow against top seed Illinois.
OSU forward Joey Graham scored a jumper with 19 seconds left to give the Cowboys a 78-77 lead, after a similar shot by Arizona senior center Channing Frye. Graham finished with 26 points and eight rebounds.
"We just wanted to make sure we had our two seniors who have started for four years making that last decision, and Salim hit it," said Arizona head coach Lute Olson. "The shot before, Channing hit a big time shot."
Against a tough OSU defense, the Wildcats were able to shoot 66 percent (31-47) from the floor and 50 percent (7-14) from 3-point range.
Until a free throw with six minutes left brought the score to 65-66 OSU, Stoudamire had not scored a single point in the second half.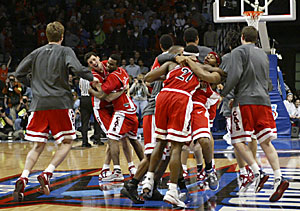 KEVIN B. KLAUS/Arizona Daily Wildcat
Stoudamire's teammates celebrate at midcourt after the clock ran out, sending Arizona to an Elite Eight matchup with No. 1 Illinois tomorrow.
A minute and half later, he drove the lane and put in a layup to make the score 67-69, then drained a 3-pointer to bring the Wildcats within two.
He scored 11 of the last 15 Wildcat points in the game and ended with 19 points.
"I'm happy, but I want to get to the Final Four, because I haven't been there," he said.
Junior forward Hassan Adams kept the Wildcats in the game for much of the second half with nine second-half points, to pick up the slack when Stoudamire wasn't scoring.
Adams had a double-double with 19 points, 10 rebounds and two blocks.
"You lose you go home, that's what it's about," he said. "I'm laying it on the line right now."
Frye also had a double-double, scoring 15 points and adding 10 rebounds.
After trading baskets over the last five and a half minutes of the first half, Graham tied the score at 38 on a layup with 25 seconds left.
Adams made a 3-pointer at the top of the key as time expired to give the Wildcats a 41-38 halftime lead. Adams went 4-for-5 from the floor and 2-for-3 from 3-point range for a team-high 10 points in the first half.
OSU went on a 12-3 run to take a 32-30 lead on a pair of free throws by Graham. The Cowboys tied the score at 30 on a lay-in by Daniel Bobik with 5:27 remaining.
Junior guard Chris Rodgers put the Wildcats back on top, 34-32, with a jumper.
Several Wildcat players got in foul trouble early, as Stoudamire picked up his second foul in the game's eighth minute and played only 10 minutes in the first half.
Sophomore center Kirk Walters got his second foul with 7:39 remaining in the first half, and sophomore guard Mustafa Shakur picked up his second foul with 2:44 remaining in the half.


Write a Letter to the Editor