By Roman Veytsman
Arizona Daily Wildcat
Saturday, March 26, 2005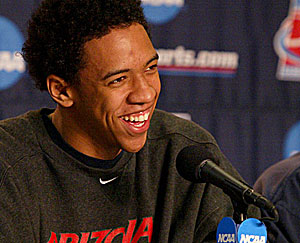 KEVIN B. KLAUS/Arizona Daily Wildcat
Senior center Channing Frye laughs as he answers questions from the press during the team's media conference today in Chicago.
Get it to Channing
While the Oklahoma State big men were undersized during the Cowboys' Sweet 16 loss to Arizona, they were not as overmatched in height as Illinois should be Saturday, when the top-ranked Illini face the No. 3 seed Wildcats at 5 p.m. MST in Allstate Arena.
The Illini start 6-foot-10 forward James Augustine and 6-foot-6 forward Roger Powell up front, neither of whom do much with their backs to the basket.
Arizona's starting frontcourt, senior center Channing Frye and sophomore forward Ivan Radenovic will look to take advantage of the size differential even more so than in the regional semifinal.
"They're not as athletic as we are," Radenovic said. "Channing is going to be the key guy tomorrow because he has the ability to score on both on them. I think Channing is more athletic than Augustine and I think we should put the ball in Channing's hands tomorrow."

Much respect to them though
Head coach Lute Olson called the Illini big men underrated and Frye did the same, saying he had a lot of respect for the job they have done this year.
Augustine had 11 points and 10 rebounds on 3 of 3 shooting from the field in Illinois' previous game against Wisconsin-Milwaukee, while Powell chipped in with 12 points and nine rebounds.
"The three guards get so much attention that people don't take them seriously or don't take them as good basketball players," Frye said of Powell and Augustine. "They're excellent basketball players and they do what it takes for their team to win because Illinois would not be 35-1 if Augustine and Powell were not good players."
Illinois' bench gets taller but their effectiveness was nowhere to be seen in their regional semifinal game. Six-foot-10 forward Jack Ingram, 6-foot-9 forward Warren Carter, and 7-foot-2 center Nick Smith combined for a total of zero points and three rebounds in that contest.
Head mum about injury
Illinois Senior guard Luther Head hurt his hamstring in Tuesday's practice but he wasn't talking about the injury.
After initially ignoring the question of the injury all together, Head said the hamstring was okay. He was also discreet about the treatment he has received in the last few days.
After admitting he received a massage treatment on it, he said "it was relaxing."
Head didn't look too bothered in Illinois' regional semifinal win over UW-Milwaukee, scoring 12 points in 33 minutes, although he did shoot just 5 of 15 from the floor and he lacked any of the highlight take-offs to the basket that he has become known for.
Having a little fun
Media day press conferences can be tedious and boring to the players, especially when your teammates are the focus of the interrogation.
So when the first question was asked, Olson decided that Radenovic should answer. in Serbian.
The members of the media looked perplexed, but the Arizona starters got a good laugh about it.
"We wanted to see if anyone spoke Serbian," Olson joked.
Although the Wildcats have been all about business, they've been able to stay loose in the locker room and away from the court joking amongst each other.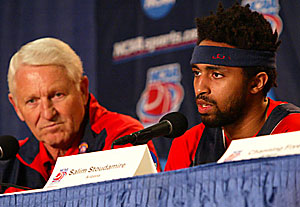 KEVIN B. KLAUS/Arizona Daily Wildcat
Senior guard Salim Stoudamire and Head Coach Lute Olson talk about what it will take to beat Illinois in the Elite Eight tomorrow night.
Happy but not content
Senior guard Salim Stoudamire has never been to a Final Four.
His game-winner against Oklahoma State allowed the Wildcats to make it to the elite eight but Stoudamire's reaction was not one of complete joy, both after the shot and after the game.
"I'm happy but I want to get to the final four because I haven't been there, so I know there is business ahead of us," he said. The last time Stoudamire was close was in 2003 when the Wildcats lost in the elite eight to Kansas, and Jason Gardner missed the final shot.
Anxious and excited
For the Arizona seniors, this is the last chance they will get to reach the ultimate destination in college hoops.
For the rest of the squad, it's a chance to shine in front of the whole nation and an opportunity to showcase Arizona basketball.
"We definitely look forward to this time of year," sophomore guard Mustafa Shakur said. "There's a lot of excitement and we have a chance to show the whole country what type of team we are and how hard we work.
Don't believe the lack of hype
"The East coast rarely gets to see us," Shakur, a native Philadelphian said. "A lot of times we haven't got the respect that we deserved but in due time it will come as long as we keep winning and handling the things on the court the way we are supposed to and not really worrying about the hype they are getting on the East coast."
Frye was surprised when one reporter asked if Arizona was going to try to pound the ball inside.
"Just the fact that you consider us bangers is kind of nice, it's kind of different," he said.
Shakur's minutes falling
With defensive stopper Chris Rodgers playing an average of 24 minutes in the last two games, Shakur's minutes dropped to an average of 26 in those games.
Rodgers, who has asked for minutes all year long is finally capitalizing on his request, partly because of his ability to shut down tough guards, of which the Illini have plenty.
Rodgers is also outscoring Shakur by an average of nine points to six during the NCAA tournament, and has turned the ball over only one time compared to Shakur's seven turnovers.
Nothing but net
Arizona shot 66 percent for the game against Oklahoma State including an unreal 69.6 percent in the first half, setting season highs for the half and for the game.
Illinois, meanwhile is a very good shooting team in its own right, shooting at a 48.8 percent clip through the season.
"It's going to get down to possessions," Olson said. "Because both teams shoot the ball very well."


Write a Letter to the Editor