By Amanda Branam
Arizona Daily Wildcat
Saturday, March 26, 2005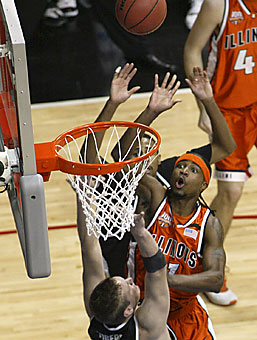 KEVIN B. KLAUS/Arizona Daily Wildcat
Dee Brown in Illinois' win over Wisconsin-Milwaukee Thursday
ROSEMONT, Ill. - For the UA men's basketball team, the road to the Final Four in St. Louis has been paved in orange.
After defeating Oklahoma State Thursday, 79-78, on a late jumper by senior guard Salim Stoudamire, Arizona faces No. 1 Illinois, the top seed in the entire NCAA Tournament.
If that wasn't difficult enough, Arizona must face the top team in the country this year in the Chicago Region, just over a two-hour jaunt from the Illini's campus in Champagne-Urbana, Ill. Tip-off will be at approximately 5:05 p.m. MST, and will be televised on CBS.
"I think everyone in this region has known if you want to get through this region you have to go through Illinois to get there," Arizona head coach Lute Olson said. "I think it is going get down to possessions, it's going to get down to who does the best job on the defensive boards, and who does the best job of taking care of the ball. That's going to be an important factor for both of us because both teams shoot the ball very well."
Most of what Olson sees as key factors are duties relegated to guards, the position that will likely win or lose the game for either team. Both teams, luckily for them, have stellar guards.
Junior guard Dee Brown is only 6-feet tall, but he has arguably the biggest heart on this Illini team.
Brown has solidified himself as one of the top players in the nation, and the team's emotional leader. He leads the team in scoring and poured in 21 points Thursday against Milwaukee-Wisconsin in Illinois' Sweet 16 victory.
However, Brown failed to score a field goal in the Illinois' second-round game against Nevada, which the Illini won 71-59. Brown said stomach cramps were the cause for his scoring shortage.
While Brown's cramps are of no concern right now, the hamstring injury of senior guard Luther Head is a major worry for the Illini.
He suffered the injury in practice on Monday. They were not sure Head would play yesterday, but he put in 33 minutes of work, scoring 12 points and dishing out six assists. Head stayed mum when questions about the condition of his hamstring arose, simply saying the hamstring was "OK".
The final part of the three-headed monster is junior guard Deron Williams, who tied Brown for a team-high 21 points and dished out eight assists in yesterday's Sweet 16 game in 38 minutes of play. He has led the Illini in assists in all three of their tournament games so far.
"It's going to be critical for all of us (guards) because they have three outstanding guards that really feed off each other," UA sophomore point guard Mustafa Shakur said about facing the Illini guards. "I think we have a quickness on the wings and at the point guard position, and also we match up well down low with Channing and Ivan."
The Illini's bench players - or lack thereof - may be a weakness for the Illini in this game. Four different Illini players came off the bench last night for a combined 19 minutes, with none having double-digit minutes in the game. More importantly, they went 0 of 4 from the floor.
Comparatively, Arizona played three off the bench - an uncharacteristically low number this season - with the trio put in a combined 42 minutes, scoring a total of nine points. Junior guard Chris Rodgers and freshman forward Jawann McClellan went 4 of 6 from the floor.
When Arizona senior center Channing Frye and sophomore forward Ivan Radenovic - 6-foot-11 and 6-foot-10, respectively, are both on the court, the Wildcats have a distinct size advantage over the Illini. Ilinois starts junior center/forward James Augustine at 6-foot-10 and senior forward Roger Powell Jr. at 6-foot-6. Augustine scored 11 points and grabbed 10 rebounds, while Powell Jr. added 12 and nine, in the win over Wisconsin-Milwaukee.


Write a Letter to the Editor