By Amanda Branam
Arizona Daily Wildcat
Sunday, March 27, 2005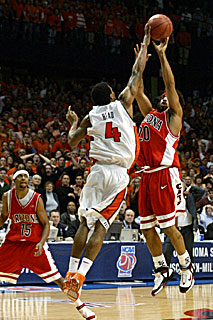 KEVIN B. KLAUS/Arizona Daily Wildcat
Senior guard Salim Stoudamire gets blocked as he goes up for three late in the second half of Arizona's 90-89 loss to Illinois in Chicago Ill.
Once again, the NCAA tournament has proven that no lead is big enough, and no lead is safe, at least until the final buzzer sounds.
No. 1 seed Illinois, playing with a virtual home-court advantage just a car ride from its Champaign, Ill., campus, overcame a 15-point Wildcat lead with 4:04 left to send the game into overtime, and eventually won 90-89.
We knew we were the better team tonight, but the best team played the full game and we only played 36 minutes," UA freshman guard Jawann McClellan said.
Arizona had the final shot of the game in overtime, after junior forward Hassan Adams grabbed his eighth rebound of the game, but Adams missed a 3-point shot as time expired.
"Down the stretch we had a number of mistakes," Arizona head coach Lute Olson said. "Not coming to the ball, they got interceptions on us, and to their credit they knocked down threes under the most extreme pressure."
After being up 75-60 with four minutes left, the Illini went on a 20-5 run to tie it up at 80 and the send the game into overtime. Illini junior guard Deron Williams hit eight points in the stretch and two 3-pointers in overtime to seal the game for the Illini. Williams finished with 22 points and 10 assists.


"I thought Williams was absolutely fabulous. He played 44 minutes, and to do the job that he did defensively and shoot the ball as he did, it was a great effort," Olson said.
Adams had another phenomenal game in the tournament with 21 points, eight rebounds, and five assists. Senior forward Channing Frye continued his dominance inside over the final weeks of the regular season up through the tourney, finishing his Wildcat career with 24 points, 12 rebounds, and six blocks against the Illini.
"Hassan Adams had an unbelievable game," Olson said, adding that he wouldn't be surprised if Adams declared for the NBA draft, leaving school after just his junior season. "It's a case of where if Hassan goes hard every possession like he did tonight, he's as good a player as there is around."
A nice surprise for the Wildcats came from sophomore point guard Mustafa Shakur, who scored 12 points and had four steals. In the three tournament games before tonight, Shakur scored a total of 11 points.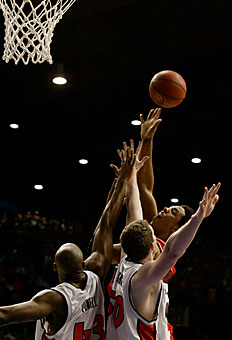 KEVIN B. KLAUS/Arizona Daily Wildcat
Senior guard Salim Stoudamire, in his final game as a Wildcat, had a rough shooting night, going 2 of 13 from the floor, 1 of 7 from 3-point range for nine points.
"It was just an off point on my part, I didn't knock shots down. But, I tried to do other things on the floor," Stoudamire said, who also seven assists and five rebounds for the game.
A quick 13-3 run to open the second half gave the Wildcats a 49-44 lead, but the Illini came right back on a jumper and a free-throw from junior big man James Augustine to cut Arizona's lead to 51-50.
The first half of play saw five lead changes, with the Illini having a lead from the 8:43 mark at 23-24 to the end of the half, a 36-38 halftime lead.
The Illini built up a 36-29 lead with 4:36 remaining in the half, but the Wildcats went on a 15-5 run to end the half. In that stretch, Shakur scored the Wildcats last 4 points, to give him 7 in the first half.
"If you didn't care who won, I don't know that you could ask for more of an effort out of a bunch of kids on both teams. This game was played at a high level, with unbelievable passion and intensity. We had our chances, we just didn't close them off," Olson said.


Write a Letter to the Editor