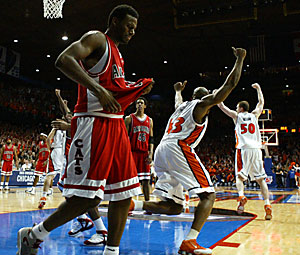 KEVIN B. KLAUS/Arizona Daily Wildcat

By Roman Veytsman
Arizona Daily Wildcat
Sunday, March 27, 2005


Up 15 with a four minutes and four seconds left to play.

Up eight with 63 seconds left to play.

Then everything went wrong, and any hopes of a trip to the Final Four went down the drain.

There were turnovers, missed free throws, balls thrown away, defensive lapses and the result left the Illini cutting down the nets and some of the Wildcats crying.

What top-ranked Illinois may have called a miraculous comeback, the Wildcats may call it the biggest breakdown in school history.

"It all happened so fast," freshman guard Jawann McClellan said.

"It was pretty much a blur," Illinois head coach Bruce Weber added.

Utter joy to utter sadness in less than 10 minutes featured Illinois 3- pointers, fast breaks caused by steals, and all the emotions of the game came out as Hassan Adams' 3- pointer missed with the time expiring.

McClellan put his shirt over his head and sobbed of sadness.

Weber, in turn, sobbed with joy.

Channing Frye slumped over and hugged his teammates. Ivan Radenovic put his head in his hands.

"It hurts, it hurts a lot knowing how hard you worked all season," McClellan said.

"I feel like we had it," UA sophomore point guard Mustafa Shakur said.

Arizona was up 75-60 with just over four minutes to play, when Illinois point guard Deron Williams hit a 3-pointer.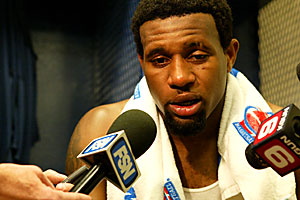 KEVIN B. KLAUS/Arizona Daily Wildcat
After two McClellan free throws, Illini guard Luther Head knocked down another 3- pointer.
Illinois made 16 3-pointers total for the game, including four in the last four minutes and another two in overtime.
Arizona turned the ball over four times in that stretch, the last of which, committed by UA senior guard Salim Stoudamire, ended up in a tying 3-pointer by Williams, making it an 80-80 game.
"I think they stepped their game up," Stoudamire said. "Guys weren't in the right positions on the full court press, and we didn't meet the ball. They were able to get steals and they just hit big shots."
With the score tied, Arizona had one more chance to win it in regulation, when Stoudamire drove and kicked out to Jawann McClellan who missed a 3-pointer.
A loose ball situation occurred and Stoudamire wound up with another shot, which was blocked.
"I thought it was good," McClellan said of his own attempt. "It never should have came down to a last second shot."
In overtime, the Wildcats were the ones fighting back down by six with 1:57 left to go. Adams took the ball to the basket and drew a foul while making the lay-up cutting the lead to 90-87. Another Adams lay-up next time down the floor closed the gap to one. The Wildcats had a chance to win the game after Head's runner missed with 21 seconds left.
Arizona inbounded the ball to Shakur who swung it over to Adams on the right side, slightly higher than the free throw line extended. Adams pivoted and swung the ball through before taking a few dribbles and firing up a 3-pointer, an attempt that didn't come close.
"It just broke down," Adams said of the play. "It was supposed to go to Salim but he was covered and I couldn't really hand it off to him. I was in a situation where I had to put up a shot and hopefully it would go in."
The Wildcats had 11 seconds to get a shot, but the time went by faster than they anticipated.
"That 11 seconds felt like three seconds," Shakur said. "Time just expired."
Arizona had a chance to win it in overtime, but the last four minutes of the second half proved to the most difficult four minutes the Wildcats have ever had to face. Illinois used their trio of guards to pressure heavily, forcing an even more torrid pace than the previous 36 minutes.
"We made some stupid turnovers," Frye said.
Those turnovers turned the game and the momentum in the game around. Illinois' barrage of threes astonished the Wildcats.
"They hit some unbelievable shots that you don't see many people hit with four or five different guys hitting them back to back, back to back," Shakur said.
For 36 minutes, Arizona played like the team with one loss, but for the other four minutes of the second half, the Illini showed why they were the No. 1 team in the country.
The trio of guards combined for almost two-thirds of Illinois' points, including 18 of the last 20 the Illini would score.
In the end, it was just not meant to be for this group of Wildcats. What seemed like destiny because of the Final Four appearances in 1997 and 2001, a trip every four years was apparently not in the cards.
Head coach Lute Olson has been there but that didn't make it any easier
"It was really hard for me, but it was hard for me for the kids," he said.
Arizona was almost there. It was there for practically the entire game. "I think we outplayed them in every part of the game," Shakur said. Four minutes kept the Wildcats from getting there, from being in St. Louis.
"We were the better team out there for 36 minutes," McClellan said.
But it just wasn't enough.


Write a Letter to the Editor