KEVIN B. KLAUS/Arizona Daily Wildcat

UA senior center Channing Frye throws down two of his 15 points during the Wildcats' 79-78, Sweet 16 victory last night over Oklahoma State in Allstate Arena in Rosemont, Ill. Frye completed a double-double by grabbing 10 boards.

By Roman Veytsman
Arizona Daily Wildcat
Friday, March 25, 2005
Print this


ROSEMONT, Ill. - Senior guard Salim Stoudamire's shot with 2.8 seconds left to beat Oklahoma State brought Lute Olson's wife to tears.

Stoudamire dribbled left, pulled up and released a perfect parabola from the left wing about 15 feet away.

He had no doubt.

"I had no doubt at all," Stoudamire said.

Neither did anyone else. Stoudamire's game-winner was his third this season, first at home against UCLA and then again on the road versus ASU.

"I thrive in those situations," Stoudamire said. "That's what I live for, and that's why I play basketball because I think big time players step up in big-time situations. I see myself as one of those type of players."

After hitting his first 3-pointer and scoring eight points in the early going, Stoudamire picked up two fouls and played only 10 minutes in the first half. He went almost 28 minutes without scoring a point.

Then he exploded, unleashing a stretch where he scored 11 points in the last six minutes.

None were bigger than the ones that came on his last shot.

Arizona fans have become accustomed to seeing Stoudamire with the ball in his hands and the game on the line.

He was in that situation last year in Stanford and he failed. Yet more often than not he has succeeded.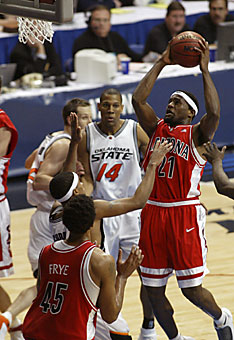 KEVIN. B. KLAUS/Arizona Daily Wildcat
UA junior forward Hassan Adams pushes toward the basket during during the Wildcats' 79-78 victory last night over Oklahoma State. Adams notched a double-double by scoring 19 points and collecting 10 boards.
Usually Stoudamire has the ball on the top of the key and either gets a screen from senior center Channing Frye or waves off the screen and takes his defender one-on-one.
This time, Stoudamire set up shop on the left wing and waved off Frye before crossing over to his left hand.
"That was definitely designed," Frye said. "They had to respect both (sophomore forward) Ivan (Radenovic) and (junior forward) Hassan (Adams) because of the passing that me and Salim had been doing. It was a good sign because it was working and they never stopped it, so we just kept doing what we were doing."
Stoudamire said that he didn't want the screen because he prefers to take his man one-on-one without the possibility of being double-teamed.
Still, Frye came up to set the screen and when Stoudamire drove left, Frye dove to the basket looking for a possible rebound attempt.
"It was just going to be an on-ball screen, and Salim was going to come off and kick it to me or he was going to create for himself," Frye said. "But (Oklahoma State's Daniel) Bobik turned his head to see where the screen was, and Salim just crossed over and did his thing, and that's just big buckets."
While Stoudamire was on the floor with the two fouls, he was less active, choosing instead to defer to his teammates, especially Adams, who took charge with 19 points and 10 rebounds.
"Hassan was stepping up and I didn't want to force anything," Stoudamire said. "I couldn't be aggressive because I didn't want to pick up my third foul, but I knew that my teammates would pick up the slack, and they did that. That's why I have trust in them."
Arizona head coach Lute Olson knew Stoudamire's effectiveness would be hampered if the guard couldn't be as aggressive as usual, so he took Stoudamire out of the game for 10 first-half minutes. Stoudamire wasn't happy about coming out because he still felt he could contribute.
"I was pretty upset because I wanted to be in the game and I know how to play without fouling," Stoudamire said.
The rest gave Stoudamire all the energy he needed to score 11 of his 19 points in the closing minutes.
While Adams held down the fort, Stoudamire finished the game off like Mariano Rivera in the ninth inning, sending the Cowboys packing.
"That's when Salim steps up to his best," Adams said. "When he's on, he's on, and when he got into his groove, it's hard to stop him."
Salim got into his groove just in time for Arizona to advance to the Elite Eight for the first time since 2003.
His sweet stroke not only opened up the floodgates of joy for Olson's wife, but also opened up the Wildcats' road to the Final Four.


Write a Letter to the Editor