---
Sunday, March 27, 2005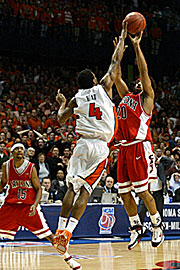 Once again, the NCAA tournament has proven that no lead is big enough, and no lead is safe, at least until the final buzzer sounds.
No. 1 seed Illinois, playing with a virtual home-court advantage just a car ride from its Champaign, Ill., campus, overcame a 15-point Wildcat lead with 4:04 left to send the game into overtime, and eventually won 90-89.
We knew we were the better team tonight, but the best team played the full game and we only played 36 minutes," UA freshman guard Jawann McClellan said.
Arizona had the final shot of the game in overtime, after junior forward Hassan Adams grabbed his eighth rebound of the game, but Adams missed a 3-point shot as time expired. [Read article]


·
Breakdown: How could the Cats' collapse happen?
---
Saturday, March 26, 2005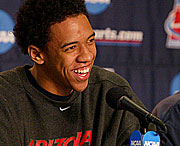 While the Oklahoma State big men were undersized during the Cowboys' Sweet 16 loss to Arizona, they were not as overmatched in height as Illinois should be Saturday, when the top-ranked Illini face the No. 3 seed Wildcats at 5 p.m. MST in Allstate Arena.
The Illini start 6-foot-10 forward James Augustine and 6-foot-6 forward Roger Powell up front, neither of whom do much with their backs to the basket.
Arizona's starting frontcourt, senior center Channing Frye and sophomore forward Ivan Radenovic will look to take advantage of the size differential even more so than in the regional semifinal. [Read article]


·
Opponent Analysis: Brown makes Illini orange tick
---
Friday, March 25, 2005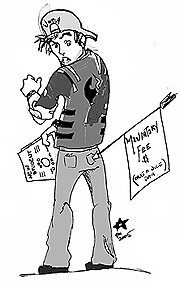 The mother was glaring disapprovingly at me, and I couldn't find it in myself to fault her for it.

It was a typical Friday morning. I was giving a tour for visiting high school seniors, and I had just told her that her son might not be able to receive the same scholarship package that I had. Trying her hand at redundancy, she insisted that he was an "extremely, extraordinarily, amazingly talented student." I could do nothing but shrug, hoping to distract her by pointing to our "exquisite" new Alumni Plaza.
·
Editorial: No right during Bush's Tucson trip
·
Mailbag
Latest Issue: March 24, 2005
Photography may be the most accurate visual representation of reality, while sculpture can offer the most abstract and symbolic representation of reality. But the Museum of Contemporary Art's new exhibit uniquely combines the two with the exhibits "Dave Lewis: State Furniture" and "Dan Budnik: David Smith at Work."
As a part of their Origins series that examines the roots of post-modern art, this exhibition presents Budnik's poignantly real photography of the great 20th century sculptor David Smith as a compliment to Lewis' socially critical sculpture exhibit that examines power. [Read article]

·
Tucson and Campus Calendar
Campus
·
Spring break in Couchville
·
Able intern coordinates senior exhibit
·
CCP showcases '70s
·
Art of Japanese manholes leaves lasting impressions
Film
·
'Ring 2' runs in circles
·
'Chorus' sings, feels good
Music
·
CD Review: 50 Cent
Literature
·
Prose's latest satire shows teeth, wit
Latest Issue: March 23, 2005

From drunken fraternity guys and conspiracy theorists to bug-eyed weirdoes who just creep you out, the strangest customers who enter the U-Mart, always leave a lasting impression on the shop's employees, who just want a little courtesy and respect for their hard work.
Instead, workers occasionally get a mess to clean up or an eye full of spittle from some screaming customer upset that the cashier doesn't want to play 20 questions while other angry customers wait in line.
Despite the various fields and numerous courses available to the students at the UA, it seems that some things are not necessarily taught - or learned - in the classroom. [Read article]

·
Treacherous tales from the ultimate "U-Martyr"

require('/home/webby/html/papers/98/polls/current.php')?>

showAds('bigbutton')?>






showAds('mediumbutton')?>


showAds('wildlinks')?>