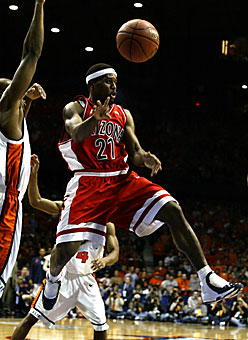 KEVIN B. KLAUS/Arizona Daily Wildcat

Hassan Adams passes the ball during the second half of Saturday's loss. "Hot Sauce" dished out five assists to go with 21 points and eight rebounds.

By Roman Veytsman
Arizona Daily Wildcat
Monday, March 28, 2005
Print this


'hot sauce' on fire

Adams stepped up during Madness

ROSEMONT, Ill. -

In what might have been his final run in an Arizona uniform, junior forward Hassan Adams had the tournament of his life.

Whether he stays - something his mom told the Wildcat he would do because he likes college - or whether he leaves - something Arizona men's basketball head coach Lute Olson said would not surprise him - Adams played some of his best basketball in this year's NCAA Tournament.

Not only did he average 16.5 points per game and 7.3 rebounds per game, both substantially higher than his regular seasons marks, Adams made forays to the basket worthy of acrobats in the circus and keyed defensive stands with steals and blocks shots that would have made Detroit Pistons star Ben Wallace proud.

When senior guard Salim Stoudamire wasn't scoring in the middle of the game against Oklahoma State, Adams took over, scoring 19 points and grabbing 10 rebounds.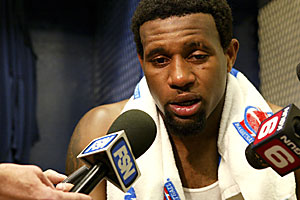 KEVIN B. KLAUS/Arizona Daily Wildcat
Hassan Adams is a picture of disappointment after Saturday's one-point overtime loss to No. 1 Illinois.
Adams' unselfish attitude allowed him to defer to Stoudamire late in that game, when Stoudamire went on to hit the winning shot.
Against Illinois, Adams looked unstoppable at times, going for 21 points, eight rebounds and five assists, while making nine of his 13 shots from the field.
In overtime, when Illinois had the momentum, it was Adams who reeled off five straight points.
"I had to step up my game," he said. "I just wanted to stay aggressive and attack the glass. It was big getting rebounds for us because of the extra possessions, and that wins games."
After shooting just 25 percent from 3-point range this season, Adams hit three of four 3-pointers against Oklahoma State because the defenders were sagging off him.
"I had opportunities to hit my jump shot and I felt real comfortable out there," he said. "It was all about rhythm, just playing within myself. When opportunities (came) for me, I knocked it down."
It's not just the numbers that made Adams so impressive. He has to win.
"I'm a competitor, and whatever it takes for me, being vocal or showing by example, that's what I'm going to do."
Adams has always been vocal, but people just haven't seen it, said sophomore point guard Mustafa Shakur.
Adams is always encouraging with his words, constantly trying to dig for the best in others.
"I think he's always been our emotional leader," Shakur said. "It's just that he's really stepped up as far as his output in the game, which makes it more seen to the public about what he can do."
When sophomore forward Ivan Radenovic joined the team, he looked to Adams for guidance.
Radenovic said Adams made not only him a better player, but also the whole team play harder.
"I saw how emotional Hassan got in practice and during the games, and that was pushing me to get better and to play harder," Radenovic said. "I look at him and see how he's playing and I play better and harder. Hassan was the one who helped me on the court to adjust to the game."


Write a Letter to the Editor