Tuesday, April 12, 2005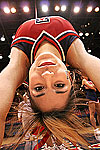 Cheer tryouts begin Friday
Arizona cheerleaders are at every game, performing back flips and throwing each other up into the air, all for the enjoyment of the crowd.
People may think cheerleaders are just random students who are assigned to stir up the crowd at selected campus sporting events, but there is much more to it than that.
Cheer preparation begins with selecting the squad from about 40 to 60 candidates over three days of tryouts, Friday to Sunday. [Read article]




Austin temporary quarterback fix
Adam Austin could have been a star for a Division IAA or Division II college football team - a big fish in a small pond.
However, the 6-foot-3 redshirt junior from Mundelein, Ill., opted to blaze a different path on the gridiron.
Austin received such accolades as All-District coming out of Mundelein High School, as well as offers from Eastern Illinois and other smaller programs.
However, he had other plans for his football future. [Read article]



Commentary: Fans stay true through good and bad times
What does it mean to be a fan?
This may seem like a silly question, on the surface.
But recently, I began to pondering the meaning of "fan" in a deeper context, one that goes beyond simply reading scores in the newspaper or watching "Sportscenter."
The essence of fandom has hit me head-on twice in the past 18 months.
Hard.
The first came in 2003. It is a memory that has been particularly prominent in the last week with the beginning of the Major League Baseball season. [Read article]




showAds('bigbutton')?>






showAds('mediumbutton')?>

showAds('wildlinks')?>