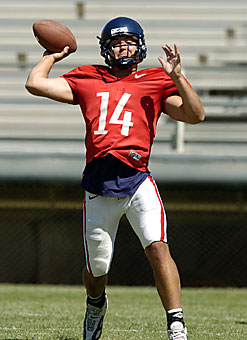 CHRIS CODUTO/Arizona Daily Wildcat

Quarterback Adam Austin throws downfield during the second spring 2005 football scrimmage. Austin replaced former quarterback Richard Kovalcheck as the primary quarterback in spring drills, after Kovalcheck had back surgery.

By Kyle Kensing
Arizona Daily Wildcat
Tuesday, April 12, 2005
Print this


Adam Austin could have been a star for a Division IAA or Division II college football team - a big fish in a small pond.

However, the 6-foot-3 redshirt junior from Mundelein, Ill., opted to blaze a different path on the gridiron.

Austin received such accolades as All-District coming out of Mundelein High School, as well as offers from Eastern Illinois and other smaller programs.

However, he had other plans for his football future.

"(Arizona)'s the schools I always wanted to come to, and get an opportunity to play," he said.

"My dad told me if I wanted to come to this school, I'd have to walk on. ... So I talked to (former Arizona head coach John) Mackovic," he said.

Austin earned a position on Arizona's practice team in 2002, and in 2003 he became an active member of the roster as a walk-on.

Headed into his third season on the active roster, Austin is on scholarship for the first time in his college career and earning the praises of his coaches and teammates thanks to impressive play in the absence of starting quarterback, sophomore Richard Kovalcheck.

Arizona head coach Mike Stoops said Austin's character and play were factors in his receiving a scholarship.

"He's not just a good kid. He's shown a lot of ability," Stoops said, adding that he expects the junior to make significant contributions in 2005.

"He'll be in the mix one way or another," he said.

Adam's stepped right in, taken that role and said, 'Give me the opportunity, I know I can play.'– Mike Canals, offensive coordinator

Austin has been in the mix in spring play, taking every snap in Kovalcheck's absence.
He has thrown for 229 and 326 yards in consecutive scrimmage appearances, completed 37 of his 57 total pass attempts and scored a touchdown.
Offensive coordinator Mike Canales said despite Austin's lack of exposure coming out of high school, his spring performance has proved the Illinois native is a solid Division I quarterback.
"Adam's stepped right in, taken that role and said, 'Give me the opportunity, I know I can play,'" he said. "I told everybody he's as good as any junior college quarterback out there.
"He's earning his spot every time he takes a snap, and he's showing he has the ability ... to play on this level," he said.
Austin said he is looking to make the most of the occasion.
"It's an opportunity I've waited my whole life for," he said.
"I've got nothing to lose. I just want to show everybody what I've got, and it looks like it's turned out pretty good," he said following Saturday's 21-for-35, 326-yard passing performance, which included a touchdown connection with receiver Anthony Johnson.
Austin said although he's grown increasingly comfortable with the offensive system taking all the snaps this spring, his contribution in the fall will come from the sidelines.
"Kovalcheck's still the No. 1 guy, (teammates and coaches) just know that if he goes down, they'll have a good backup," he said.
Kovalcheck recently underwent surgery to remove a fragmented disc from his back and is expected back this summer.
In the meantime, the coaches agree Arizona's offense is in capable hands.


Write a Letter to the Editor