Arizona Daily Wildcat
Thursday, April 14, 2005
Print this


Hot Hot Heat stuck on the 'Elevator'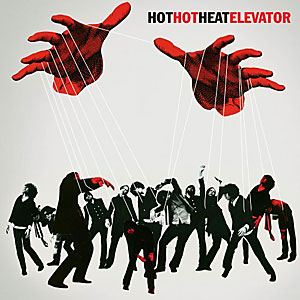 Elevator: Hot Hot Heat
5 out of 10
Remember that band you loved? They were so vibrant and exciting you nearly drooled in anticipation over their next move. A move you, assuredly, knew would be amazing. Hot Hot Heat was that band after 2002's breakthrough album, Make Up the Breakdown, found them bombarded with accolades from press and hipsters alike.
Now, three years later, Elevator finds Hot Hot Heat taking steps backward. The album finds them reaching for, what one suspects, is mainstream acceptance while avoiding much of the quirkiness that made them memorable to begin with. Elevator is a lesser version of their occasionally brilliant poppy and danceable music.
As Elevator begins its ascent (yes, there is a vaguely conceptualized elevator theme throughout the album) with "Running Out of Time," it's evident that one major change seems to be a shift from propelling keyboards to chugging guitar rock. However, that does not hurt the track as it pushes forward on time-shifting rhythm and Steve Bays' herky-jerky, energetic vocals.
"Hollywood waiter with a chip on his shoulder/Only break has been his back and yet he's just getting older/He's washing his clothes in a sink of self-pity."
The first single, "Goodnight Goodnight," comes off as safer and more straightforward. Riding a stuttering guitar riff, the song melts into pure pop cheese during the chorus, which is one of the peppiest sounding attempts at bitterness ever heard on record.
"Goodnight goodnight/You're embarrassing me/You're embarrassing you/Goodnight goodnight/Walk away from the door/Walk away from my life."
While Make Up the Breakdown found the band challenging, or at least exciting, the listener from song to song, Elevator seems to be content with mediocrity. The noise collage of "Ladies and Gentlemen" makes for a nearly unbearable listen as Bays attempts some singing that sounds suspiciously like low-grade rap. Meanwhile, the title track and album closer, "Elevator," is a mess that is all palm-muted guitar and melancholy piano á la Pablo Honey-era Radiohead, an influence Hot Hot Heat has no hope of properly replicating.
Hot Hot Heat are best when they aim to get booties shaking and feet tapping. "Island of the Honest Man" is a perfect example, complete with handclaps, hiccupped vocals and an explosive chorus. Bays' lyrics, always a weaker point of the band, find themselves buried enough in the mix to avoid the spotlight.
"Welcome to the island of the honest man/Do what you want - there is no need to impress us/Welcome to the island of the honest man/We don't believe in what the big people tell us."
Elevator finds Hot Hot Heat in a moment of transition. Signed to a major label. The obligatory MTV video. Major radio airplay. What comes next will speak far more about the band than can be inferred from what is, essentially, the Hollywood version of Make Up the Breakdown. Hopefully, they can avoid the mandatory Winona Ryder relationship.
Michael Petitti
Arizona Daily Wildcat
The Bravery make 'An Honest Mistake'
The Bravery are, ironically, cowards. Though the band takes risks, in a bad way, with their appearance (the laughably goofy 1980s goth-glam look), they avoid taking any whatsoever with their sound.
The Bravery fails in ways that other bands, such as Bloc Party, do not. Namely, they fail to add anything new or relevant to the current neo-garage-new wave-retro-rock scene - a musical scene they desperately beg to be lumped in. More inexcusably, the band avoids taking risks throughout the duration of their self-titled debut album.
The album starts off strongly enough with the raucous opener and lead single, "An Honest Mistake." The song nicely balances Strokes-ian guitar stabs and beeping electronics while Sam Endicott moans about love in his heavily derivative baritone. Endicott's voice strives, so deliberately, to sound like Robert Smith that it becomes embarrassing by the album's end. Meanwhile, his lyrics leave something to be desired.
"People, they don't mean a thing to you/They move right through you/Just like your breath."
Unfortunately, the potential exhibited on the opener fades into a distant, fond memory for the rest of the album, virtually, with only mild moments of excitement to be found. The guitar-schlock of "Fearless," keyboard-crawl of "Tyrant" and soaring-but-lame vocals of "Give In" make for a trilogy of songs about as interesting and unique as a three-course meal consisting entirely of chicken noodle soup.
The Bravery proudly wears their influences on their sleeves, which doesn't necessarily make them a bad band. However, what does make them a bad band is their inexplicable desire to play their songs like a cover band. There's New Order ("Out of Line"), The Cure ("The Ring Song") and, yes, even Duran Duran ("Public Service Announcement") throughout the album.
Before The Bravery closes and heads off to die its eventually death in the bargain bin of your local music store, it does treat its patient listeners to one final good tune, "Unconditional." Musically, the song thrills with its synthesizer bird tweets and disco drumming. Sadly, the song fails lyrically (no real surprise) with Endicott's predictably lame and overly repetitive, lovelorn lyrics finding a way to mar a good thing.
"I just want, I just want love/I just want, I just want love/I just want something, something for nothing/ Something, something for nothing."
Perhaps you've heard of the feud between The Bravery and The Killers. Apparently, Killers' frontman, Brandon Flowers, thinks The Bravery are riding the coattails of his band. Well, now both bands have rightfully earned their places as worst newcomers to an already overplayed scene.
Music like this can be played by any semi-talented high school band if they take the time required to gather and listen to every Smiths album.
Michael Petitti
Arizona Daily Wildcat
The Kaiser Chiefs employ wit and cunning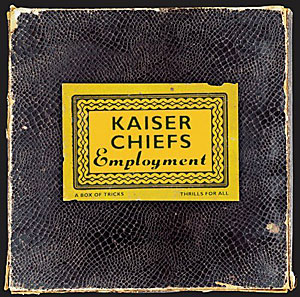 Employment: The Kaiser Chiefs
7 out of 10
Along comes another British band on a caffeine bender. We've all heard it before, and one begins to wonder when we should just stop paying attention. The answer: not just yet.
The Kaiser Chiefs are not the best of the bunch, but they are far from the worst. On their debut album, Employment, the Kaiser Chiefs thrill more often than they disappoint.
From the start, Employment sets an unbelievably high standard for the talented and promising band. "Every day I Love You Less and Less" is a perfect slice of chunky keyboards and razor sharp guitars. Ricky Wilson's overly serious and accent-heavy delivery makes his clever lyrics all the more biting.
"Every day I love you less and less/It's clear to see that you've become obsessed/I've got to get this message to the press/That every day I love you less and less."
First single, "I Predict a Riot" is pure fun from its start, as Andrew White's buzzsaw guitars chase Nick Baines' ghostly organ to the chorus. Near the end of the song, Wilson steadily raises his voice to a slowly intensifying scream in a move that is found several times throughout the album. It's a gimmick; that's hit and miss, but when the urgency is called for, like on this particular track, it's a nice compliment.
Unfortunately, when the Chiefs take things down a notch they suffer for it. "Modern Way" is a song covered in guitar reverb, morose vocals and electronic fuzz that, despite its occasional attempts to soar, kills the album's mood and proves the band is not adept at successfully pulling off moody sounds.
However, that's not to say the band is always right on when they're at full energy. "Na Na Na Na Naa" is, as you might expect given the title, a bit more obnoxious than is necessary. Through the hyper scramble of pianos and guitars, the song fails to entertain. Plus, the constant "na, na, nas" and repetitively annoying lyric tend to break the song past the point of repair.
"She does not move me/ She's not the kind of girl I like."
The Kaiser Chiefs, like many of the current indie "it" bands, are an amalgamation of their influences. While the band attempts and, generally, succeeds in avoiding direct comparisons, it's occasionally too obvious to ignore. There's The Beatles' pop hooks and dreamy vocals ("You Can Have it All"), The Who's amplified vigor and spunk ("Time Honoured Tradition") and even The Clash's social commentary and fierce delivery ("Oh My God").
The Kaiser Chiefs' road ahead looks to be rocky. While good in small doses, they could easily be kicked to the curb if they retain an interest in primarily regurgitating the greats. However, if they keep drinking their morning tea and influencing themselves, they should be just fine.
Michael Petitti
Arizona Daily Wildcat
Will Smith is 'Lost'
Lost and Found: Will Smith
7 out of 10
In "Undercover Brother," Neil Patrick Harris said it best: "I like Will Smith. He raps happy."
But Smith, obviously tired of the judgmental categorizations of his person and his sappy raps, ain't gonna take it no more and has decided to tell everybody off on his fourth solo effort.
If the idea is to convince people you're not a softie, it's really a bad idea to start the album by sampling the "Spider-Man" theme. No, really. Go ahead, imagine it: "Here he comes, he can rock/He can break dance and he can pop/He can rap, he can act/and if it comes down to it, he can scrap..."
He samples his old material from "Summertime" on "I Wish I Made That/ Swagga," in which he also admits to envying Snoop Dogg's "Drop It Like It's Hot."
Then, surprise, surprise, Snoop makes an appearance on the next track, "Pump Ya Breaks."
Listening to a Will Smith album is a guilty pleasure, but only because the music and the lyrics are actually somewhat pleasant. He's a clever emcee and an even smarter businessman, hence his wealth. But his squeaky-clean persona is exactly what has made him an object of contempt, not only among rap fans, but particularly among blacks in general.
Big Willie explains why on several tracks, including "I Wish I Made That Swagga," in which he raps, "Black radio, they won't play though/Ever since "Summertime" they ain't liked none of mine/ Even though the fans went out and bought enough/I guess they think Will ain't hard enough."
Though he claims he doesn't use curses in his rhymes, "hell," "ass," "dammit," and a blurted out "fuck" show up on multiple tracks, including "Scary Story," in which he tells one of his kids about his "terrifying" experiences breaking into the rap business back in the day.
All in all, Lost and Found is a solid effort that includes references to sex, guns and violence, plus a whole lot of arrogance; true behavior of the typical rapper.
Kylee Dawson
Arizona Daily Wildcat


Write a Letter to the Editor