Thursday, April 14, 2005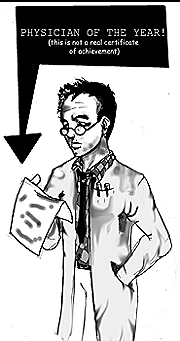 Politicians are sleazy, but you already knew that. Take Tom DeLay, for example. DeLay's Texans for a Republican Majority Political Action Committee has been accused of soliciting fundraising dollars for direct legislative action. Several TRMPAC staffers have been indicted for using corporate money to help elect Republican Texas state congressional candidates and then giving those corporations explicit benefits in state legislation. DeLay denies direct involvement, claiming he had only an advisory role with the committee. On the national level, DeLay has been accused of taking illegal trips using foreign lobbyist's money. [Read article]

·
On the edge
·
Mailbag
Latest Issue: April 14, 2005
Berlin. Venice. Cannes. Tucson. Film Festivals are not just for ritzy European cities anymore. And for the 14th year, Arizonans - Tucsonans in particular - are proving that with the Arizona International Film Festival.
The AIFF is a 10-day long celebration of local and independent film, and it starts tonight. It is a great event for Tucson because it showcases national and international talent. But it is especially exciting because it exposes talent that has come out of the UA. [Read article]

·
Tucson and Campus Calendar
Poetry
·
Sophokles and Hendrix: together at last
·
Slamming words into action at Poetry Crawl
Theatre
·
'Cannibal! The Musical' comes to stage
Music
·
Rx Bandits make first trip to Congress
·
CD Reviews: Hot Hot Heat, The Bravery, The Kaiser Chiefs, Will Smith
Film
·
'Fever Pitch' falls a bit outside the park
Food
·
Chopped good, but pricey
Literature
·
Learn all about presidents' murders in 'Assassination Vacation'
Art
·
Dancers, jugglers, poets highlight multicultural show
·
Calexico join Muniz
Latest Issue: April 12, 2005

Andrea Hashim dreamed of becoming Miss America since she was a little girl, and she has just taken one step closer to making that dream a reality.
Twenty-two-year-old Hashim, a first-year dance graduate student, beat out nine competitors to be crowned Miss Tucson Valley April 2 and is gearing up for the Miss Arizona pageant in June. Miss Arizona goes on to compete for Miss America in Atlantic City. [Read article]


·
UA growth chambers visit Mars, South Pole

require('/home/webby/html/papers/98/polls/current.php')?>

showAds('bigbutton')?>






showAds('mediumbutton')?>


showAds('wildlinks')?>