Thursday, April 21, 2005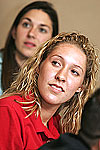 ASUA backs bigger Rec
With the help of the Associated Students of the University of Arizona, the Student Recreation Center hopes to increase nearly 50 percent in size by 2009, with the elimination of wait times for students being one of the main concerns.
But a student referendum must be passed in order for the Rec Center to start breaking ground on an addition that would cost students an extra $14 in tuition to fund the more than $35 million expansion. The increase would raise the Rec Center's fee from $28 to $42 a year. [Read article]



Pharmacy college ranked nationally
The College of Pharmacy ranked fourth in nation in the "America's best graduate schools 2006" survey conducted by U.S. News and World Report.
But the result was no big surprise, said John Murphy, department head of the College of Pharmacy.
"We take a lot of pride in our students in their quality and I'm getting them the best they can be," Murphy said. "We work really hard to turn them into national leaders in their profession." [Read article]



Alcohol penalties may rise
PHOENIX - Those caught buying or providing alcohol for minors could face a license suspension if a bill in the Arizona Senate to change those penalties is approved.
The bill, HB2115, would add license suspension to the options a judge has when prosecuting someone convicted of buying or providing alcohol for a minor.
Yesterday, the Senate approved an amendment that would make the length of a suspended license shorter than the bill originally called for. [Read article]




Nonoxynol-9 may contribute to STD infections
A frequently used spermicidal gel found in many condoms can cause irritation when the user is engaging in anal sex, according to the World Health Organization.
Once thought to prevent HIV and AIDS, Nonoxynol-9 is a lubricant that happens to have spermicidal properties, said Lee Ann Hamilton, a health educator at Campus Health Service.
"If used in gels and creams, (Nonoxynol-9) kills sperm," Hamilton said. "It also has viricidal and bactericidal properties." [Read article]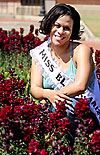 Miss Black Arizona represents UA, Tucson
Rachel Wilhite first read about the Miss Black Arizona pageant in a bulletin at her church. Though she had never participated in a pageant before, the idea of competing stuck with her.
"It kept coming up in my head," Wilhite said. "I thought, 'I could wear a dress for some scholarship money.'"
After winning the state title in February, Wilhite, a third-year epidemiology doctoral student, is preparing for the Miss Black USA pageant, to be held in Washington D.C. in August. [Read article]



Instructor retraining EMT soldiers
Before being sent to Iraq in 2003, an instructor for the UA's Paramedic Program saw that military and contract firefighters and Army medics needed an emergency medical training refresher course to maintain their EMT certification before heading to war in Iraq.
That man was Senior Master Sgt. Shane Clark, a former instructor for the UA Paramedic Program.
Clark, a fire chief of the Arizona Air National Guard 162nd Fighter Wing, helped set up a one-time, four-weekend refresher course for certified EMTs who needed the further study to be prepared for what they would encounter during the war. [Read article]



Author sheds light on Sudan
Author and human rights activist Alex de Waal spoke to a packed Gallagher Theater yesterday about the origins of the crisis in Sudan, in order to help, as student activists hoped, to encourage campus community members to take action to help the war-torn African region.
Declared a genocide by the U.S. government, the civil war in Sudan between the Sudanese government, or the National Islamic Front, and the Sudanese Liberation Movement, made up of rebels in the south, has claimed the lives of some 2 million people over the course of more than 20 years, and the region has been plagued with famine, poverty and disease. [Read article]




Fast facts
Things you always never wanted to know
In early 18th century Portugal, the church owned two-thirds of all the land in the country.
Until the 12th century, when returning crusaders brought knowledge of them, windmills were probably unknown in Europe. They thereafter became familiar landmarks in Holland, England, France and Germany.
The Amazon River has 1,100 tributary streams. [Read article]




showAds('bigbutton')?>






showAds('mediumbutton')?>

showAds('wildlinks')?>