Thursday, April 21, 2005


Softball: In pursuit of excellence
Kristie Fox hates to lose - just ask her siblings.
"Pick-up games with my little sister, basketball, my brother. They're younger than me, but I still can't let them win," Fox said. "I'm too competitive."
"Now they hate to lose as much as I do," she said.
The feisty sophomore is the latest Wildcat shortstop to earn accolades both in the field and at the plate for the No. 3 Arizona softball team, joining recent stars Lovie Jung (2002-2003) and Laura Espinoza (1992-1995). [Read article]




Football: Redshirt freshmen ready to roll in Stoops' system
With spring practices in their final week for the Arizona football team, two redshirt freshmen are showing they could have an impact in 2005.
Linebackers Ronnie Palmer and Brandon Lopez are two of the Wildcats' top tacklers in three scrimmages, each with more than a dozen.
"(The spring)'s been a great learning experience for both of them," Arizona head coach Mike Stoops said. "Both possess great physical attributes, and they both work hard on the field." [Read article]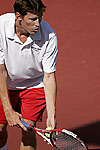 UA Tennis opens play at Pac-10 tournament
The No. 51 Arizona men's tennis team and the No. 57 Arizona women's tennis team are in the same position heading into the Pacific 10 Conference Championships today through Sunday in Ojai, Calif.
Both are considered "bubble" teams trying to make their way into the NCAA Tournament.
"We need a strong showing," said Arizona men's assistant coach Tad Berkowitz. "We shot ourselves in the foot losing to ASU." [Read article]




showAds('bigbutton')?>






showAds('mediumbutton')?>

showAds('wildlinks')?>