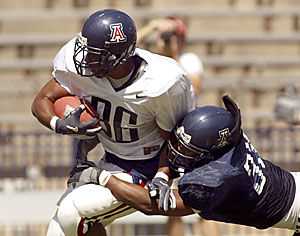 KEVIN B. KLAUS/Arizona Daily Wildcat

Redshirt freshman linebacker Ronnie Palmer tackles redshirt freshman tight end Travis Bell during Saturday's scrimmage. Palmer and classmate Brandon Lopez are working themselves into more playing time this spring.

By Kyle Kensing
Arizona Daily Wildcat
Thursday, April 21, 2005
Print this


With spring practices in their final week for the Arizona football team, two redshirt freshmen are showing they could have an impact in 2005.

Linebackers Ronnie Palmer and Brandon Lopez are two of the Wildcats' top tacklers in three scrimmages, each with more than a dozen.

"(The spring)'s been a great learning experience for both of them," Arizona head coach Mike Stoops said. "Both possess great physical attributes, and they both work hard on the field."

Palmer, a 6-foot-2 native of Spring, Texas, racked up a team-leading six sacks in Saturday's scrimmage.

"At the time I wasn't too happy about (being redshirted), but I think it was the best thing for me," Palmer said of his freshman season.

Lopez, a product of nearby Cienega High School in Vail, registered four tackles Saturday and led all defenders with seven April 9.

"We feel they can both have an impact," Stoops said. "Ronnie has an opportunity to start for us at middle linebacker, and Brandon can and will see time as a backup."

Stoops bros. unite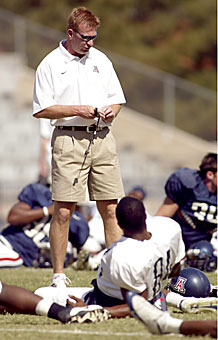 KEVIN B.KLAUS/Arizona Daily Wildcat
UA head coach Mike Stoops doesn't know who will go No. 1 in Saturday's NFL draft, but hopes to see UA tight end Steve Fleming's name called on the second day of selections.
The final week of spring workouts included a family reunion for Stoops.
His brother, Oklahoma head coach Bob Stoops, was on hand for Monday's practice, the 12th of 15 allowed by NCAA regulations.
"I got in there on some of the defensive drills," Bob Stoops said. "I think it was almost one Stoops too many for some of the guys."
Mike Stoops was his brother's defensive coordinator at Oklahoma before coming to Arizona in the spring of 2004.
Bob Stoops wore full Arizona attire for practice.
"I wear these clothes when I golf," he said.
NFL Draft coin flip for Smith, Rodgers
The NFL draft opens Saturday, coinciding with the Spring Game.
"I can guarantee they're working harder than any other time in their careers," Stoops said of Arizona's departed draft candidates.
Stoops said he expects former tight end Steve Fleming to be selected on the second day.
"(Fleming) can be a good second or third tight end for a team. He's an aggressive blocker, and he's a good receiving end. He's even done some long snapping," Stoops said.
The position power rankings on nfl.com list Fleming at No. 14 among tight ends up for grabs this weekend. He did not perform at the Draft Combine last month in Indianapolis but has worked out with team scouts.
"He does everything well," Stoops said. "I think Steve's best football is still ahead of him."
Stoops said either California's Aaron Rodgers or Utah's Alex Smith, the two quarterbacks favored to be No. 1 overall pick, would have a positive impact on San Francisco, owners of the top selection.
Arizona faced both California and Utah in 2004.
"Alex has a few inches on Aaron, but Aaron can throw a great, accurate pass," he said.
"I'm biased toward (USC quarterback) Matt Leinart," he added.


Write a Letter to the Editor