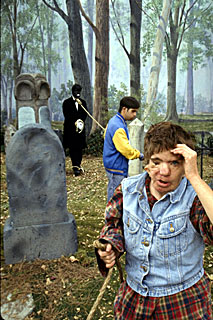 photo courtesy of Volcanic eruptions

"What Is It?" - Crispin Glover's "What Is It?" is the actor's first attempt to direct a film. The majority of the film's cast is composed of actors with Down syndrome, and Glover also co-stars in the film. Glover began the project as a short to raise funding for another project, but soon decided to expand "What Is It?" to feature length.

By Nate Buchik and Mark Sussman
Arizona Daily Wildcat
Thursday, April 21, 2005
Print this


Calling Crispin Glover's directorial debut "What is It?" disturbing is a start.

Calling it intelligent and ultimately thought provoking is the next step.

After that, the reactions could range from "absurd" to "obscene" or "absurdly obscene." Or "obscenely absurd," depending on the kind of films you like.

Glover - whose first big role was a teenaged George McFly in "Back to the Future" and later starred in features like "Willard" and "Bartelby" - will be in town starting tomorrow to support the weeklong run of his directorial debut "What is it?" at the Loft Cinema.

When the trailer for "What is It?" first surfaced last year, it was either terrifying or irresistibly strange, again, depending on what kind of films you like. But once the words "Crispin Hellion Glover" flashed across the screen, everything started to make sense.

Glover has a sort of double reputation. On the one hand, he's known as a serious, dedicated actor attracted to difficult roles. On the other, he's known as one of the stranger figures in Hollywood, a rumor confirmed by a notorious appearance on "The Late Show," during which he read a series of negative reviews about himself and nearly kicked David Letterman in the face.

In person, Glover hardly seems crazy. In fact, he's downright serene, which makes a screening of "What is It?" all the more jarring.

If you go...

Crispin Glover's Big Slide Show, "What is It?"

Note: No one under 18 will be admitted

Loft Cinema
3233 E. Speedway Blvd.

With Q & A and Book Signing:
Tomorrow, Saturday, Sunday
8 p.m.
Admission: $15

Tomorrow, Saturday: midnight
Saturday, Sunday: 5 p.m.
Monday-April 28: 8 p.m.
Admission: $10

With Q & A only:
Saturday, Sunday: 1 p.m. and 3 p.m.
Monday-April 28: 1 p.m., 3 p.m. and 5 p.m.
Admission: $7.50

"The way the film came about was because I had co-written the screenplay about 10 years ago or more," Glover said. "I had put in this concept of having most of the character be played by actors with Down syndrome, and David Lynch had agreed to executive produce it. So I went to this corporate entity to try to get financing for it ... and I talked to them for quite some time, and they said, 'Well, we're interested but we're concerned about this idea of having the majority of the cast be played by actors with Down Syndrome.'"

Not surprisingly, the "corporate entity" never caught onto the idea. To be fair, it's a hard sell. But Glover's film does at least one thing that no other film has done before: It crafts a fictional narrative in which the mentally handicapped are simply treated as they are. There is no comment on their condition; they are simply actors playing roles in a film.

It is easy to imagine a piece of criticism that would call Glover's depiction of Down syndrome exploitative, but it would be hard to find the evidence. The characters have drives, they have personalities, and the plot does not revolve around the "nobility" of living with a mental handicap (see the dreadful "I am Sam" for some of that). "What is It?" attempts to depict a character with Down syndrome from the inside out.

It is not something we're used to seeing on a screen, and the effect can be disturbing. But, again, that's the point.

"Anything that makes audiences uncomfortable or anything that's taboo, when funded by corporate entities, is excised or just not funded," Glover said. "And it sounds innocuous enough, but really it's a kind of self-censorship. It means that there's a lack of a genuine kind of whole thoughtfulness that's happening in this culture, and that's really unhealthy in a culture and is just going to lead to stupidity."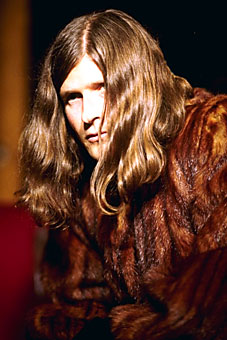 photo courtesy of Volcanic eruptions
"What Is It?" - Due to its controversial and sometimes disturbing imagery, "What Is It?" could not find a distributor. As a result, director/star Crispin Glover, above, is screening the film himself all over the country. In addition to screenings, Glover will also present a slide show, book signings and question-and-answer sessions.
Glover sees "What is It?" as a reaction to this kind of skittishness. And though it's difficult, maybe impossible, to decode the film's visual language, the esoteric piece has some of its roots in a personal relationship with co-writer Steve Stewart, who also appears in the film.
"(Stewart) had written a different screenplay a long time ago. He had been kind of locked into a nursing home at some point after his parents had died," Glover said. "He's very difficult to understand because he has a severe case of cerebral palsy. So they called him an 'MR,' a mental retard, and he didn't get out for some time. He was eventually able to get out."
Stewart makes his entrance in a giant clam shell. He is lying naked in the fetal position, surrounded by a group of women wearing nothing but monkey masks. This is pretty much par for the course in "What Is It?" For instance, as Stewart receives a hand job from one of the women, his tongue lolls lecherously while Glover, sitting in a throne, contemplates a swastika in a glass bulb.
Part of the difficulty of viewing "What Is It?" is trying to assimilate images like these while simultaneously trying to follow the story. And it is a story, maintains Glover.
"It's a pretty simple hero's journey story structure," said Glover, "where somebody's in a world and they get locked out of that normal world, they go on an adventure, meet various friends and enemies, go through a certain kind of crisis, have a battle sequence, and then come back to their original home.
"I would definitely not consider 'What Is It?' an abstract movie. There is a narrative, a storyline. It moves from 'A' to 'B' to 'C.' Yet the aesthetic of it definitely deals in an area that can have confusion. There's an aesthetic of confusion. The storyline deals with confusion."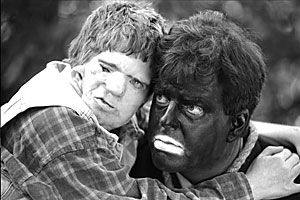 photo courtesy of volcanic eruptions
"What Is It?" - Crispin Glover produced "What Is It?" over the course of 10 years and using $150,000 of his own money. The result is an intimate and carefully crafted work.
This confusion can lead to questions like "Why a swastika?" or "Why is a man in black face?" or simply "Do you really mean this?" Obviously "What Is It?" is difficult to describe. Part of the problem is that just images alone might lead someone who hasn't seen the film to believe that Glover is a fascist, or that he is a racist or that his film simply doesn't mean anything.
But those accusations don't feel quite right. Perhaps, he suggests, it's because we're thinking about it the wrong way.
"There's a book by Friedrich Nietzsche called 'Beyond Good & Evil.' I've not read the book. I've read a little bit of Friedrich Nietzsche. But I thought about that title and, when you think about it, there's quite a lot behind it. That which is considered good for the culture is called good, and that which is considered bad is called evil. But what one culture considers good, another culture may consider evil. When you think about that, and the idea of beyond good and evil, it becomes apparent that really this is a construction, good and evil, that is used to keep people within certain boundaries."
This is not to say that these boundaries should be ignored, but "What Is It?" does the important work of pointing out that such boundaries exists. So when we squirm when we see simulated fellatio between two people with Down syndrome, we're reminded that there are reasons we feel this way. If we think Crispin Hellion Glover exploits the mentally handicapped because we feel uncomfortable seeing them as sexual beings, it probably says something about the way we viewed them before seeing his film.
And yet all of this is hard to reconcile with the man sitting on the sofa in the lobby of the Loft Cinema. He smiles, shakes hands. His coat looks nice. This Crispin Glover isn't a racist or an exploiter. He produces images and sounds, not discomfort.
As he calmly and meticulously recounts the 10-year ordeal of producing "What Is It?" for $150,000 of his own money, the project suddenly seems strangely intimate, like a home movie we weren't supposed to see. It's weird, but it seems to make a little bit more sense out of that other Crispin Glover, the one who almost laid out David Letterman.
"I don't think there's anything in the film that is shocking," he said. "Sometimes I'll see things in writing that I'm using shock value. I'm not interested in using shock value because I don't believe there is anything shocking."
And he means it.


Write a Letter to the Editor