Thursday, April 21, 2005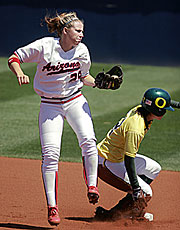 Kristie Fox hates to lose - just ask her siblings.
"Pick-up games with my little sister, basketball, my brother. They're younger than me, but I still can't let them win," Fox said. "I'm too competitive."
"Now they hate to lose as much as I do," she said.
The feisty sophomore is the latest Wildcat shortstop to earn accolades both in the field and at the plate for the No. 3 Arizona softball team, joining recent stars Lovie Jung (2002-2003) and Laura Espinoza (1992-1995). [Read article]

·
Football: Redshirt freshmen ready to roll in Stoops' system
·
UA Tennis opens play at Pac-10 tournament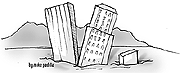 In case the escalating temperatures hadn't given it away, we live in a desert. Look at the ground beneath your feet. Do you see grass? What is the average daily temperature in the summer here? Can you stand outside for more than an hour when it's 105 degrees without suffering throat damage?

Has it occurred to you that maybe this place isn't optimally suited for cities with large populations? There isn't enough water for a camel, let alone a million people. [Read article]

·
Editorial: Rec Center fee not fully thought through
·
Mailbag
Latest Issue: April 21, 2005
Calling Crispin Glover's directorial debut "What is It?" disturbing is a start.
Calling it intelligent and ultimately thought provoking is the next step.
After that, the reactions could range from "absurd" to "obscene" or "absurdly obscene." Or "obscenely absurd," depending on the kind of films you like.
Glover - whose first big role was a teenaged George McFly in "Back to the Future" and later starred in features like "Willard" and "Bartelby" - will be in town starting tomorrow to support the weeklong run of his directorial debut "What is it?" at the Loft Cinema. [Read article]

·
Tucson and Campus Calendar
Campus
·
UA Steel uses Trinidad experience for performances
·
A day in the life of a wasteful school
Tucson
·
Gallagher smashes into Tucson
Film
·
'Garcia Girls' is impressive
·
Few scares, clichés aplenty in "Amityville"
Music
·
Magnolia Electric Co. are a travelin' band
·
Alaska! guitarist doesn't like interviews
·
CD Reviews: The Sights, The OC Mix 4, Magnolia Electric Co.
Literature
·
'Gods in Alabama' misses its potential
Latest Issue: April 12, 2005

Andrea Hashim dreamed of becoming Miss America since she was a little girl, and she has just taken one step closer to making that dream a reality.
Twenty-two-year-old Hashim, a first-year dance graduate student, beat out nine competitors to be crowned Miss Tucson Valley April 2 and is gearing up for the Miss Arizona pageant in June. Miss Arizona goes on to compete for Miss America in Atlantic City. [Read article]


·
UA growth chambers visit Mars, South Pole

require('/home/webby/html/papers/98/polls/current.php')?>

showAds('bigbutton')?>






showAds('mediumbutton')?>


showAds('wildlinks')?>