Monday, April 25, 2005


Hillel, AEPi hold Seders
Some Jewish students who stuck around campus during Passover this year spent the holiday weekend at student-oriented Seder dinners.
Alyssa Cunial, an undeclared freshman, said this is the first year she has been away from home during the family-oriented holiday, but the Hillel Foundation was the next best place for her to be.
"It's like a family here too," Cunial said.
About 50 students attended the second-night Seder event last night at Hillel, 1245 E. Second St. [Read article]




Ice Train attracts crowd of 1,000-plus
The sounds of stomping, clapping and canes against the stage floor filled Centennial Hall Saturday afternoon.
More than 1,000 people attended the Sixth Annual Ice Train Classic Step Show hosted by the Alpha Phi Alpha fraternity.
The event has grown every year since its inception in 1999. In the beginning, the show could barely fill the Social Sciences auditorium with the capacity of 500 people. Now the fraternity is celebrating its second year hosting the show in Centennial Hall. [Read article]




Time, weather deter tailgaters
On a day mixed with sprinkling rain and blazing sunlight, Saturday's Zona Zoo tailgate party before the spring football game had fewer tailgaters than last year, which some students said resulted from the weird weather.
"It was pretty freakin' hot," said Toby Slade, a media arts senior.
About 100 people showed up to the free tailgate party on Bear Down Field, which featured Slade's band Haley Jane, drinks and snacks, and outdoor games like Frisbee. Students were also able to vote for the design of next year's Zona Zoo T-shirt. [Read article]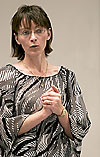 Polygamy lecture 'disgusts'
The only right they have is to obey their husbands - who have multiple other wives. Their babies are born without limbs and other mutations because the father has been a close relative for many generations.
They don't know the words "I," "me" or "fun," and they have no identity. Those women and children live in Colorado City, Ariz.
Flora Jessop, a child victim advocate with the Child Protection Project, started Friday's lecture on polygamy and child abuse at the James E. Rogers College of Law with an exercise. [Read article]




Canadian seals killed for food, fashion, students protest
A group of UA students rallied in front of the Canadian Consulate Trade Office in downtown Tucson Friday night to protest the killing of thousands of baby seals in Canada.
"We hope that we are putting international public pressure on Canada because we are trying to end this atrocity," said Kristen Drumm, president of Students for the Ethical Treatment of Animals.
The commercial seal hunt was reintroduced in 1996 by the Canadian government with more than 1 million seal pups killed in the past three years. In 2003 the Canadian government upped the quota of allowable seal deaths to 300,000 a year, according to a Humane Society pamphlet. [Read article]



SAE holds first car show with clubs
To mark the 100-year anniversary of the Society of Automotive Engineers, the UA chapter held their first car show Saturday and displayed student-made cars along with other souped-up vehicles.
Gary Tang, club president, said the society showcased the student-designed projects to update the community about what SAE is doing as a club.
Along with SAE and its daughter clubs, Formula SAE and Mini Baja, some clubs that came to display their cars were Arizona Wildcat Off-Road, The Southern Arizona Corvette Club and the Porsche Club. [Read article]



Electronics Expo shows off technology
Do you need to pimp out your dorm room? Are your pets leaving because your apartment is so bland?
A touring group visiting the UA Mall today has the perfect solution to drab accommodations.
The TechKnowOverload Tour is showcasing the latest in consumer technology for tech-savvy students. The tour includes five or six tents, which will feature products from Sirius, Nintendo, Toshiba, Adoba and Gibson guitars. [Read article]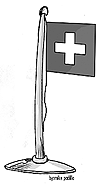 Fast facts
Things you always never wanted to know
The Statue of Liberty's tablet is 2 feet thick.
There are two credit cards for every person in the United States.
The slogan on New Hampshire license plates is "Live Free or Die." Prisoners in the state penitentiary in Concord manufacture these license plates.
The straw was probably invented by Egyptian brewers to taste in-process beer without removing the fermenting ingredients, which floated on the top of the container. [Read article]




showAds('bigbutton')?>






showAds('mediumbutton')?>

showAds('wildlinks')?>