Wednesday, May 11, 2005


Best of the best sit on stage during ceremonies
Of the more than 4,000 undergraduates receiving degrees during Saturday's commencement ceremonies, six graduates will be honored for their years of hard work and dedication with special honors and the chance to sit on stage.
Alistair Chapman and Xuemei Cai will receive the Freeman Medal, which is awarded each year to one man and one woman selected by administration for their moral character and community involvement. [Read article]



Top seniors move on to brighter futures [Read article]




Getting ready for graduation
Suns owner, Sen. McCain to speak at commencements
Robert Sarver, a Sabino High School graduate and 1982 UA alumnus, will speak at this year's morning commencement ceremony to share his experience as an entrepreneur and businessman.
Sarver, 42, is a father of three who spearheaded an investment group that purchased the Phoenix Suns for an NBA record $401 million, according to the National Basketball Association's Web site. [Read article]



Seniors get ready for graduation, goodbye
Students preparing to graduate this week not only have to worry about finishing up and doing well on their finals, they also have to plan what to wear to the big event, what to do afterward, and what to do with parents who have come to town.
Michael Valenzuela, a political science senior, said the path to graduation has been a fun one.
"I've had some really good times in college," Valenzuela said. "But I'm glad that I'm done with taking worthless classes. It will be nice to focus on different things now." [Read article]




Three profs retiring
He decided it was time to begin a new chapter in his life. Literally.
At the end of this semester, professor Jim Mitchell will leave the classroom behind to pursue a career in writing novels.
Mitchell, an assistant professor of journalism in the College of Social and Behavioral Sciences, has been teaching at the UA since 1995, where he teaches two courses: The Law of the Press and Writing for News and Documentary. [Read article]




Seniors bid farewell to UA favorites
As they prepare to toss their caps in the air and head into the "real world," graduating UA seniors have high hopes for the future, but for some it's tough to say goodbye to their Wildcat years.
"I'm going to miss the whole thing," said Laura Canalez, a psychology senior. "You get used to it."
Canalez said she will especially miss having ready access to the rich variety of cultural opportunities on campus, from art shows to music concerts to theatrical performances. [Read article]



Graduating seniors will miss college lifestyle
After dedicating four years of time and effort to classes that mattered, and some that didn't, graduating seniors said some of their biggest regrets and concerns were not realizing how different and important college is from high school.
While some graduating seniors said classes were important, kicking back and living the college life is a lot more fun than being buried face down in books and notebooks. [Read article]



No class gift this year: cell phones, Alumni Plaza to blame
Browsing the annals of university history in years to come, the class of 2005 might be surprised their graduating group did not collectively donate a class gift.
Donna Morton, the Alumni Association manager of annual funds, said the organization is "totally skipping" collecting the monetary senior class gift this year, citing the difficulty in reaching graduating seniors by telephone as a main deterrent. [Read article]



Job outlook looking bright for graduates
Graduates who thought they had taken their last test will take one more as they test the improving job market in what economists and employees predict to the best in four years.
About 13 percent more new graduates will find themselves employed shortly after college, said Andrea Koncz, public information officer for the National Association of Colleges and Employers.
"We are predicting a very strong market for college grads," Koncz said. [Read article]




ASUA wants Flutter Fetti, not tortillas
At this year's commencement ceremony, don't toss tortillas - fling Flutter Fetti!
At least that is the message administrators are advocating in response to the annual tortilla tossing tribulations.
President Peter Likins said the Associated Students of the University of Arizona, the UofA Bookstore and the Alumni Association will "introduce a new element to the ceremonies called Flutter Fetti to enhance the joyfulness of the occasions." [Read article]




Gifts for grads vary, pricey
For graduating seniors, May is filled with a variety of joyous events, including the graduation ceremony, plenty of parties to attend and the eagerly-awaited graduation gifts.
Students held a variety of opinions about what present could possibly make up for their time and hard work during their tenure as UA students.
Scott Albrechtsen, an agricultural economics and management senior, had a unique item in mind. [Read article]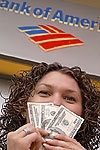 Debts come and go
Graduation is surely a time of joy for many students, but it is also time to worry about responsibilities in life.
Student loans are one responsibility and need to be paid off in a long-term financial commitment.
Though many students handle the burden well, there are things to be considered that can save a lot of money and headaches.
In order to keep loans and payments under control, students should only take out the amount they really need and pay it back as quickly as possible, said John Nametz, director of need-based aid in the Office of Financial Aid. [Read article]



Grads move on to bigger places
With graduation looming around the corner, many graduating seniors are filled with excitement for the future but uncertainty for what might come next.
Getting a job is a must, but for most students that will only come after settling back in at home, taking a break to spend time with family and a relaxing vacation.
Tyler Ross, a psychology senior, said she plans to take a year off and move to the East Coast with her family. [Read article]




Top stories of the year
A look back at the news around campus
1. Michael Moore, Ann Coulter, voting booths highlight civic engagement's 15 minutes of fame on campus
The 2004 presidential election evoked political uproar across the country, and the UA was no exception. The UA College Republicans and the UA Young Democrats battled to win over student voters, a demographic that tends to be scarce at the polls. ASUA got caught in the political whirlwind, inviting controversial speakers to campus like left-wing filmmaker Michael Moore but failed to bring a big-named speaker from the other side. [Read article]



Top crime stories of the year
1. No Anchovies shooting
A UA student shot a Pima Community College student at No Anchovies in late August after a dispute about seating arrangements. Jacob Ochoa, a liberal arts freshman at the UA, approached Jordan Prather because Ochoa thought he was sitting in his seat. Ochoa's gun was exposed during the confrontation, and Prather and his friend wrestled Ochoa to the ground but not fast enough to escape gunshots. Prather was hit in the leg, but his injuries were non-life-threatening. According to witnesses, Ochoa tried to escape the restaurant after the gun fired, but everyone at the popular college hangout stopped him from escaping. "The patrons were the heroes - no question," one witness said. Ochoa was arrested and taken to Pima County Jail and Prather was treated for his injuries. [Read article]



Year sees tuition hikes, budget reallocations
Tuition increased, the budget was cut, funding was reallocated and undergraduate tuition fees were rejected during this financially-erratic year for university administrators.
The Arizona Board of Regents approved the largest tuition increase of the three state universities at 9.8 percent, a move that followed the statewide Changing Directions initiative and cultivated differentiated tuition between the schools. [Read article]




Campus a work in progress
Orange cones, orange nets and yellow tape dotting campus this semester have been enough to make some students see red, with one major construction project complete and several more under way.
Two campus projects, the Meinel Optical Sciences building at North Cherry Avenue and East University Boulevard and an addition to the Chemistry building at East Fourth Street, are the major constructional operations students can expect to see next year. [Read article]




Students to vote on Rec Center expansion
Just before hanging up their hats and exiting the door, this year's ASUA Senate left a $35 million issue on the table for the next senate class to deal with in the fall.
At its final meeting of the year, the Associated Students of the University of Arizona Senate approved a referendum for students to vote next year on an expansion of the Student Recreation Center, to be completed in 2009.
The expansion includes an addition of 30,000 square feet of weight-room space and would cost students $35 million with an additional $42-per-semester fee. [Read article]



Governor targets prof, teacher retention
PHOENIX - Gov. Janet Napolitano announced April 4 plans to create a committee on teacher quality and support, which she hopes will help alleviate teacher retention problems in Arizona schools and universities.
The committee, which Napolitano said would be chaired by Northern Arizona University President John Haeger, will research and advise ways to "attract, train and retain" teachers in the state. [Read article]




showAds('bigbutton')?>






showAds('mediumbutton')?>

showAds('wildlinks')?>