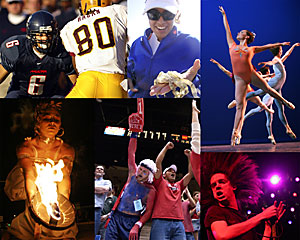 STAFF/Arizona Daily Wildcat

As this year's seniors get ready for life after college, some students say they will miss the cultural, social and academic opportunities afforded by a large university like the UA.

By Alexis Blue
Arizona Daily Wildcat
Wednesday, May 11, 2005
Print this


As they prepare to toss their caps in the air and head into the "real world," graduating UA seniors have high hopes for the future, but for some it's tough to say goodbye to their Wildcat years.

"I'm going to miss the whole thing," said Laura Canalez, a psychology senior. "You get used to it."

Canalez said she will especially miss having ready access to the rich variety of cultural opportunities on campus, from art shows to music concerts to theatrical performances.

For other students, the social opportunities afforded by a large university will be sorely missed.

Kacy Hamilton, a senior majoring in English, said she didn't have a lot of time for socializing with a final semester course load of 33 credits, but during football and basketball seasons, she enjoyed taking some time out to go to tailgate parties with her friends.

Then there are the seniors who have fallen in love with the academic opportunities the UA offers.

It was a big part of my growing experience. It helped me mature faster.

- Lisa Carbonell, physiology senior

Lisa Carbonell, a physiology senior, came to the UA from Puerto Rico to begin her college career at 16 years old.
"There were a lot of opportunities here I know I wouldn't have had (in Puerto Rico)," Carbonell said. "It was a big part of my growing experience. It helped me mature faster."
Now at age 20, Carbonell is applying to medical school and plans to return to Puerto Rico to teach high school science. She credits the research opportunities she had at the UA with preparing her for future medical pursuits.
Although not many seniors said they would miss the food on campus, Jon Mancuso, a political science senior, said the Eller Deli by McClelland Hall is one of the UA's greatest treasures.
"They make great sandwiches," he said. "It's really inexpensive and it's the best place to eat on campus."
Even if it's tough to bid farewell to the campus they have called their own for the past four (or more) years, students can't ignore the advantages of finishing college.
"I won't miss staying up all night trying to do homework. I look forward to that being over," Canalez said.
"I'm not going to miss walking 15 to 20 minutes to class in the heat," said Jefferay Lawton, an electrical engineering senior, who came to the UA from Toronto. "And paying out-of-state tuition."
And for those who are having serious trouble saying goodbye, it doesn't have to be the end of the educational road at the UA.
Canalez said she plans to return to the UA for graduate school after taking some time off.
"It's my home school," Canalez said. "I haven't considered any others."


Write a Letter to the Editor