Wednesday, May 11, 2005


Athlete of the Year: Shooting star
Sharpshooter Salim Stoudamire steals the show during senior year
Salim Stoudamire has come a long way since he arrived at the university, a shy and misunderstood individual trying to escape the shadow of his cousin and close friend, Damon Stoudamire.
Though Salim remains shy and, to a point, misunderstood, the final hurrah in his senior season was one he said he thoroughly enjoyed.
Out was the scowl on the face of Stoudamire after missing shots, described by many, including head coach Lute Olson, as a perfectionist who is very hard on himself. In was the smile seldom seen in his first three years. [Read article]




Team of the Year: Soccer shocker - Cats win Pac-10 title
When the 2004 women's soccer team's season started, the Pacific 10 Conference coaches picked Arizona to finish seventh.
After all, the team had eight incoming freshmen. Three of them immediately got starting jobs in their four-back defense, with another freshman starting in goal. Plus, the Wildcats finished in a tie for last place in conference play in 2003. The program had never bettered two wins in conference. [Read article]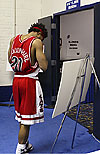 Top 10 UA sports stories of the year
All the thrills and skills of the past school year
1. Men's basketball drops 15-point lead to Illinois
The Arizona's men's basketball team thought it had an upset of top-ranked Illinois and a berth in the Final Four all wrapped up.
Then came the final four minutes.
The Wildcats watched a 15-point lead dissipate against a red-hot Illini team, swimming in a sea of orange in Rosemont, Ill., as Arizona fell in overtime, 90-89. [Read article]



Turning the page: Who's saying goodbye and who's just getting started
Men's hoops
Departing player: Channing Frye, center
Who to look for: Mustafa Shakur, point guard
Channing Frye made everyone forget former center Loren Woods in his four years on the Arizona men's basketball team.
The Phoenix native improved in each of his four seasons as a Wildcat, finishing this season with averages of 15.8 points and 7.6 rebounds on 55.4 percent shooting.
With fellow senior Salim Stoudamire (18.4 points, 50.4 percent shooting, 50.4 3-point shooting) also leaving, Arizona figures to miss Frye's consistency with a young squad next season. [Read article]



Looking Ahead
Baseball trying to host NCAAs
With three weeks left to play in the regular season, the No. 9 Arizona baseball team has positioned itself to make a run at the College World Series for the second straight season.
The Wildcats (32-15, 12-3 Pacific 10 Conference) have played a competitive non-conference schedule and trail No. 4 Oregon State (36-8, 14-4) by a half game for the conference lead. [Read article]



Commentary: Came for men's hoops, leaving with a lot more
I'm a sports fan. That's as basic as it gets.
I could complicate it by listing all the sports I'm a fan of, but when you break it down, I'm a sports fan.
So when it came time to decide which colleges to apply to, having a great sports program was No. 1 on the list.
I wasn't going to go to some smaller school like UC Irvine, NAU or some place where sports is a secondary thing.
I applied to schools like Michigan State, Southern California and, for some drunken reason, AS-who? [Read article]




showAds('bigbutton')?>






showAds('mediumbutton')?>

showAds('wildlinks')?>