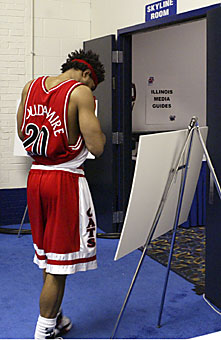 KEVIN B. KLAUS/Arizona Daily Wildcat

A tearful Salim Stoudamire makes the long walk to the locker room after the loss.

By Charles Renning and Tom Knauer
Arizona Daily Wildcat
Wednesday, May 11, 2005
Print this


All the thrills and skills of the past school year

1. Men's basketball drops 15-point lead to Illinois

The Arizona's men's basketball team thought it had an upset of top-ranked Illinois and a berth in the Final Four all wrapped up.

Then came the final four minutes.

The Wildcats watched a 15-point lead dissipate against a red-hot Illini team, swimming in a sea of orange in Rosemont, Ill., as Arizona fell in overtime, 90-89.

Down 75-60 with 4:04 left on the clock, Illinois went on a 20-5 run to tie the game at the end of regulation.

Then came Deron Williams.

The junior guard Williams scored eight points in overtime, including two 3-pointers, to help push the Illini closer to an eventual berth in the national championship game, where they lost to North Carolina.

Arizona, meanwhile, watched as seniors Channing Frye and Salim Stoudamire ended their careers on a sour note.

Frye's tournament dominance fell short despite 24 points and 12 rebounds, and Stoudamire followed a game-winning shot in the Sweet 16 by going 2-of-13 from the field and making only one of seven 3-point attempts.

As cheers emanated through Allstate Arena, freshman Jawann McClellan sank to the court and pulled his jersey over his face. Tears mixed with sweat in a decidedly bittersweet ending.

2. Salim buries Oklahoma State in the Sweet 16 with a last-second shot

Trailing Oklahoma State 78-77, senior guard Salim Stoudamire made a jump shot with less than three seconds remaining to send the Arizona men's basketball team to the Elite Eight for the second time in three years. It was Stoudamire's third buzzer-beater of the year.

"I practice that shot every day," Stoudamire said after the win.

The Wildcats and Cowboys went back and forth down the stretch.

OSU forward Joey Graham scored a short jumper with 19 seconds left to put OSU ahead.

With six minutes left in the contest, Stoudamire hit a free throw to record his first point of the second half. From there he went on to score 11 of Arizona's last 15 points.

3. Soccer takes Pac-10 title

It began innocently enough with a win. Then came another and another and another.

By the time the Arizona women's soccer team stepped off the field in Storrs, Conn., an upset loser in the first round of the NCAA Tournament against Colgate, few fans cared that the postseason was suddenly over.

Who knew it would ever start?

The Wildcats had won a team-record 15 games, nearly doubling its next highest total, and took home its first Pacific 10 Conference championship, breaking 31 school records in the process.

Arizona, which finished the season ranked 13th in the nation, vanquished three of its four top-15 opponents, including a 1-0, double-overtime win at No. 10 Stanford Oct. 15.

Goaltender McCall Smith, a finalist for National Freshman of the Year honors, backed up the effort. She started 19 of 21 games and allowed only 10 goals all season.

For his efforts, Arizona head coach Dan Tobias was named National Coach of the Year by Soccer America.

4. Arizona closes season with win over ASU, fans rush the field

All frustration about a 3-9 campaign on the gridiron seemed to be gone when the Arizona football team beat in-state rival ASU to close out its 2004 season. Fans rushed the field and celebrated the 34-27 upset over the then-No. 18 Sun Devils. It was head coach Mike Stoops' first taste of the UA-ASU rivalry, and he said it was nice to finally play a game where things went the Wildcats' way, as Arizona regained the Territorial Cup and redshirt freshman quarterback Richard Kovalcheck was named most valuable player.

The Wildcats ended with a season-high point total and caused a season-high five turnovers.

It was Arizona's first win over ASU since 2001, and several players and coaches said after the game that the win would be key to starting the 2005 season on a positive note.

5. Women's hoops beats Oklahoma, reaches 2nd round of NCAA tourney

The Arizona women's basketball team took advantage of 31 points from guards Dee-Dee Wheeler and Jessica Arnold to overcome a five-point halftime deficit and beat No. 8 seed Oklahoma 72-69 in the first round of the NCAA Tournament.

As a No. 9 seed, the Wildcats knocked off the Sooners and moved on to the second round of the tournament for the first time since 2000. The win was only the second time all season Arizona came back from a halftime deficit to beat its opponent.

The Wildcats lost to No. 1 seed Louisiana State in the tournament's second round.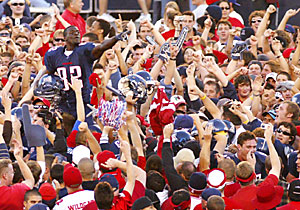 KEVIN B. KLAUS/Arizona Daily Wildcat
UA junior wide receiver Biren Ealy (82) and teammates celebrate amidst a crowd of fans who rushed the Arizona Stadium field following the Wildcat football team's 34-27 victory over Arizona State Nov. 26. The win was Arizona's first over the Sun Devils since 2001.
6. Football drops two close contests at home in consecutive weeks
In consecutive home games around the start of Pac-10 play, the Arizona football team lost to Wisconsin on a missed field goal and fumbled away the chance to beat Washington State.
Trailing Wisconsin 9-7 with less than a minute to go, kicker Nick Folk missed a 47-yard field goal in muddy conditions.
The next week, leading 19-14 with 1:31 to go, running back Gilbert Harris fumbled on first down, and the Cougars drove the field to score the winning touchdown.
The Wildcats slipped to 1-2 en route to losses in seven of their next nine games.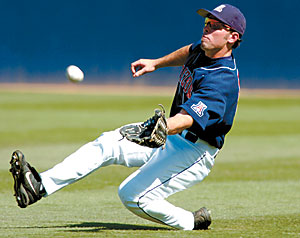 CHRIS CODUTO/Arizona Daily Wildcat
Senior right fielder Jeff Van Houten makes a diving catch during Arizona's game against Southern California April 30 at Sancet Stadium.
7. Baseball earned best-ever conference start
The Arizona baseball team ended the 2004 season with its first trip to the College World Series since the program won the national crown in 1986.
This year's Wildcat team carried over that momentum and began the Pac-10 season 12-3, including two wins over in-state rival ASU, the best start to the conference season in the program's 55-year history.
Swim team brings home three individual titles
Senior Emily Mason and juniors Simon Burnett and Marshi Smith all took home individual swim titles at the NCAA Championships March 17-19.
Mason won her second national title in as many years, Burnett won the 200-yard freestyle and Smith won the 100y backstroke.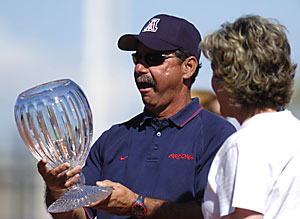 CHRIS CODUTO/Arizona Daily Wildcat
Head softball coach Mike Candrea was honored for his 1,000th career victory last month at Hillenbrand Stadium. Candrea's 1,000th win came when Arizona defeated NC State March 13.
8. Candrea wins 1,000th career game at Arizona
Given Arizona softball head coach Mike Candrea's tendency to downplay his achievements, a road game during spring break seemed to be the best time to get his 1,000th career victory with the Wildcats.
After taking a year off to coach the U.S. team to a gold medal in the 2004 Summer Olympic Games, Candrea returned to
9. Tucson to drive Arizona to 21 straight wins to open the season.
Candrea reached the milestone in a 12-3 win March 13 against North Carolina State, in front of only 316 fans.
Fitting for a three-time National Coach of the Year.
10. Hollowell makes short work of UA record book
At the rate Alicia Hollowell is going for the Arizona softball team, the Wildcats' Hillenbrand Stadium may be in danger of losing its namesake.
The junior pitcher dominated throughout the team's non-conference schedule, throwing her third perfect game of the season March 16 against Long Beach State. The performance gave Hollowell a record seven no-hitters on the season, matching Debby Day, Susie Parra and Julie Jones' team mark set in 1991, and 11 in her career.
Hollowell also surpassed Jennie Finch's career strikeout mark of 1,028 with her 15th punchout Feb. 27 against Baylor.
The day before, Hollowell became only the second Wildcat pitcher to notch 1,000 career strikeouts, fanning 17 in a perfect game victory over Louisiana Tech.


Write a Letter to the Editor