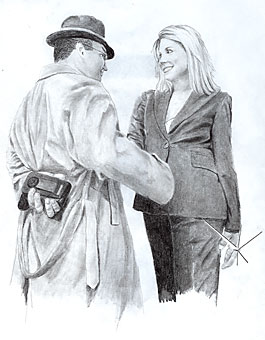 Illustration by Earl Larrabee

By Anthony D. Avila
Arizona Daily Wildcat
Wednesday, June 8, 2005
Print this


The relationship between ASUA and the Wildcat

In the corner of ASUA President Cade Bernsen's office lies a small punching bag adorning a taped-up cut-out of the Wildcat, an heirloom of sorts, first handed down in 1997.

The toy punching bag is really a gag gift most recently passed down by former President Alistair Chapman to Bernsen at his inauguration in May.

Despite the light-hearted nature of the gift, the toy actually represents a dynamic relationship on the UA campus that has existed for decades.

Recently, Bernsen said one of his goals as president is to improve the relationship ASUA has with the Wildcat, making sure that "communication channels are open."

Bernsen said he intends to have regular meetings with Wildcat editors because he is gearing up for major issues next year, such as President Peter Likins' retirement, the Student Rec Center fee, and rising tuition costs.

"One thing we have to work together on this year is educating students on what's going on with the state legislature in Phoenix," Bernsen said about budget and tuition concerns among UA students. "We have to make sure the blame doesn't fall on the wrong people."

While the goal is understandable, it has more implications than he might be aware of, having never set foot on the UA campus before a year ago.

Though the two groups Bernsen seeks to bring together are both committed to providing a voice for students, the Associated Students of the University of Arizona- UA's student government and representative voice for all students- has a history with the Wildcat, extending back to 1915 when ASUA was founded.

A history of conflict and compromise

One of the biggest annual controversies between the Wildcat and ASUA is the Wildcat's candidate endorsements during ASUA election campaigns.

Looking back into the Wildcat archives, an article from March 24, 1961 shows that the ASUA Executive Council called a special meeting to question the paper's stated intention to "take a stand" in the ASUA elections.

ASUA officials said they opposed the paper's choice to take sides in the election and endorse a presidential candidate, according to the article.

Joe Cole, the editor at the time, defended his decision, saying he was trying to create a large voter turnout.

Incidentally, the endorsed candidate ended up winning the election, but ASUA president Larry Betts thanked the Wildcat staff "for their fine cooperation with ASUA this year. It is my belief Joe has been one of the finest editors."

This was just one example that showed how students within ASUA have responded differently to the same Wildcat staff.

The following year, the endorsed presidential candidate missed winning the presidency by three votes. But another controversy arose when ASUA decided to delay releasing the election results until the Spring Fiesta, which was an annual event before the creation of Spring Fling.

The Wildcat subsequently ran an editorial criticizing the decision, saying it was not right to "promote a social event that students otherwise might not care to support," according to an April 11, 1962 Wildcat article.

More recently, the "feud" has continued to be a force on the UA campus.

J.P. Benedict, the 2003-2004 ASUA president, said the difficulty he faced with the Wildcat was a major part of his presidency.

"It was funny," Benedict said, looking back. "Dealing with the press was one of my biggest challenges as student body president."

At first, he was enthusiastic about talking to reporters, "going on and on" and giving long answers. But later, Benedict said, he learned to give more calculated and shorter answers.

"I felt like my words would get twisted, and I was afraid that would happen again," Benedict said.

But Mike Proctor, who was president two decades prior from 1983-1984, said the two entities worked well together and respected the different roles they had.

"They kept us in line," Proctor said. "But there was a lot of collaboration. We understood each other's roles."

In fact, Proctor said ASUA and the Wildcat were on the same side of certain issues, including "some pretty heated battles with the administration."

One of those issues was when the administration cut library hours. Both the Wildcat and ASUA voiced opposition to this change, and it was eventually reversed, Proctor said.

"For that to have happened so effectively, they needed to work together," Proctor said. "It wouldn't have happened if both had simply worked independently."

Just last December, the administration decided to cancel the fall commencement ceremony, but were reinstated after a strong outcry from students.

Chapman, ASUA president at the time, said he views working with the paper as more of a collaboration than a relationship.

Overall, Chapman said enjoyed working with the Wildcat, and he thinks the year went well partly because of open communication.

"I was always really honest, probably brutally honest sometimes, and I think the Wildcat appreciated that," Chapman said. "I was able to earn the trust of reporters and knew they would respect certain conversations that had to be off the record."

Voting student regent Benjamin Graff has stayed involved in ASUA affairs since 1997. He has been senator, executive vice president, president, and most recently co-mediated a candidate debate during this spring's ASUA elections.

For the year he was president, Graff said he had an "absolutely perfect working relationship with the Wildcat" which he said could be partly attributed to his open door policy in giving information to reporters.

But Graff said he remembers years when the feud was more a reality than just perception, especially from 1998 to 1999.

"That was an overall bad year," Graff said of the relations.

Within the first few weeks of the fall semester, the ASUA Senate passed a resolution denouncing the Wildcat for running a comic that many people found homophobic and considered offensive. The matter even reached north of Tucson when the ASU student government spoke out to question the necessity of the resolution.

Graff, who voted in favor of the resolution, said the issue was an interesting balance between First Amendment rights and a moral standard of whether to run an inappropriate cartoon.

"But it's important to remember that it wasn't just members of the senate, but the entire LGBT community, that came forward against the cartoon," Graff said.

Besides the few negative experiences, Graff said he learned how to keep a professional relationship while allowing each side to do its respective job.

As a former ASUA official, Graff said he appreciated reporters who sought out opinion from student government because of the number of clubs, committees, and students that ASUA encompasses.

Overall, Graff said he found matters functioned more smoothly when the relationship was based on trust.

"Trust goes both ways," Graff said.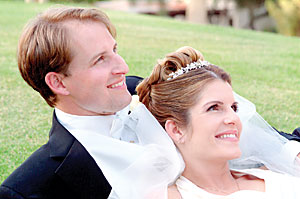 Photo courtesy of Derek and Rebecca Lewis
Derek Lewis, ASUA president from 1993-1994, with wife Rebecca Rolwing. During Lewis' presidential term, Rolwing was the Arizona Daily Wildcat's ASUA beat reporter.
Putting the "love" into the "love/hate" relationship
Although reporters and government officials find plenty to argue about, the professional relationships can sometimes develop into friendships later in life.
Derek Lewis, who was president from 1993-1994 and a two-time senator, said during his presidency there were "definitely articles written about me that were not positive."
At the time, the ASUA beat reporter was Rebecca Rolwing, who Lewis said was a "great reporter who went after sources."
At one point in the year, Lewis was voted off the undergraduate governing board, an event reported in the paper, Rolwing said.
The result of their professional relationship? The two married last year.
Though they never dated while at the UA, Rolwing said she developed a crush on Lewis throughout the year and "used to look for ways to head on up to his office."
Rowling said she stands behind her stories, and believes that she was fair through all of it.
"As the year wore on, the articles actually became more critical," Rolwing said.
"I don't think I would have believed it if I had known," Lewis said about their eventual marriage.
There are other examples of former ASUA officials and reporters crossing paths since leaving the UA, not necessarily ending in matrimony.
Philip "Flip" May, ASUA president from 1979-1980, was covered as an ASUA senator by Wildcat reporter Chris Bode.
Both left their respective careers in journalism and government to study law, and now run into each other periodically in downtown Phoenix, May said.
May said he recognized Bode because he remembered him from his time at the UA.
"We had a good working relationship, and I respected him," May said. "I was very comfortable with trusting him."
Since parting ways at the UA, Bode said he and May have since had mutual friends on a recreational basketball team and would see each other in the law community.
Working both sides
Paul Allvin was Wildcat editor in chief from 1991 to 1992, and still works on campus as the UA spokesperson.
Allvin worked in the newsroom for four and a half years, but resigned in February of '92 as editor in chief to run for student body president, which turned out to be an unsuccessful bid, he said.
Concerning the dynamic of the Wildcat and ASUA, Allvin said that "you could drop the two groups into any situation, and there's going to be tension any time there's a press versus government scenario."
In order to create better relations between the two organizations, Allvin said he would encourage people from the Wildcat to volunteer with ASUA, and people from ASUA to spend some time in the newsroom.
"I think it would produce better student government and produce better student journalism," Allvin said.
While he's preparing for the upcoming school year, Bernsen said he will do his best this year to maintain a good professional relationship with the Wildcat.
"I consider the Wildcat friends of ASUA, contrary to what some people have said," Bernsen said. "Friends disagree sometimes, but that doesn't mean they're not friends."
As far as criticism or opposition he might face this next year, Bernsen said he will he will do his best to explain his position and make sure people know his policy well.
"As long as ya'll are fair and consider my point of view, that's all I can ask for," Bernsen said.
- Natasha Bhuyan contributed to this report


Write a Letter to the Editor