Wednesday, July 13, 2005


Tucson jobs: from polishing the rink to scooping up all the stink
Summertime is usually a time for being lazy, soaking up the sun and dreading the new school year, but for many college students, summer is also a time to earn some cash, be it in an air-conditioned office or outside in the blistering heat.
Quick with a whistle Matt Gebert, a senior majoring in mechanical engineering, has only one complaint about his job.
"You get an uneven tan sitting on that chair," he said. "My back is white but my thighs are tan." [Read article]




Weeklong course provides young students hands-on approach to crime investigation
CSI's high school fans in Tucson are getting a taste of what a career in forensics is really about in a weeklong summer program on campus this week.
Local 11th and 12th graders will be introduced and exposed to forensic science in a weeklong summer camp spread across the UA campus in hopes of opening their eyes to a future career in the field.
The DNA Detectives camp, organized by the Division of Biotechnology in the UA's Arizona Research Laboratories and the Flandrau Science Center, will offer the program to 22 to 24 students this year, along with eight teachers. The students will participate in mock crime scenes recreated from actual cases of murders, paternity cases and other DNA-based investigations, said Al Agellon, research and training coordinator for BIO Technology. [Read article]




Students give four lab samples, make fast cash
Want to make a quick $20?
Students got the chance on the UA Mall this past Monday between 10 a.m. and noon, in exchange for four painless laboratory samples and 10 to 15 minutes in the sun.
"I figure if I have to pay so much for books, $20 bucks for 10 minutes is a good idea," said Christine Williams, a linguistics senior, who said she didn't mind the 106-degree heat.
The handful of researchers sampled the subjects' skin pigmentation, eye color, hair and DNA, said Murray H. Brilliant, Lindholm Professor of Genetics and principle investigator. [Read article]



New committee seeks 'quality' candidates for Likins' replacement
A committee of university affiliates and community members was named last week to help in the selection of the next president to replace President Peter Likins after his retirement next summer.
On July 5, the UA Presidential Search Committee was named by its chair Fred T. Boice, an Arizona Board or Regents member, a press release said.
The committee of 31 members consists of UA faculty as well as university affiliates and community members. It includes UA Student Body President Cade Bernsen, Arizona Board of Regents President Christina Palacios, and Mayor Bob Walkup. [Read article]




Groups stay in dorms during summer
While last year's freshmen are home for the summer and this year's are preparing for life on their own, residence hall rooms are being rented out to several groups that visit campus during the summer.
Jim Van Arsdel, director of Residence Life, said like most schools across the country, UA dorms are used to house groups for summer camps or conferences.
"Generally the groups have some affiliation with the UA, like Arizona Girls State or the several UA sports camps," he said. [Read article]



Website advertising makes Ocho Vampiros popular from website advertising
It started out as an urban legend about a Mexican vampire, and ended up becoming a nationally popular card game created by a team of East Coast gallery co-owners who just wanted to have a good time.
Mike Blevins, Cold Harbor AZ Gallery co-owner and inventor of the Ocho Vampiros card game, said he and his partner Luke July got into the card game business by complete accident.
Morgantown, WV residents Blevins and July are "obsessed" with Arizona, Blevins said, and opened a Pittsburgh-area art gallery that showcased landscape photography and Southwestern scenes. [Read article]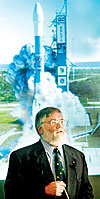 UA scientist shares first results of deep impact impact
Scientists spoke on the success of the Deep Impact mission on July 3 and explained to a crowd Saturday about the effects and future research possibilities of the launch.
"We did it!" exclaimed UA regent professor H. Jay Melosh as a crowd of more than 350 Tucsonans erupted in applause in recognition of Melosh and the accomplishment of the Deep Impact Mission, which NASA is calling a smashing success. [Read article]




Fast facts
taken weekly with a grain of salt
In early 18th-century Portugal, the Church owned two-thirds of the land.
Windmills were probably unknown in Europe until the 12th century, when returning Crusaders brought knowledge of them. They thereafter became familiar landmarks in Holland, England, France and Germany.
The Amazon River has more than 1,100 tributary streams.
A ryegrass plant, grown as part of a scientific experiment, put out roots totaling 378 miles in a single 14-month period. [Read article]




showAds('bigbutton')?>






showAds('mediumbutton')?>

showAds('wildlinks')?>