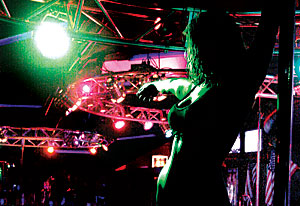 JACOB KONST/Arizona Summer Wildcat

Nearly 40 percent of the staff at adult entertainment nightclub Curves Cabaret, 2130 N Oracle Rd., is comprised of college students from the UA and Pima Community College. Students work as DJs, doormen, bartenders and dancers.

By Nicole Mott
Arizona Daily Wildcat
Wednesday, July 13, 2005
Print this


Summertime is usually a time for being lazy, soaking up the sun and dreading the new school year, but for many college students, summer is also a time to earn some cash, be it in an air-conditioned office or outside in the blistering heat.

Quick with a whistle Matt Gebert, a senior majoring in mechanical engineering, has only one complaint about his job.

"You get an uneven tan sitting on that chair," he said. "My back is white but my thighs are tan."

Gebert works as a lifeguard at the Campus Recreation Center. He said he enjoys not having to sit at a desk all day and he gets to teach swim lessons too.

It is also one of the higher paying jobs on campus, and although he does not make as much money as a city lifeguard, he has job security throughout the year and does not have to act as a disciplinarian.

"You are generally around students, so you are not yelling for running around the pool," says Gebert.

Gebert did once, however, have to tell a 50-year old couple to quit making out in the pool, he said.

The lifeguard's job focuses on the safety aspect of swimming, and lifeguards are subject to "pop rescues" where supervisors stage a drowning, he said.

The only downside to being a lifeguard is that some people like to "tease."

"Some people float facedown for long periods of time, and you have to ask them to please float on their back," says Gebert.

Lifeguards are hired at the Rec Center at the beginning of every semester and the summer.

Students can take classes to become a lifeguard, and you do not have to be a "pool god," you "just have to be quick enough to save someone," says Gebert.

This'll only hurt a little…

"The 1970s Ron Jeremy porn star look is out," says Emery Nicoletti, the owner of Metropolis Salons, 6644 E. Tanque Verde Road.

Although all of his services deal with personal grooming, some are more intimate than others, such as body waxing.

"Guys are fun to help because they are just clueless," Nicoletti said. "Their girlfriends will send them in and tell me that he needs help with this or that. It just isn't as taboo for men as it used to be."

Nicoletti said waxing can be very personal, especially when dealing with certain parts of the anatomy. He says it is uncomfortable at first, but clients tend to "numb up" to it after awhile.

Everyone working in his salon is a professional, and he stresses how important it is for his staff to maintain a professional attitude.

The only sticky part of the job comes from that handful of people who don't exercise common sense.

"If you go number two or come after you go to the gym, take a shower," Nicoletti said.

While everyone can be a body-waxer, not everyone can charge for it. It may look easy, but there are a lot of tricks in this trade.

Professionals use a layer of powder before waxing, so the wax doesn't go directly into the pores, and grips the hair better, he said.

Professionals are also aware of certain medications that make the skin more sensitive, and if a would-be waxer isn't aware of those medications, a layer of skin can flap off.

The waxees in those cases look like they have third degree burns, Nicoletti said.

"There are a lot of variables that play into waxing, and if not done properly, can damage the skin badly," he said.

Health counselor pumped about family environment

As a total health counselor at the downtown YMCA, Ashlyn Anoleski, an education senior, is a certified personal trainer, and teaches group strength training, pilates and interval courses.

Anoleski said she enjoys her job because of the spontaneity of it. She doesn't know what the day will bring until she checks her appointment book in the morning, she said.

While Anoleski said she doesn't make as much money as if she were working at other gyms, she would be excluded from the family environment and the diversity of people she is exposed to at the YMCA.

"The kids are really fun to be around, you never know what to expect," says Anoleski. "A few weeks ago there was an 8-year-old and a 5-year-old running on the treadmill at the same time, it was funny."

Anoleski said although she has no idea what she'll end up doing in her future, she plans on staying in the fitness industry because there are a lot of new opportunities opening up every day.

Will strip for food, books

It's no accident that nearly 40 percent of the staff at Curves Cabaret, 2130 N. Oracle Road, an adult entertainment nightclub, is comprised of students.

Curves Cabaret actively recruits University of Arizona students to be DJs, doormen, bartenders and dancers.

"Most young people don't have the same sexual hang-ups as my generation," said Mike Haven, owner of Curves.

The money is great and the hours are flexible, Haven said.

Doormen and security guards make $12 to $18 an hour, while bartenders, managers, and waitresses can make from $20 to $200 dollars an hour, depending on the night.

Furthermore, if students want to take 1-2 weeks off for finals or go home for Christmas, the staff is so large it is generally not a problem, Haven said.

And "anybody can dance," Haven said.

Dancers generally start out slow and are never encouraged to step out of their comfort zone, he said, and most girls find out that it is not anything like they expected.

"Most students find that this job is a perfect marriage of money and flexibility," Haven said. "It's a great college job. It's just a wait station for better things."

Can't get a man? Rent one.

"Male escorts and strippers are one and the same. Sometimes you have to do both," says Ken Ellsworgh, an escort who works for "24 Hour Escort."

Male escorts accompany women to a variety of places, generally acting as if they were with them, Ellsworth said.

For example, one woman's husband was sent to jail, and Ellsworgh was hired to act as if he were her husband in front of the woman's mom, he said.

Ellsworgh particularly likes his job because he likes working around women and said the money is great - he charges upwards of $160 an hour.

The down side of the escort business is that it is highly regulated, and escorts are always hassled by the cops, Ellsworgh said.

He said police constantly set up sting operations and escorts must be licensed.

Ellsworgh said there are specific licensing procedures that must be completed that are "not fun," and the specifics of getting a license is a trade secret.

He said the customer base varies — some women are unattractive, but some are very attractive. Most women seeking his services, however, are lonely or do not have the social skills to interact with other people.

Escorts play a variety of roles, Ellsworgh said.

"Sometimes you are a sex object, sometimes you're a tour guide, a counselor, it just all depends," he said.

Contestant #1 in the shopping cart rodeo

A self-proclaimed cart wrangler, stock boy and loading master at Costco, Ryan Reece spends most the day out in the sun gathering carts.

He arms himself with his mister and his bottle of water, and while he said the heat sucks, making approximately $13 an hour doesn't give him too much room to complain.

While he says the heat tends to make people "bitchy," his favorite part of the job is that he doesn't have managers breathing down his neck.

He also enjoys getting tanned and getting "semi-buff" in the meantime, Reece said. That, and the eye candy.

"There are a lot of good looking girls who come here," said Reece. "If I didn't work here, I'd probably come here everyday anyway."

Costumes and 110-degree heat make one good party

"Superheroes are the most fun to play," says Jeff Knowles, owner of Party Animals, 630 N. Craycroft Road, Suite 202.

The business is a party supply company that provides characters and superheroes for children's birthday parties.

Knowles said being a superhero was a childhood dream and he used to read comics a lot, and, glamorous or not, this makes the job particularly enjoyable for him.

Most appearances last between half an hour and two hours, Knowles said, while corporate appearances can last as long as four hours. Characters can make up to $35 dollars an hour, he said.

Hours are limited, however, as the demand for characters is usually limited to Saturday and Sunday afternoons.

"There have been interesting things that have happened to me while in character," Knowles said. "For example, at a party my character's head came off. Or the time when my car broke down, and I had to ride the bus as Batman," Knowles continued. "And I was chased dressed as a purple dinosaur by high school students at the mall."

Knowles said at least one major low point about his job is that often, "it's hot, especially in the Darth Vader costume."

rom hockey great to Zamboni master

Jason Katz, a 23-year-old former Iowa State hockey goalie, never let the game leave him, even in the heat.

Katz is the senior supervisor at Polar Ice, 7333 E. Rosewood St., Tucson's only ice skating rink.

In the cool 40-degree atmosphere of the rink, he is responsible for managing employees, but he receives most of his enjoyment working with children.

"It's fun to see how enthusiastic kids are skating," said Katz. "For a lot of kids, especially here, it is the first time that they have ever been on the ice."

Katz said he also runs the kids' camps at Polar Ice, and they have snow days where employees dump buckets of snow on the ice and let the kids play in it.

Katz drives the Zamboni, a machine that resurfaces the ice in the rink. At first it was exciting to drive because it required you to press buttons in a certain sequence, said Katz, but now it's pretty boring.

There is no form of entertainment to keep him occupied on the Zamboni, as there is no radio, he said. Katz was silent about how he keeps himself entertained.

His hours are long, and he practically lives at Polar Ice, but Katz says he loves what he does.

Katz is currently attending Pima Community College, and is focusing his studies on early childhood studies.

Catching Heat

Not many people are lucky enough to have a job that is their passion too.

But that is the case for Jackie Coburn, starting catcher for the Arizona Heat, a part of the National Pro Fast Pitch league.

Coburn, a UA alumna, completed her degree in psychology and finished her eligibility in softball this spring, she said. She immediately began catching for the Heat.

While the days are often hectic, especially on game days, she said she enjoys the people she is around and the professional side of softball.

The down side, Coburn jokes, is that practice is not until later in the day, so she ends up spending money on account of having nothing else to do.

Being a catcher pays well she said, and it allows her to focus solely on softball. According to the NPFPL, the average softball player makes $2,500-$5,000 for a three month season.

The NPFPL is in its second year of existence and has 6 teams nation wide.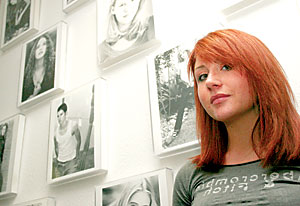 JACOB KONST/Arizona Summer Wildcat
Taylor Valdez, a communications sophomore, works as Director of First Impressions at Barbizon Agency & Modeling Schools, 4811 E Grant Rd.
All models, all the time
Taylor Valdez, director of first impressions at the Barbizon Modeling School and Agency, knows about making a good first impression.
Her job is to mark the first impression of each and every person who walks into the agency. But Valdez jokes it is "just a fancy name for a receptionist."
Valdez, a 19-year old sophomore majoring in marketing, does a lot of clerical work and other office duties and said she loves her job at the modeling agency.
She said she is around "ridiculously good-looking people" all day, the hours are great, and it's a fun and relaxing environment to work in.
The modeling school runs on Saturday, and it is great to be around young girls, because "we boost their confidence in a healthy, respectable way," Valdez said.
The agency is open four days a week and Valdez said her work schedule works well around school and the job pays very well.
In addition to being around gorgeous people all day, Valdez annually receives an all-expenses-paid business trip to New York City.
"This is the best job in the world," Valdez said. "It's a great networking opportunity and it will open a lot of doors for me one day."
A poop-scoopin' and bear feedin' good time!
Sarah Loomis, an animal sciences senior, is working as an intern at the Reid Park Zoo this summer and although she said she doesn't get paid, she receives class credit for her work.
Loomis is responsible for a variety of activities such as picking up poop, cleaning exhibits, feeding animals, working in the health center, getting medications ready and helping care for sick animals, she said.
"The best part about being an intern is that I get to be around exotic animals," Loomis said.
Loomis said there are some parts of her job that are less glamorous, but she considers it as practice for her future.
But more about the poop –
"If you go clean out the Rhino Barn you have to stand in the poop and shovel it. You just can't come in here expecting to stay clean," Loomis said.
"In fact one of the interns once threw up because the polar bear exhibit smelled so bad," she recalled.
Loomis said she loves her job because of the variety of tasks she is involved in at the zoo. It's an eclectic based curriculum that exposes you to all aspects of zoo life. Emphasis on all.
-Photos by Claire C. Laurence. Josh Fields, Jacob Konst and Audi Bastie.
---


Write a Letter to the Editor