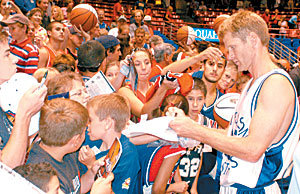 FILE PHOTO/Arizona Summer Wildcat

Former UA All-American Steve Kerr signs autographs in McKale Center following the inaugural Lute Olson All-Star Classic in August, 2003. Kerr is expected to be on hand again next month for the event's second rendition.

By staff and wire reports
Arizona Daily Wildcat
Wednesday, July 20, 2005
Print this


Wildcats clean up at ESPYs

Former UA All-Americans Annika Sorenstam and Terry Francona led the charge of former Wildcats at last weeks ESPY Awards, with Sorenstam taking home honors as Best Female Athlete and Francona's Boston Red Sox squad earning Best Team recognition.

Sorenstam, who won the NCAA women's golf championship as a UA freshman in 1991, took home her seventh career ESPY award, the second most in the history of the ESPN television network's yearly sports awards program.

Sorenstam has won six of the 10 tournaments she's entered this season, including a pair of majors. Over the past three seasons, the 34-year-old Swede has won 25 tournaments, including nearly a half dozen major titles during the span.

Francona, the 1981 Golden Spikes Award Winner as the top collegiate baseball player of year, managed the Red Sox to their first World Series title since 1918. Leading from the dugout instead of the playing field, Francona managed the Red Sox to what is arguably the greatest postseason comeback in sports history after battling back from a 3-0 deficit to their arch-rival New York Yankees to win four straight games and the American League pennant in 2004.

In all, the Red Sox took home three ESPY awards, including best game – game five of the American League Championship Series, a 14-inning victory over the Yankees – and Best Championship Performance, given to pitcher Curt Schilling after his gutsy performance on a sutured right ankle during the 2004 postseason.

Sorenstam and Francona weren't the only current or former Wildcats honored, however. Former Wildcat Jennie Finch, who also graced the cover of last week's Sports Illustrated, was on hand to help accept the award for Best Female Olympic Performance, given to the gold-medal winning USA softball team. Finch and fellow ex-Wildcats Lovie Jung, Leah O'Brien-Amico and Nicole Giordano were all members of the squad led by current UA head coach Mike Candrea.

Tickets on sale for August Olson All-Star Classic

General public tickets are available for the Lexus-Infinity Shootout of the Lute Olson All-Star Classic, scheduled for Aug. 14 at 1 p.m. in McKale Center.

For the second time in three years, the UA athletic department will invite former UA basketball stars like Steve Kerr, Sean Elliott, Luke Walton, Jason Terry and Richard Jefferson, among others, back to Tucson, this time to commemorate the 1988 UA Final Four team, led by Kerr and Elliott.

Tickets for Sunday's Shootout, a semi-competitive basketball game held in McKale Center, start at $10 and can be purchased through the McKale Ticket Office either in person, by phone – (520) 621-CATS – or online at arizonaathletics.com.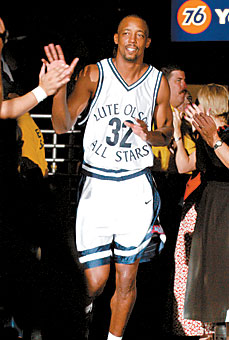 FILE PHOTO/Arizona Summer Wildcat
The two-day event kicks off Aug. 13 with a Final Four tribute dinner, slated to begin at 5:30 p.m. at the Westin La Paloma Resort and Spa. The dinner will include a silent auction featuring professional and UA related memorabilia.
Tickets for the dinner are $175 per person. More information on the dinner and auction can be obtained by calling (520) 621-2331.
"The inaugural All-Star Classic we held two years ago was a big success, and we wanted to continue this tradition of highlighting our alumni and inviting our fans to participate in a weekend full of events," said Arizona head coach Lute Olson in a press release.
The inaugural All-Star Classic weekend brought back former UA greats in honor of Olson's induction to the Naismith Basketball Hall of Fame, and included a roast of the long-time UA head coach.
UA hoops to face Kansas in Hawaii to open season
The Arizona men's basketball team may be kicking off its 2005-06 season in Hawaii, as part of the Maui Invitational, but the tournament will be anything but relaxing for the Wildcats, who open play against perennial national title contender Kansas at 7 p.m. MST on Nov. 21.
The Wildcats and Jayhawks renew a rivalry that saw the Jayhawks defeat the Wildcats by a bucket in an Elite Eight showdown in Anaheim, Calif., in March 2003, sending Kansas to its most recent Final Four appearance.
Kansas and Arizona – the 1997 National Title winner – aren't the only marquee programs invited to Maui, as 2000 National Champion Michigan State, 2002 National Champion Maryland, 1994 National Champion Arkansas and 1999 and 2004 National Champion Connecticut will also take part in the tournament. Host school Chaminade of Hawaii and Gonzaga, no longer considered a Cinderella after making the NCAA tournament each of the past six seasons, including three straight Sweet 16 appearances from 1999-2001, round out the field.
Each of the tournament's 12 games will be televised on ESPN, ESPN2 or ESPNU, while the Arizona-Kansas matchup is the third game of the tournament, which begins Nov. 21, at 9:30 a.m. local time in the 2,400-seat Lahaina Civic Center. The Wildcats and Jayhawks will do battle on ESPN's flagship network.
---
- From staff and wire reports


Write a Letter to the Editor