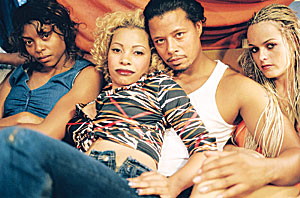 Paramount Pictures

Shelby (DJ Qualls) interrupts a romantic interlude between DJay (Terrence Howard) and Key (Anthony Anderson).

By Karinya Funsett
Arizona Daily Wildcat
Wednesday, July 20, 2005
Print this


With its harmonizing prostitutes, butt-cheek clapping strippers and rapping pimps, "Hustle & Flow" didn't at first sound like a movie this literary-minded feminist would enjoy. But once I put away my hip-hop prejudice, this movie took me on an enjoyable ride into a world much, much different from my own.

The setup is this: DJay (Terrance Dashon Howard), our guide through the Memphis street scene, is a pimp on the fast track to a mid-life crisis. He's growing tired of sitting on the back roads in his aging Cadillac, waiting for interested gentlemen to cruise by and take his number-one ho, Nola (Taryn Manning), for a $20 ride. As DJay watches Skinny Black (Ludacris) turn from neighborhood kid and supposed boyhood friend to rap superstar, he realizes that he's cut out for something more in life than pimping. He's cut out to be a famous rapper, too. One that raps about pimping.

So with a black-market keyboard gained in an illicit strip-club parking lot transaction, DJay takes his first step towards living out his dream. He solicits help from former schoolmate Key (Anthony Anderson), who is now living a clean life in the suburbs with a pretty wife and a good job as a recording technician. Shelby (DJ Qualls – yes, the skinny white guy from "Road Trip") is also enlisted to help with the creation of DJay's demo tape, and to provide some comic relief (usually just by virtue of his overwhelming whiteness) to the sometimes-tense recording sessions.

Hustle & Flow

7 out of 10
Paramount Pictures
Rated: R
114 min.
Opens Friday
The movie lets us watch as DJay writes his lyrics, finds his rhythm, navigates his way through a life filled with hookers, drugs, and baby-mama drama and ultimately as he tries to get Skinny Black and the music industry to take note of his talent.
The only problem with this is that in order to get behind DJay and root for him to succeed, there needs to be a suspension of the viewer's morals and judgments (unless you're a big fan of prostitution, in which case this movie should be right up your alley). He is an inherently ugly character, selling flesh and drugs with little distinction between the two. Still, Howard's gripping portrayal of DJay turned what could have been a completely despicable character into one towards whom I found myself being surprisingly sympathetic. Of course, usually after DJay earned my skeptical support, he'd backslide and do something to lose it again, like trade a pawn shop owner an evening with Nola (against her will) for a microphone. Once a pimp, always a pimp.
The dialogue, with the exception of a few Tarantino-esque soliloquies ("A man ain't like a dog..."), is realistic, as is the gritty urban setting and dilapidated ghetto whorehouse-turned-recording studio. The excellent soundtrack compliments the film well, and DJay's raps about the perils of pimping will get stuck in your head. At a running time of nearly 2 hours, the middle of the film seems to drag a bit (especially during the recording sessions, where I sometimes felt like I was watching the same scenes over again).
Despite its unscrupulous characters and slow middle, "Hustle & Flow" proved to be a satisfying film. It is funny – sometimes unintentionally so – and very entertaining. While there are no great moral lessons to be learned, the film does fulfill its goal of giving the viewer a glimpse into the seedy underworld of life on the Memphis streets. It also shows that – as DJay so eloquently raps – it really is "hard out here for a pimp."
To boot, "Hustle & Flow," written by Craig Brewer and produced by John Singleton, has already met with some critical success. During its debut at this year's Sundance Film Festival, it won both the Audience Award and Cinematography Award in the drama category, which is, of course, pretty pimp.


Write a Letter to the Editor