Wednesday, July 20, 2005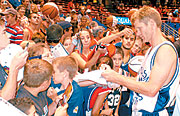 Wildcats clean up at ESPYs
Former UA All-Americans Annika Sorenstam and Terry Francona led the charge of former Wildcats at last weeks ESPY Awards, with Sorenstam taking home honors as Best Female Athlete and Francona's Boston Red Sox squad earning Best Team recognition.
Sorenstam, who won the NCAA women's golf championship as a UA freshman in 1991, took home her seventh career ESPY award, the second most in the history of the ESPN television network's yearly sports awards program. [Read article]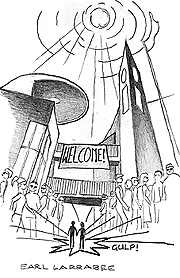 Summertime at the UA is slow, the 110-degree heat is not exactly making people want to rush off anywhere unless there's the promise of an emu–sized popsicle at the end of it.
Still, there are some benefits to being one of the few brave souls stuck on campus, like taking summer session courses and finishing the classes you should have been taking during the regular academic year. Or, better yet, going to the recreation center at 6 p.m. and not having to wait in line for anything. [Read article]

·
Highest court needs more female representation
Latest Issue: July 20, 2005
With its harmonizing prostitutes, butt-cheek clapping strippers and rapping pimps, "Hustle & Flow" didn't at first sound like a movie this literary-minded feminist would enjoy. But once I put away my hip-hop prejudice, this movie took me on an enjoyable ride into a world much, much different from my own.
The setup is this: DJay (Terrance Dashon Howard), our guide through the Memphis street scene, is a pimp on the fast track to a mid-life crisis. He's growing tired of sitting on the back roads in his aging Cadillac, waiting for interested gentlemen to cruise by and take his number-one ho, Nola (Taryn Manning), for a $20 ride. As DJay watches Skinny Black (Ludacris) turn from neighborhood kid and supposed boyhood friend to rap superstar, he realizes that he's cut out for something more in life than pimping. He's cut out to be a famous rapper, too. One that raps about pimping. [Read article]


·
Tim Burton + Johnny Depp = Movie Magic
·
Malkmus Drops Some Truth
·
Rock n' Soul (Two great artists/albums)
·
This Week

require('/home/webby/html/papers/98/polls/current.php')?>

showAds('bigbutton')?>






showAds('mediumbutton')?>


showAds('wildlinks')?>