Wednesday, July 27, 2005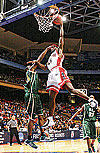 The A-Z of Wildcat athletics
A: ASU - Is any explanation really necessary here? The "other" state university, known originally as the Tempe Normal School, has nothing on Arizona's first university. ASU's satanic descendants failed to pick up a win last year in any of the big rivalry matchups. Football? UA. Basketball? UA twice. Softball? UA three times. Baseball was the lone Wildcat "disappointment," winning only four of five meetings. Too bad. [Read article]



Commentary: A-S-who? Devils no match for UA in '05
Let's face it: Scoreboards don't lie.
That's one very important rule that all of you need to learn as you embark on this collegiate journey. For example, if a Sun Devil fan gives you crap about any of our sports teams, fire back with "34-27." If that one doesn't work, try "97-79" or "70-68," because those scores represent our victory over the Scummies in football and pair of wins in men's basketball last season. If those tallies go unappreciated, there are plenty of less-heralded sports in which we kicked their asses as well. [Read article]




Students get new home in McKale
Students attending UA men's basketball games will have something new to cheer about next season, with the addition of an official student seating section.
In recent years, Arizona was one of the only schools in the Pacific 10 conference without a true student section.
Stanford and California are among the Pac-10 programs that have students sitting courtside, with the "Sixth Man" and "The Bench" cheering on the Cardinal and Golden Bears. [Read article]




UA traditions
Cardinal and Navy
The UA's original colors were sage green and silver, but in 1900, student manager Quintas J. Anderson was offered inexpensive solid blue jerseys trimmed in red. The football team needed new jerseys, so they took the offer. The school immediately changed its colors to red and blue, eventually settling on cardinal red and navy blue. While navy is the dominant color of uniforms, fans usually wear red to games. [Read article]



Commentary: UA sports and you: a beautiful relationship
The information presented here may very well be the most important thing you read during your four years at UA, so pay attention.
Welcome to your first college class: Wildcat Fanship 102. That's right, you've all already passed 101.
How, you ask? By making the ingenious choice of attending this nation's premier university.
OK - this STATE's premiere university.
First, let's get to know the venues in which you will be taking in all the various sports our school has to offer. [Read article]




In Person And On The Tube...
Best bests of the fall semester
Must-see TV...
UA football at Utah; 5 p.m., Sept. 2, ESPN; from Salt Lake City
UA men's hoops vs. Kansas (Maui Invitational); Nov. 21, ESPN; from Lahaina, Hawaii

Some of the best big-ticket sporting events the fall semester has to offer won't be seen at Arizona Stadium or in McKale Center, but that doesn't mean the UA's resident powerhouse program and its most promising up-and-comer aren't in action. [Read article]




showAds('bigbutton')?>






showAds('mediumbutton')?>

showAds('wildlinks')?>