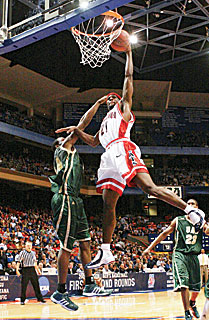 FILE PHOTO/Arizona Daily Wildcat

After the departure of All-Americans Salim Stoudamire and Channing Frye, UA forward Hassan Adams will shoulder much of the offensive load for the Wildcats during his senior season.

By Brett Fera
Arizona Daily Wildcat
Wednesday, July 27, 2005
Print this


A: ASU - Is any explanation really necessary here? The "other" state university, known originally as the Tempe Normal School, has nothing on Arizona's first university. ASU's satanic descendants failed to pick up a win last year in any of the big rivalry matchups. Football? UA. Basketball? UA twice. Softball? UA three times. Baseball was the lone Wildcat "disappointment," winning only four of five meetings. Too bad.

B: Bear Down, Arizona ... Bear Down, red and blue ... Bear Down, Arizona, hit 'em hard, let 'em know who's who ... Bear Down, Arizona ... Bear Down, red and blue ... fight, fight, Wildcats fight ... Arizona, Bear Down!

C: Candrea, Mike and Lopez, Andy - The UA's resident diamond experts give UA sports fanatics something to celebrate once basketball season is over - a pair of title-contending teams just a short walk from one another. Candrea's Wildcats have reached 17 of the last 18 Women's College World Series, while Lopez took UA baseball back to the CWS in Omaha, Neb., for the first time in 18 years in 2004.

D: DB and the DBs - Darrell Brooks leads into action what is arguably the Pacific 10's most complete set of defensive backs. Brooks and fellow senior safety Lamon Means join super-sophs Antoine Cason and Wilrey Fontenot, solidifying the UA defense and probably carrying to Arizona three or four wins on their own.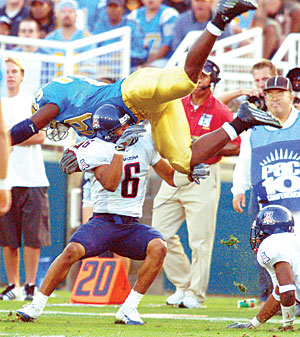 CHRIS CODUTO/Arizona Daily Wildcat
UA senior safety Darrell Brooks, a returning captain for the Wildcats' nationally-ranked defense, returns along with fellow starting DBs Lamon Means, Wilrey Fontenot and Antoine Cason in 2005.
E: Elite Eight, 2005 - A game nearly every UA fan wants to forget, but won't. The Wildcat men's basketball team held a 15-point lead with four minutes to play, only to see the lead - and a Final Four berth - evaporate into thin air against No. 1 Illinois just outside Chicago.
F: Frank Busch - A three-time NCAA national coach of the year (twice with the UA women's team, once with the men's), Busch's world-class pupils include Olympic darling Amanda Beard and three-fourths of the gold medal-winning South African men's relay team.
G: Game day - The arrival of Mike Stoops on the UA campus before last season did more than solidify the Wildcats' presence on the football field. Tucson is abuzz with football fever and the UA campus is packed on game days for tailgating and the Fan Fiesta, which is located on Bear Down Field next to Arizona Stadium.
H: Hassan Adams - It's Hassan's world; we just live in it. The Wildcat men's basketball team's high-flying superstar will take the reins this year after the departure of All-America seniors Salim Stoudamire and Channing Frye. As the Wildcats' No. 1 weapon this season, anything short of an All-Pac-10 nod would be a disappointment for Adams.
I: Icecats - When head coach Leo Golembiewski came to Tucson in the mid-1970s as a teacher, he never thought the Arizona Icecat hockey program would morph into what it is today. But after more than 25 years at the helm, the Icecats are a Pima County staple, playing home games at the Tucson Convention Center Arena. The TCC isn't called the Madhouse on Main Street for nothing. The Icecats average nearly 4,000 fans per game and have at times drawn close to 8,000.
J: Josh Pastner - A fan-favorite assistant basketball coach, former player and barbecue enthusiast, Pastner can often be found around town in one of two places: McKale Center, for early morning practices, or Penguin's Frozen Yogurt Place. Pastner, a bundle of energy on Olson's bench, was formerly a television spokesman for Smokin', a local barbecue joint, but the restaurant has since gone out of business.
K: Kim Glass - A three-time All-American entering her fourth and final season, Glass, an outside hitter from Lancaster, Penn., is the heart and soul of head coach Dave Rubio's volleyball team. Rubio will rely on Glass as much as ever in 2005. She is returning to the lineup in 2005 after an off-season shoulder surgery.
L: Lute - The 1997 National Championship. 741 wins. Four Final Four appearances at Arizona (and one at Iowa). 21 consecutive NCAA tournament appearances. Only one Lute Olson.
M: McKale Center - Home of Wildcat men's and women's basketball, gymnastics and volleyball since being built in 1973, the J.F. "Pop" McKale Memorial Center has seen the UA basketball team lead the Pac-10 in attendance since 1984, and has been sold out for every men's basketball game since 1987.
N: National Champions - Take a stroll down National Championship Drive, located between Arizona Stadium and Sancet Stadium, and you'll see why the UA has placed in the top tier of the Directors' Cup standings - presented yearly to the best overall athletic school in the nation - each season. Arizona's most recent title: Softball, 2001.
O: Offense - What offense? The Wildcat football team's offense in 2004 was, well, downright offensive (see Q: Quarterback), finishing dead last in total offense, dead last in passing offense and ninth in scoring offense in 2004. How does head coach Mike Stoops plan to fix it? Adding super-transfer wideout B.J. Vickers (see X: X-factors) is a start; having a healthy Richard Kovalcheck under center and a healthy Mike Bell in the backfield are also part of the plan.
P: Pac-10 - "The Conference of Champions" has produced more than 90 team NCAA titles over the past 11 seasons, and has earned the most or second-most national championships for 44 of the past 45 years, topping the list 39 times. All-time, the Pac-10 has won 342 NCAA titles. The Big Ten is second, with 201 championships.
Q: Quarterbacks - Adam Austin started the spring game for the UA football team, but Richard Kovalcheck, the "Big Game" MVP after Arizona defeated ASU to close out its season, should start the season under center for the Wildcats after sitting out Spring ball with back problems. Either way, 2005 is the fourth consecutive season Arizona will start with a new QB. Will incoming freshman stud Willie Tuitama make 2006 the fifth?
CHRIS CODUTO/Arizona Daily Wildcat
UA distance runner Robert Cheseret is a force for the Wildcats during both the fall and spring semesters, running down Pac-10 opponents during the fall's cross country season before chasing down NCAA titles during the springs track slate.
R: Robert Cheseret - The best athlete in Tucson nobody's heard of. A Pac-10 cross country champion and an NCAA track and field national champion - twice - look for Cheseret to obliterate the competition again this season as a year-round athlete competing in the fall cross country season and the spring track schedule.
S: Stoops, Mike - Stoops has won all of three games as a UA head coach - he's got more than 500 to go to catch Lute - and finished eighth out of 10 teams in the final conference standings in his first season. But fans love him, athletic director Jim Livengood continues to sing his praises - Stoops won't be expected to win regularly until 2006 - and the UA has no choice but to embrace him after being virtually forced to buy out former head coach John Mackovic's contract for close to $1 million. At any rate, Stoops' base salary of $650,000 is a steal.
T: Tobias, Dan - Tobias won the Pac-10 Coach of the Year award in 2002, his last season at Washington State. He then came to an abysmal Arizona soccer program, and apparently saw more potential than anyone else. It took him just two seasons to win the award again - and to one-up it by being named National Coach of the Year as well - and to take his first Pac-10 title in the desert.
U: Underdogs - Arizona football won its season finale at home against Arizona State in 2004, a victory that propelled, for lack of a better word, the Wildcats into a tie for eighth place in the conference's final overall standings. But progress is progress, and winning three games and being competitive in at least three others was certainly a step up from the John Mackovic era. So how does second-year UA coach Mike Stoops get rewarded? Nearly every preseason Pac-10 poll places the Wildcats no better than seventh, while another eighth-place finish seems to be the safe pick by many.
V: Vegas ... As in Las Vegas, as in the Las Vegas Bowl. Break down the UA football team's 2005 schedule: Utah, NAU, Purdue, Stanford, UCLA, Washington, etc., etc., etc. All winnable games. Converting six winnable games into six actual wins means one thing - a Christmas-time trip to Las Vegas. Fun.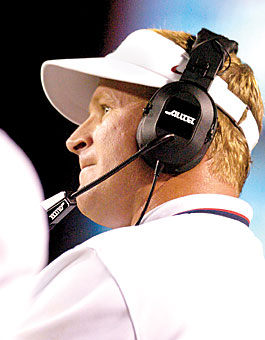 CHRIS CODUTO/Arizona Daily Wildcat
Second-year UA football head coach Mike Stoops may have won only three games in his first season. More importantly, however, he won over fans, as attendance boomed in the first season of Tucson football post-John Mackovic.
W: Mr. and Mrs. Wilbur and Wilma Wildcat - Arizona's friendly felines were actually married in an on-field ceremony during a November 1986 football game. And hey, at least Arizona's mascots don't look like a 5-year-old's Halloween costume (see A: ASU).
X: X-factors – Every team needs one, and no team can win without one. They're the athletes that fans don't necessarily know or expect much from, but that coaches will rely on in 2005-06 for greatness. They are, in football: junior wide receiver B.J. Vickers. Men's basketball: junior forward/center Kirk Walters. Volleyball: sophomore outside hitter Dominique Lamb. Soccer: senior midfielder Jennifer Klein and sophomore guard Ashley Whisonant.
Y: Youth - Head coach Andy Lopez didn't need long to bring the UA baseball program back to national prominence, taking the Wildcats to the College World Series in just his third season with the program in 2004. But getting back there won't be an easy task, as Lopez saw eight players drafted on the first day of the Major League Baseball amateur draft last month. Seven of the eight were juniors (one senior), and the lot included the team's top two starting pitchers as well.
Z: Zona Zoo - Even if the new student section in McKale isn't all it's cracked up to be, the students have spoken and now have an "honest" way of getting into basketball games. Student participation at basketball has been solid despite the lack of a unified section, but it is fan support at football, baseball, soccer, softball, volleyball and women's basketball that has been clutch in recent years. The Zona Zoo program ultimately creates unity and rewards students for participation and support at campus sporting events.
-Compiled by Brett Fera


Write a Letter to the Editor