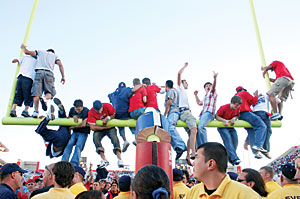 JACOB KONST/Arizona Summer Wildcat

UA football fans attempt to tear down the north goalpost in Arizona Stadium following the Wildcats' 34-27 Territorial Cup victory over rival ASU last November.

By J. Ryan Casey
Arizona Daily Wildcat
Wednesday, July 27, 2005
Print this


Let's face it: Scoreboards don't lie.

That's one very important rule that all of you need to learn as you embark on this collegiate journey. For example, if a Sun Devil fan gives you crap about any of our sports teams, fire back with "34-27." If that one doesn't work, try "97-79" or "70-68," because those scores represent our victory over the Scummies in football and pair of wins in men's basketball last season. If those tallies go unappreciated, there are plenty of less-heralded sports in which we kicked their asses as well.

At the end of the 2004-05 NCAA athletic calendar, the Wildcats owned a 17-4 advantage over the Sun Devils. Not only that, but in the "major" sports (basketball, football, baseball) the maroon and gold - more like brown and yellow - downed the red and blue only once in eight tries.

Eight different Wildcat teams went undefeated against the Sun Devils last season. If one were to add up all the points from the different contests, the UA would hold an 889.925-766.5 advantage. That's a combined victory of more than 123 points. Not too shabby.
| | | |
| --- | --- | --- |
| | UA vs. ASU • 2005 series | |
OVERALL (17-4) • .809 win %


Baseball (4-1)
M-Basketball (2-0)
W-basketball (1-1)
Football (1-0)
Gymnastics (1-0)
Soccer (0-1)
Softball (3-0)
M-Swimming (1-0)
W-Swimming (1-0)
M-Tennis (1-0)
W-Tennis (0-1)
Volleyball (2-0)
The last time a Sun Devil could claim victory over a Wildcat on the hardwood: The 2001-02 season. The Cats have won 20 of the past 21 games overall, meaning Arizona State has only one victory to show for the past decade of hardwood match-ups with the UA.
In basketball, the Wildcats own an all-time 134-73 advantage, including a 72-25 at-home record in McKale Center.
Let's not forget that the most publicity their basketball team ever received came more than a decade ago, back in 1994. You may have heard of this one - it's known as the "ASU point-shaving scandal."
That's right; players intentionally fixed four games to beat the spreads. But we're overlooking the real crime here - lying under oath. Come on. Are we really supposed to believe that the Sun Devils would have shot better than 30 percent if the players involved hadn't "purposely" missed shots?
Sure, ASU faithfuls could argue that their program has since produced NBA-quality players like Ike Diogu, who was drafted No. 9 overall by the Golden State Warriors in the 2005 NBA Draft. But then again, we could counter with Channing Frye, who went No. 8. The last time I checked, being the eighth pick was better than being the ninth pick, and two was greater than one - former Arizona guard Salim Stoudamire was also drafted this season.
See a pattern here?
There is nothing good about Tempe, the city Arizona State University calls home - unless of course you resided there prior to college, in which case the one good thing about Tempe would be your family, or maybe a pet.
But that's it. On average, it's roughly 10 degrees warmer there, meaning when it's 130 degrees here, its 140 degrees there. It's so hot up there, they have to build their own lakes just to stay cool.
The "we-have-the-Fiesta Bowl" argument? Simply counter with, "Actually, Glendale has the Fiesta Bowl, thank you very much."
Dan Bickley, a columnist for The Arizona Republic, said it best when discussing the noticeable gap being created between the two rivals: "Welcome to an Arizona State nightmare," he wrote shortly after the Cats' November win over ASU in football.
"The football team is humiliated. The alumni are seething," Bickley added. "And now everyone has to pay attention to basketball season, where the difference between two rivals is again painfully obvious."
Alas, I've gotten sidetracked. Let's move on to baseball, traditionally a sport in which ASU has been dominant.
This past year, the only thing consistent about the ASU baseball team was the manner in which they lost, both at home and on the road. After a dramatic 7-6 win in 14 innings thanks to a walk-off homer from the bat of Wildcat Jordan Brown - now with the Cleveland Indians organization - the Cats finished off the Devils in Tucson, 11-5.
Regrettably, the Sun Devils downed our beloved Wildcats in game one when the series shifted to Tempe in mid-May, but I for one believe it's because the Wildcats felt sorry for what they were about to do next.
Winning by a combined 26 runs over the next two games, the Arizona baseball team more than atoned for its slip-up in the first game. No worries though; embarrassment is something the Sun Devils have become accustomed to - note the porn scandal involving the student body vice president in 2002. It's reason enough to believe the 16-7 and 18-1 losses ASU sustained on its home field probably left the Sun Devils unfazed.
The bottom line to all of this is that you should hate anything and everything about our rivals to the north, because they sure as hell don't like you.
Forget about the Sun Bowl, forget about the College World Series; when it comes down to it, Arizona just plain owned ASU last season. That's how it should be.
-Wildcat staff writer J. Ryan Casey is a journalism junior and the sports director at KAMP Student Radio. He can be heard Wednesdays at 6 p.m. on 1570 am or kamp.arizona.edu. He can be reached at sports@wildcat.arizona.edu.


Write a Letter to the Editor