Wednesday, August 8, 2005

Campus Briefs
Rec Center scraps expansion plan
In lieu of charging students additional fees that administrators have determined to be too lofty, the Student Recreation Center has modified its expansion plan.
Since its opening in 1990, the Student Recreation Center was projected by its former director to be a successful project for students to turn to in developing a healthy college lifestyle and be a distraction away from the pressures of school. [Read article]



Regents' alternative to a mandatory meal plan
A student union fee might be looming in the future if the Arizona Board of Regents approves a fee proposed by University of Arizona Dining Services.
The student union fee, which was proposed at the end of last semester as an alternative to the mandatory meal plan, would add $20 per student on to tuition to help support the student unions. The figure reflects the distribution of a $2,200 meal plan among the entire student population, rather than those living on campus. [Read article]




Campus safety now optional at orientation
In an effort to make the new student orientation process more focused on academic matters, and following the loss of a grant, a new orientation task force comprised of various UA faculty and administrators decided to make the campus safety and sexual assault presentation shorter and optional at all orientation sessions this year.
In previous years, the safety seminar was a mandatory part of the orientation process. Incoming freshmen heard 15-minute presentations from both the University of Arizona Police Department and the OASIS Program for Sexual Assault and Relationship Violence. However, this year freshmen could elect to skip the 20-minute presentation representing both safety organizations. [Read article]




Mission to probe red planet set to launch Wednesday
A UA mission to probe Mars is scheduled to launch on Wednesday from NASA's Kennedy Space Center in Florida.
If everything goes as planned, the mission will provide scientists with "10 times (more information) than any previous Mars mission," said Alfred S. McEwen, principal investigator of the project.
The probe will orbit the red planet and examine its surface.
The Mars Reconnaissance Orbiter will include the biggest telescope to ever leave Earth's orbit, McEwen said. [Read article]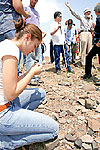 More than Spanish to study in Guadalajara
GUADALAJARA- Students in the Guadalajara Summer School program could not be found in a classroom last Monday because they were outside examining 1,000-year-old pottery sherds at an archeological site near Guadalajara.
For 54 years, students like the current class have participated in the UA Guadalajara Summer School program, which ends for the summer on Wednesday.
Students around the United States can receive college credit through the UA for Spanish and other disciplines while immersing themselves in the culture of a large Mexican city. [Read article]



Rec Center celebrates 15 years providing students with options for healthy lifestyles
With a place on campus that provides students with an outlet away from class and encourages them to have fun and get in shape, it's no wonder the director of the Student Recreation Center said it has achieved so much over the past 15 years.
Juliette Moore, director of campus recreation, said the Rec Center has alumni and current students to thank for its success over the past 15 years.
The Rec Center will do just that on September 23, when it will celebrate its 15th anniversary by thanking UA alumni and current students who use its various workout facilities. [Read article]



UA med students and community reach outwith school supplies
UA medical school students gave away backpacks, school supplies and clothes to underprivileged children of the Tucson community on Friday, in an effort to make the coming school year a little brighter.
"Back to School Night" was held at Southside Presbyterian Church and over 100 children, ages four to 18, came to get the tools needed for a successful school year.
"I feel lucky to get these things for school," said Daphne Nabatanzi, who will be a freshman at Salpoint Catholic High School. [Read article]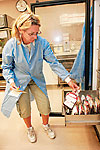 Behind the scenes
Recruiting of the nation's top football players, construction of $20 million mirrors that will help us see further into space than ever before, broadcasting of football games all over the nation, criminal processing, and flying patients in via helicopter for emergency care are all of things that are happening behind closed doors right here on the UA campus.
Most of us don't experience these events on our daily trek to and from our classes or offices, but our campus is full of people and places that are dedicated to making history, keeping us safe and healthy, and giving us something to cheer for. [Read article]




The straight line:
Several departments on campus deal with the effects of college students drinking alcohol, either by reprimanding or educating students. These departments are open for the safety of everyone.
The University of Arizona Police Department is a fully functioning police force that works in partnership with the Tucson Police Department and Pima County Sheriff's Department.
Its physical jurisdiction runs from North Campbell Avenue to North Euclid Avenue and East Lester Street to East Eighth Street. [Read article]



Fast facts
taken weekly wi th a grain of salt
In 1909, Australian swimming star Annette Kellerman appeared on a Boston beach wearing a figure-fitting jersey bathing suit with sleeves shortened almost to her shoulders and trousers ending two inches above her knees. She was arrested for indecent exposure.
About 1 million windmills dotted the U.S. landscape in the early 1930s, a time when 40 million people lived on farms and before the rural electrification program was inaugurated. [Read article]




showAds('bigbutton')?>






showAds('mediumbutton')?>

showAds('wildlinks')?>