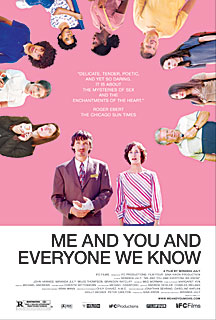 Photo Courtesy IFC Films

The cast of Miranda July's film debut, Me and You and Everyone We Know, strike a pose. The film has already won countless awards, including The Critics Grand Prix, The Golden Camera Award, Prix Regards Jeune and The Young Critics Award at The Cannes Film Festival and The Special Jury Prize at Sundance, and opened here on Friday.

By Celeste Meiffren
Arizona Daily Wildcat
Wednesday, August 8, 2005
Print this


When people say a film is independent, this is not always indicative of a particular style or genre, but merely a limited budget and release. But in the case of "Me and You and Everyone We Know," there is no other real way to describe it. It is a quintessential independent film, and it is unlike any other.

The story for "Me and You and Everyone We Know" is original and offbeat and does not follow the conventional rules of screenwriting that most writers follow. Writer/ director Miranda July stars as Christine Jesperson, a starving artist who drives old people around to earn a living. She is struggling both artistically and romantically and is desperately trying to save her own life.

Christine crosses paths with Richard Swersy (played by John Hawkes from "Deadwood"), a shoe salesman who has recently separated from his wife and is taking care of his two kids, Peter and Robby. Christine and Richard are curious about one another but apprehensive of starting a relationship. The path that they take towards intimacy with one another is bizarre and awkward, but fascinating to watch.

Meanwhile, Richard's children are intriguing in their roles as precocious youths. Peter is a fourteen-year-old introvert who finds himself in awkward sexual situations. These moments are somewhat uncomfortable in the film, but intentionally so. He pushes the limits of his own vulnerability, until he becomes more aware of who he is. He too is a fascinating character, and as full of depth as his adult counterparts.

Alongside Peter is his younger brother Robby, who is cute and innocent and brings the humanity out in the characters of the film that need it most. He is the hero of the movie in that respect.

Me and You and Everyone We Know

7 out of 10
IFC Films
Rated: R
97 min.
Now Playing
Overall, this movie is well-made and really compelling to watch. Miranda July has definitely made a great first movie. "Me and You and Everyone We Know" won the Critics Grand Prix, The Golden Camera Award, Prix Regards Jeune and The Young Critics Award at The Cannes Film Festival and The Special Jury Prize at Sundance, which is no small feat for a rookie.
It is nice to see a movie that does not follow the typical rules of filmmaking. July seizes her vision and really creates something beautiful and worthwhile. She captures not only the great moments in everyday life, but she does it through the eyes of an artist who appreciates those moments.
There are no epic climaxes, explosions or really attractive people in this film. It does not leave the audience with a sense of closure or purpose. The world does not get saved. It does, however, have poignant moments between average people, which is a refreshing alternative to mindless entertainment and recycled thought found throughout this summer's movie selection. But above everything else, this film is art.


Write a Letter to the Editor