August 25, 2005


2005 Soccer Preview: Getting on the ball
Depth, experience and reliable returners suggest successful follow-up to first ever Pac-10 Championship season for women's soccer
After a season of broken records, a first-ever Pacific 10 Conference championship and a trip to the postseason, the 2005 Arizona women's soccer team is faced with a problem thought all but ridiculous a year ago.
After such a successful 2004 season, which saw the Wildcats win nine more games than the year before, how does the team make this go-around even better? [Read article]



Commentary: Nelson key to success
Kelly Nelson has had a long time to think about potential. The senior forward for the No. 18 Arizona women's soccer team, Nelson has played minor roles on the field the past two seasons, as various lower-body injuries have kept her from building on her breakthrough freshman season, when she scored a school-record 13 goals.
Since then, she has notched two points - both assists - in 19 games, including a mere two shots on goal in nine games in 2004. [Read article]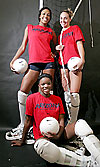 Volleyball seniors spread winning message
After a disappointing postseason run last year, the fate of this season's Arizona women's volleyball team rests squarely on the shoulders of three of its seniors - outside hitters Bre Ladd, Kim Glass and Jennifer Abernathy.
The trio has accepted their leadership roles this season, said Wildcats head coach Dave Rubio.
"I think that those three have really been the core of the team, really since they were freshmen," Rubio said. "I think they've struggled with that label and that role, and I think that this year they've really embraced it. [Read article]



Football heads east for practice, opener in sight
A soggy Jimenez Practice Field relegated the Arizona football team to hold yesterday's practice at the Pima Community College East Campus.
Heavy rain early Tuesday left Jimenez Field in poor condition for team workouts, which were cancelled and moved yesterday.
Only the field was damp, however, as the Wildcats claimed to be in high spirits with the season opener at Utah eight days away.
"It's that time," head coach Mike Stoops said. "Our kids, for the last eight months, have put a lot of hard work into this." [Read article]




showAds('bigbutton')?>






showAds('mediumbutton')?>

showAds('wildlinks')?>