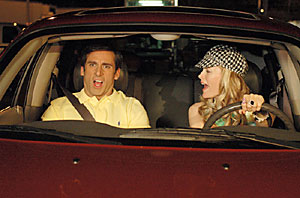 Photo courtesy of Universal Pictures

Steve Carell stars as Andy Sitzer in "40 Year Old Virgin." He is screaming out of sexual frustration not out of sexual release. Photo courtesy of Universal Pictures.

By Nate Buchik
Arizona Daily Wildcat
August 25, 2005
Print this


With Ben Stiller, Will Ferrell and the Wilson brothers flooding the market for the last couple of years, it was about time we saw a new face carrying a comedy. The only thing that puzzles me is why it took so long to get Steve Carell a starring role.

Carell had memorable turns in "Anchorman" and "Bruce Almighty," but made his biggest splash in his years as a correspondent on "The Daily Show." Given that it's his first lead role in "The 40-Year-Old Virgin," he is nothing short of brilliant.

Carell plays Andy Sitzer, a middle-aged man who rides his bike to his job in the stock room at Smart Tech (think Circuit City), lives in a one-bedroom apartment with his action figure collection, watches "Survivor" with his neighbors ... and has never had sex.

See it

7 out of 10
Rated R
116 Minutes
Universal Pictures
His co-workers befriend him when they find out that he's a virgin, instantly creating a nice ensemble cast with Paul Rudd ("Anchorman"), Seth Rogen ("Freaks and Geeks") and newcomer Romany Malco. Each guy has a different strategy to help Andy find a girl, and we watch as Andy follows everyone's terrible advice.
While he goes out to bars and is encouraged to hit on everything that breathes, Andy actually meets Trish (Catherine Keener) right across the street at the "We Sell Your Stuff on eBay Store." Trish is divorced with three kids, and while Andy likes her, he's nervous about making a fool of himself his first time.
Their relationship is chronicled, as are the lives and relationships of Andy's newfound friends.
While it is fairly long for a comedy, the movie has several pretty hysterical scenes and a plot that doesn't get stale. Andy's character, seemingly unrealistic on paper, is completely likeable and dynamic thanks to writing that is much smarter than most run-of-the-mill comedies.
The film continues a long line of successes for co-writer and director Judd Apatow, who created television shows like "Freaks and Geeks" and "Undeclared," and produced "Anchorman."
But Carell steals the show here, as those who used to watch him on "The Daily Show" knew he would. He's one of the funniest actors in Hollywood, and is more than a one-trick pony like Ferrell or Jack Black.
So dedicated to his craft that he actually had his chest waxed during one fateful scene, Carell goes all out for laughs and provides something fresh in a year that hasn't seen many big laughs.
Here's hoping Carell will be making us laugh for years to come.


Write a Letter to the Editor