August 30, 2005


Race for Heisman starts early
Freshman wins trip to New York in EA video game tourney
Get those thumbs ready - it's football season.
Video game giant Electronic Arts Sports visited the UA Mall yesterday afternoon, touting a series of Xbox booths and showcasing the Heisman Trophy as part of the EA Sports NCAA Football Challenge 2005.
While the Wildcats' football season doesn't begin until Friday, 121 UA students showed up to test their skills in the new game NCAA Football 2006 and compete for a trip to New York City and a chance to win $10,000. [Read article]



Solid gold at Pac-10 Media Day
Ryan Casey
This summer sure started out slow. I'll tell you what, serving is not for me. The only thing I got to write at Olive Garden was "medium-well" or "extra breadsticks." I tried as best I could to use my journalistic skills ("How's the salad?"), but after one month, I quit.
Thank goodness, because the Pacific 10 Conference Football Media Day was around the corner.
After securing a way to get to Los Angeles, where the event was to be held, I had to make sure I was actually allowed to go. [Read article]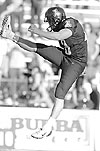 2005 Arizona Football: Veterans hope to bolster Wildcat special teams
In the Arizona football program's recent history, the special teams units have been anything but special.
Like every other area of the 2005 Wildcats, the special teams come into the year with high hopes and the promise of an improved unit.
The numbers, talent and potential are all there, but only time will tell if the athletes produce.
Placekicker
Junior Nick Folk returns as the team's placekicker, coming off a season when he hit 8-of-13 field goal attempts, including a 53-yarder in the 2004 season finale win over in-state rival ASU. [Read article]




Football Notes: Stoops preaches red-zone efficiency against Utah
With the season opener at Utah just a few days away, Arizona football head coach Mike Stoops made one goal clear for his offense when it drives up the field Friday in Salt Lake City: play for seven.
The Wildcats managed only two field goals against the Utes in September at Arizona Stadium, despite holding their opponents to their lowest scoring total - 23 - of the 2004 season.
"Last year, we didn't have a very good goal-line or short yardage package," said Stoops at his first press conference of the season yesterday in McKale Center. [Read article]




Volleyball Notes: No harm, no foul: Rubio happy with team's health
The No. 17 Arizona women's volleyball team enters the season with some bumps and bruises, but Wildcats head coach David Rubio expects no one to miss Friday's opener against Winthrop in McKale Center.
Last year, more than half the team battled injuries through the year, including senior outside hitter Kim Glass, who missed the whole non-conference slate.
"The health of the team is good, even though we are a little banged up, but not to the degree that we were to last year," Rubio said. "No one at this point is so banged up they can't play." [Read article]




showAds('bigbutton')?>






showAds('mediumbutton')?>

showAds('wildlinks')?>