September 1, 2005

Coronado keeps rep as 'party dorm'
School has started and already the citations are flying, at least in Coronado Residence Hall.
Since students moved into the dorms, Coronado has had more alcohol- and drug-related arrests than any other on-campus residence.
Students and officials speculate the hall's large size and party reputation are the reasons behind the violations.
Between Aug. 17 and Sunday police responded to 13 drug- and alcohol-related incidents in the dorms, according to University of Arizona Police Department reports. [Read article]




Students hear local activists on border policy
Local activists confronted controversial border safety issues on campus yesterday in the debate club's first public debate.
Despite the sweltering heat and a late start, a crowd of about 75 observers gathered on Heritage Hill to watch Chris Simcox, president of the Minutemen Civil Defense, and Isabel Garcia, co-chair of Derechos Humanos, debate the question: "Who is responsible for patrolling the border?" [Read article]



ASUA Brief
Senate gives more than $600 for 'A' Mountain
The Associated Students of the University of Arizona Senate granted funds to the Blue Key Honorary group at last night's meeting to aid in funding A-Day, the annual painting day of the "A" on Sentinel Peak, otherwise known as "A" Mountain.
The $655.47 given to Blue Key covers the funding for two buses and advertisement fliers from Fast Copy. The motion to give the funding was passed with a 7-3 vote. Blue Key had originally requested $1,393.64 for the event. [Read article]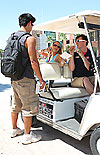 ASUA budgets $85,000 to club funding
Student government officials are encouraging new clubs to come in and ask for funding, but clubs requesting money should also look to other sources, members said.
UA clubs should not have a problem garnering money from the Associated Students of the University of Arizona's hefty budget, which is set aside for such expenses, but they should not rely on ASUA alone, said Erin Hertzog, ASUA executive vice president. [Read article]



New program targets alumni connections
UA graduates can maintain and rekindle their connection to the university with a new alumni association that is launching its membership program today.
Samantha Zipp, director of Membership and Marketing for the Alumni Association, said the membership program is a response to a market research survey that said graduates would pay to be better connected and get services unique to UA alumni.
"The UA is a school that has a lot of pride and tradition and having an alumni membership program is a great way to show it. It's a great way to support the university," Zipp said. [Read article]




Fast Facts
Things you've always never wanted to know
Prizefights prior to the turn of the century lasted up to more than 100 rounds (rounds were often determined by knockdowns) - with the fighters using bare knuckles.
The Dominique chicken has been widely recognized as part of American folklore and is an excellent farm chicken, but the total population of the breed is fewer than 500 hens.
The capital of Burkina Faso is Ouagadougou. This African country is slightly larger than Colorado. [Read article]



Campus Dectective
Question:
"So what's with all those mysterious stairways that I see around campus? Are there secret underground tunnels or something? What the heck's down there?"
Answer:
The tunnels lead to a secret underground bomb shelter with enough food and supplies to last 300 of the UA's elite for a year and a half! The tunnels lead to a secret meeting area for the enigmatic May Day conspirators, a series of rooms that seismic readings have revealed to be a giant puzzle box of unforgiving logic puzzles and death traps guarded by 1,000-year-old knights from the last crusade! The tunnels are a secret burial ground housing the remains of previous university presidents! [Read article]




showAds('bigbutton')?>






showAds('mediumbutton')?>

showAds('wildlinks')?>