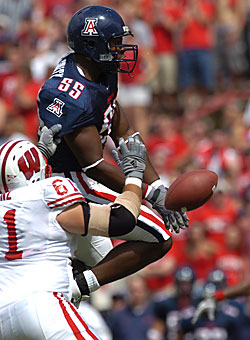 Chris Coduto/Arizona Daily Wildcat

Defensive end Marcus Smith gets in the way of a pass during last season's loss to Wisconsin. If the Wildcats catch some breaks, they could by vying for an Emerald Bowl bid come November.

By Kyle Kensing
Arizona Daily Wildcat
September 1, 2005
Print this


"Rebuilding" and "one year away" are phrases commonly used for Arizona in a variety of preseason college football publications.

Talk to one member of the UA squad, and you'll hear an entirely different term - "bowl game."

Mike Stoops may just be in his second year as head coach, but he has instilled in this season's Wildcats a desire to play into December, a feat no UA team has accomplished since 1998. That desire is now, not a season from now.

The Pacific 10 Conference receives six bowl game bids. Considering Tucson's seven-year postseason drought, an appearance in any will be a resounding success.

Here's the breakdown of each bowl with what the Wildcats need to accomplish to qualify:

1. Fiesta Bowl, Tempe, or Rose Bowl, Pasadena, Calif.

They're in with: A No. 1 or No. 2 national ranking.

The Pac-10 is a member of the elite Bowl Championship Series, one of six conferences whose champion receives an automatic berth into one of college football's four premiere bowls.

This bid has become the sole property of Southern California in recent years, and the reigning champs twice over show no sign of relinquishing that spot.

If the Wildcats want to play here, they'll need to eat their Wheaties, then run the table in the conference and drop no more than one game overall.

2. Holiday Bowl, San Diego

They're in with: A near perfect conference record.

The last bowl-bound Arizona team defeated Nebraska in this game, one of the most memorable in program history.

A return to Qualcomm Stadium would be quite an accomplishment for a Wildcat team that finished 3-8 a year ago.

Look for that other school in Los Angeles, UCLA, to lead the Pac-10 in contention for the not-quite-USC crown and spend the holidays in lovely San Diego.

Arizona would need a lot of magic and a perfect Pac-10 schedule - save for the token USC loss - to nab this bid.

3. Sun Bowl, El Paso, Texas

They're in with: Eight wins.

El Paso isn't quite San Diego, but a third-place finish in the conference and a bid to the Sun Bowl would be a huge feather in Arizona's proverbial cap.

ASU played in last year's rendition and narrowly edged out Purdue.

Never ones to be outdone by their neighbors to the north, the Wildcats would love to not only beat Purdue on Sept. 17, but also prove that anything ASU can do, Arizona can do better - with a solid Sun Bowl victory.

The Sun Devils have the talent to return here, so long as their tumultuous offseason doesn't interfere, but they'll have to beat the Wildcats in the annual Territorial Cup game.

An eight-win campaign should be enough to lock up third in the conference and the Sun Bowl bid.

4. Insight Bowl, Phoenix

They're in with: More wins than losses in the Pac-10 (and a little luck early on).

Formerly called the Copper Bowl and played in Arizona Stadium, this was a safety net bowl for just-above-.500 Wildcat teams in the early 1990s.

Since moving to Bank One Ballpark with a corporate nametag in 2000, the Insight.com Bowl has seen five exciting games, and a 2-1 record for the Pac-10, in this matchup with the Big East.

History has shown that seven wins - five in the Pac-10 - are the benchmark for a bid to the Insight .com Bowl.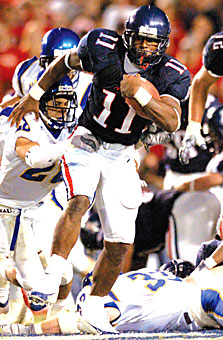 Chris Coduto/Arizona Daily Wildcat
Senior running back Mike Bell breaks away during last season's victory against Northern Arizona University. The Cats take to the field Friday against Utah and will play the Lumberjacks again Sept. 10 at Arizona Stadium.
Oregon, one of the league's most consistent teams over the last decade, is looking to bounce back from a sub-.500 campaign in 2004.
The Ducks will be in the thick of the "Chase for Second Place," but their lack of experience should result in a slip to fourth.
A strong start for Arizona is key if the Wildcats want to be bowling close to home this December.
5. Las Vegas Bowl, Las Vegas
They're in with: A winning record
Spending the holidays in Las Vegas certainly has its perks, but for Arizona, it would mean much more than a Christmas dinner at the Rio buffet.
The Pac-10 will be out for revenge after an embarrassing UCLA loss to Wyoming last season in this annual Pac-10 vs. Mountain West Conference showdown.
A trip to Las Vegas is very much attainable for this UA team.
The Pac-10 race is going to be a logjam from places four through eight, so if the Wildcats can stay afloat in the first month and maintain a .500 record thereafter, the team should be in good shape for this bowl race.
California, last year's league dark horse, was hit hard by graduation but should be a bowl team again in 2005 if running back Marshawn Lynch has any say.
6. Emerald Bowl, San Francisco
They're in with: Six wins, including a win against Oregon State
The Silicon Valley Bowl is now dust in the wind, and in its place is the Emerald Bowl.
With the expected aforementioned logjam in the Pac-10 race, a tie in the conference standings is almost inevitable. The Emerald Bowl is there, waiting for the odd man out.
After a seven-year drought, there's no shame in snatching up this bid, and it is ripe for Arizona's taking.
The same qualifications apply for the Emerald Bowl as they do for the Las Vegas Bowl. The determining factor will be strength of schedule, and given the Wildcats' September rendezvous with Purdue that should not be a problem.
Arizona will have to jockey with Oregon State and Washington State for this final bowl bid.
---
- Kyle Kensing is a journalism senior. He can be reached at sports@wildcat.arizona.edu.


Write a Letter to the Editor