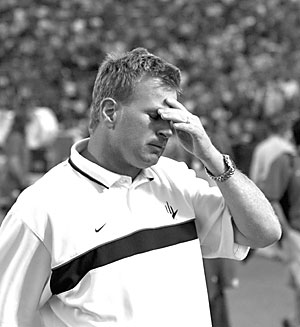 Chris Coduto/Arizona Daily Wildcat

UA head football coach Mike Stoops took a moment during Arizona's 38-0 loss to California last season. The team made tremendous improvements in the first year, despite the losing record, Stoops said.

By Charles Renning
Arizona Daily Wildcat
September 1, 2005
Print this


Right away, you should be able to tell the difference between the Arizona football team of 2004 and the Wildcats of 2005.

Arizona is in its second season under head coach Mike Stoops, and both players and coaches said the strides made from last year's 3-8 record should be apparent.

"We're not the same team, and we feel we've improved," said senior safety Darrell Brooks, who this offseason was named to the watch lists for the Lott and Thorpe awards, given to the nation's top defensive backs. "We're just that much more confident in our ability, and our execution will increase."

Confidence, physicality and familiarity all seem to be key phrases being thrown around by this year's squad. The concept of "year two" has brought that about.

"It's just been a big difference. I think our guys are much more comfortable with our system, and I think we can be more versatile in our system," said defensive coordinator Mark Stoops, also in his second year in Tucson. "We're a little more athletic than a year ago."

Recruiting will play a big role in Arizona's quest for its first bowl game since 1998.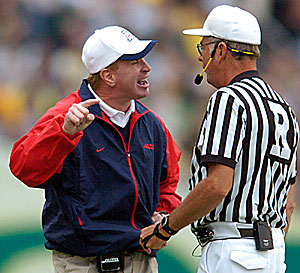 Chris Coduto/Arizona Daily Wildcat
Coach Stoops argues a call during the first half of last year's game at the University of Oregon's Autzen Stadium in Eugene, Ore. Oregon defeated Arizona 28-14.
In the offseason, Mike Stoops was able to bring in a recruiting class that was rated in the top 15 nationally by several publications.
Couple that with his first recruiting class, which produced cornerback Antoine Cason, defensive tackle Yaniv Barnett, linebacker Ronnie Palmer, receiver-cornerback B.J. Dennard and safety Dominic Patrick, all of whom either contributed last season or will have a big role this year.
Along with the more talented players being bought in, the offseason weight-training program should also be a factor in a huge difference from year one to year two.
"We're a lot more physical team," said offensive coordinator Mike Canales. "The physicalness and the understanding (are the biggest differences). They can give a little more effort because they are in better shape."
"Everything's way faster paced. The team's more aggressive physically and mentally. We have a mindset that we're going to be good this year," said cornerback Wilrey Fontenot, who started all 11 games at cornerback last season as a redshirt freshman. "We're not questioning ourselves this year of whether we're going to be good or not."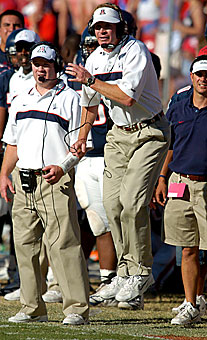 Chris Coduto/Arizona Daily Wildcat
Coach Stoops gets some elevation during last season's game against Washington State at Arizona Stadium. Washington State beat Arizona 20-19.
With improved physical stature, coupled with more talent and a deeper roster, the Wildcats have gained confidence, which was aided by Arizona's 34-27 win over nationally ranked ASU to close out last season.
"The kids understand what we're doing, understanding the schemes and (are) getting a good feeling for how we coach and what our expectations are of them," Canales said. "They know that we believe in them and what they're doing. When you put it all together, good things happen. I think they're seeing that on the field."
The real question will be whether all the differences between year one and year two will together equal more wins and end the longest bowl bid drought in the Pacific 10 Conference.
"Without a doubt (it will)," Brooks said. "The mentality of the team is not the same, where if we are just in the game, it's a win and that's a moral victory. Hell, no. That's not how we feel. Bowl game, without question. Anything less than that would be unsuccessful.
"We put too much into this season to not be successful," he said. "Everyone has aspirations of a national championship, but we're rebuilding a program and a bowl is definitely what we're shooting for."
Coaching history
1986-1987
Graduate assistant coach – Iowa
1988-1990
Volunteer assistant
(linebackers/DB) – Iowa
1991
Volunteer assistant
(linebackers/DE) – Iowa
1992-1995
Defensive ends coach –
Kansas State---
1996-1997
Co-defensive coordinator/DE –
Kansas State
1998  
Assistant head coach;
DC/DB – Kansas State
1999-2003
Associate head coach; DC/DB – Oklahoma
2004-present
Head coach – Arizona


Write a Letter to the Editor