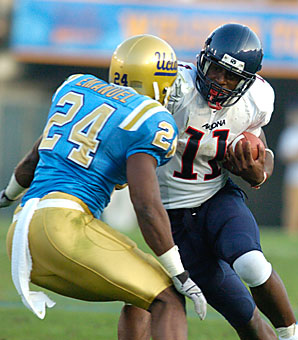 Chris Coduto/Arizona Daily Wildcat

Arizona's Mike Bell breaks away from UCLA's Ben Emanuel during the third quarter of last season's 37-17 loss to UCLA at the Rose Bowl in Pasadena, Calif.

By Kyle Kensing
Arizona Daily Wildcat
September 1, 2005
Print this


An integral part to the aspirations of the Arizona football team in 2005 is the success of its running game.

It's quite a burden to carry, but luckily for head coach Mike Stoops, he has three backs willing to share that load.

Sophomore Chris Henry and seniors Mike Bell and Gilbert Harris - or "thunder, lightning, and quiet storm" as offensive coordinator Mike Canales has referred to them - provide a three-fold attack the Arizona coaching staff and players say is key to the entire offense.

"The running game is going to be the focus of the offense this year," Harris said. "The offense feeds off the three backs, so we want to just go out, run the ball ... and help set up everything else for the offense."

Harris said that Arizona's ground attack is complemented by the passing game and vice versa.

"(When) the passing game gets it going, it opens (the field) up for (the running backs)," he said.

Running backs coach Kasey Dunn said that for Arizona's offense is to be successful, it will need more of that balance.

"We want to make sure we're setting the bar high for the offense," he said.

What setting the bar high means for the trio of Bell, Harris and Henry is improving upon a 2004 campaign that saw a combined 1,394 rushing yards.

According to Henry, a 6-foot, 220-pound power runner, it goes beyond simply racking up yardage for an Arizona offense that lost 13 fumbles as a team.

"Work on the little things and cut down on mistakes," he said about the backs' emphasis this season. "In the end, those are the things that kill you.

"We just want to try and be perfect," he said.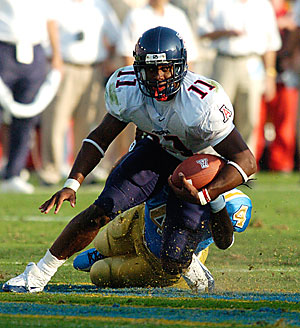 Chris Coduto/Arizona Daily Wildcat
Chris Henry gets stopped by a Wisconsin defender last season. Henry returns to the backfield this year with added strength and speed.
Last season, Arizona running backs found the end zone nine times, with Bell's five leading the way. The Phoenix-area product Bell said he'd like to increase that number in 2005.
"I want (this season) to be like the Trung Canidate era, with the running backs breaking off some long runs and getting in the end zone," he said.
Canidate was an All-Pacific 10 Conference tailback for the 1998 Arizona team, the last to reach the postseason, before spending three seasons with the St. Louis Rams of the NFL.
One facet in which Canales said the running game will be stronger goes beyond the individual performances of its running backs - the offensive line.
"(The line) is playing with more of a defensive mentality, like 'We're going to hit you,'" Canales said.
Senior fullback Pedro Limon adds another dimension to the running game with his blocking, Stoops said.
Limon recorded no carries last season, but his ability to open paths has made him a key, Stoops said.
Also contributing to the Wildcats' ground scheme in 2005 is newcomer Xavier Smith.
Smith, a 6-foot, 205-pound freshman from Tucson's Sunnyside High School, has turned heads in preseason workouts, notably with a 54-yard performance in the Aug. 20 fan appreciation scrimmage.
Canales said he expects Smith to log minutes as Arizona's fourth running option.
"(He is) a great athlete," Henry said. "When I first saw (him), I was surprised. (He) has great vision."
Dunn said Smith can learn much from his fellow backs, as leadership is a primary focus for this group.
Leadership begins with the senior Bell, a 950-yard rusher in 2004, who said he is ready to take on leader status in pursuit of a bowl bid.
"My No. 1 goal is just to win," Bell said. "And I'm in the best situation (to win) I can be in right now."


Write a Letter to the Editor