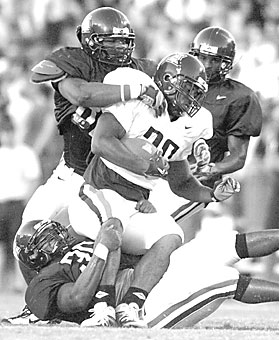 Chris Coduto/Arizona Daily Wildcat

Thanks to transfers and an offseason weight training routine, Arizona's defensive line plans to mount a much strong attack while they're on the field.

By Michael Schwartz
Arizona Daily Wildcat
September 1, 2005
Print this


Revamped line ready to put on the pressure

If games are won in the trenches, it's no wonder the Arizona football team has struggled in recent years, as quarterbacks have barely needed to clean their jerseys after being on the ground so little.

A pair of junior-college transfers and the team's strength-training improvements made over the summer give the Wildcats' defensive line more muscle and depth than in recent years.

Arizona hopes that translates into more pressure on the quarterback.

"I think we're more explosive and the guys are a little bit better with their technique," said Arizona defensive coordinator Mark Stoops. "All those things combined, we should have a better 'D' line."

At the heart of the revamped defensive line sit a pair of giant junior college transfers, both top-100 JUCO prospects, according to www.collegefootballnews.com, who will provide the Wildcats with more beef up the middle.

Junior tackles Byron Smith, a 6-foot-1, 285-pound expected starter, and Cerritos (Calif.) College's Rickey Parker (6-foot- 3, 286) bring checkered pasts but lots of ability to the field.

Parker was kicked off of the ASU football team a few years ago for his violations of team and school rules, while Smith was charged with aggravated robbery in Texas during his time at Kilgore College.

"We expect big things," Stoops said. "Both have great talent, and they just need to continue to progress."

Smith said size is the biggest difference he's noticed from his days at Kilgore.

Defensive Line Transfers
Rickey Parker
Junior - Defensive tackle
6-foot-4, 275 pounds
Los Alamitos, Calif.
(Cerritos Community College)
Byron Smith
Junior - Defensive tackle
6-foot-2, 295 pounds
Bryan, Texas
(Kilgore College)
"I'm not the only big person on the field," he said. "Speed is on a different level. You've got to think a lot. You can't just go out there and play, you've got to listen. It's a different level."
Along with expected defensive end starters, seniors Marcus Smith and Copeland Bryan, and junior tackle starter Paul Philipp, the duo of Byron Smith and Parker need to help the defense dramatically improve its sack total after tying UCLA for last in the Pacific 10 Conference with only 20 sacks last season.
By contrast, sack leader Southern California took down the opposing quarterback 50 times.
"It's very important," Byron Smith said. "It starts with us. If we don't come to play, the defense doesn't work. It starts up front, and we need to come to play every week."
While the Wildcats' defense boasts arguably the conference's best secondary, led by senior safety Darrell Brooks and sophomore cornerback Antoine Cason, both Jim Thorpe Award watch list members, that advantage will be neutralized if a quarterback has all day to throw.
Despite having the same defensive backfield starters as a year ago, the Wildcats ranked last in the conference in passing defense, allowing 255.5 yards per game, and picked off a league-low eight passes.
"It's the No. 1 key in the pass defense," Parker said. "The pass rush gives our DBs a break and gives them a chance to play good coverage. It also helps out our offense. If you keep them on the field, keep (the opposition) from driving, keep the ball in our offense's hands, it wins games."
The line also features more quality depth than last year, as sophomores Lionel Dotson and Yaniv Barnett return a year more experienced, while freshmen Garrett Fields and Michael Shelton should also see time on the field. Dotson leads the returning players with three sacks last year.
"It'll keep us all fresh," Byron Smith said of the defensive rotation.
The defense should be able to wear out the opposition's offensive line by rotating these quality players, as well as by having them at a higher energy level, thanks to strength gains from the team's offseason conditioning program.
These pluses give the line an insurance policy in case one of the linemen encounters a brush with the law.
Barnett was twice found with marijuana on campus and referred to the Dean of Students Office, while Philipp was caught with a fake ID card at a bar - all in the past year.
Thus far this season, everyone has seemed to be on his best behavior. With the increased talent and depth on the line, the Stoops brothers - Mark and head coach Mike - should have plenty of options at their disposal.
"We'll play the guys that are prepared and are ready to play," Mark Stoops said.


Write a Letter to the Editor