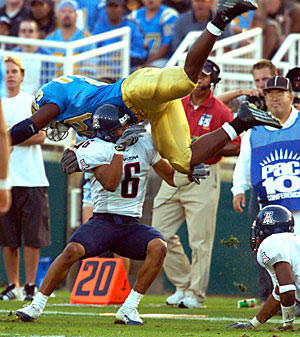 Photos by Chris Coduto/Arizona Daily Wildcat

Arizona's Darrell Brooks upends UCLA's Trey Brown during the third quarter during last season's 37-17 loss at UCLA at the Rose Bowl in Pasadena, Calif. Below, Brooks signs autographs and chats with fans during UA's Fan Appreciation Day August 20. Brooks, who both coaches and athletics officials said is an exceptional student athlete, has become the face of a program that hopes to rebuild.

By Charles Renning
Arizona Daily Wildcat
September 1, 2005
Print this


Brooks leads Cats with

excellence on and off field

Sitting on the patio at Frog 'N' Firkin restaurant on University Boulevard, Darrell Brooks could be any of the nearly 37,000 students who attend the University of Arizona.

He's only a tad taller than 6 feet with a muscular physique - but nothing you'd see on the cover of Flex.

He has a pair of tattoos on both shoulders and wears what many UA students would on a midday Friday - a tank top, sweats and a pair of flip-flops. Really, the only things that set him apart physically are his wide eyes and frequent grin.

But Brooks is anything but your typical Arizona student.

Going into his fifth and final year with the Arizona football team, the free safety Brooks has literally become the poster boy for both the program and the athletic department.

His face appears on light poles around the university, in newspaper ads and on posters promoting the 2005 season.

On the field he has started the last three seasons, been named a preseason All-America candidate, been placed on national award watch lists, been named team captain - twice - led the Wildcats in tackles and has done so in a program that has rebuilt with him leading the charge.

Off the field, he has earned an undergraduate degree faster - 3 1/2 years - than some students choose a major and did so with a 2.997 cumulative grade-point average.

He's earned 18 graduate credits and been the main player featured by the Arizona football advertising campaign the past two seasons.

"He's as impressive a student-athlete as I've been around," said Arizona Athletics Director Jim Livengood. "He means an awful lot to (the department). He's a good citizen. Good athlete. Good person. All the things you want a student-athlete to be, he is."

Brooks has done everything that's been asked of him on the football field. He's started 30 out of the Wildcats' 35 games the last three seasons. His freshman year he moved from safety, the position he says he's played since he was in the third grade, to cornerback because the team already had veterans at both safety spots.

On and off the field, Brooks shows two different personas.

"I think because I'm so aggressive on the field I try to be as laid-back as I can when I'm not involved (with football)," he said. "When the switch gets flipped, I'm a different person."

A big brother on the playing field

It was Arizona second-year head coach Mike Stoops' first game at the helm of the Arizona football team. The Wildcats held a slim 7-3 lead over Division I-AA opponent NAU and were already at a breaking point in the short Stoops era.

The silent crowd seemed stunned at how close the smaller in-state school was playing the Wildcats, and a 2-10 season the previous year still lingered in the minds of the fans.

The Lumberjacks were within scoring range at the Arizona 28-yard-line and were in the middle of a nine-play, 60-yard drive.

On first down NAU ran a bubble screen, the same play they ran to start the game, only this time they faked it and threw to freshman receiver Kory Mahr on a slant.

Brooks wasn't fooled.

In houndlike fashion, the then-junior safety sniffed out the play and drilled Mahr just moments after he caught the pass, knocking the ball loose. The Wildcats recovered the fumble, ending the Lumberjacks' scoring chance and any hope NAU had of knocking off the bigger in-state school.

Arizona went on to score 14 unanswered points in the team's 21-3 win.

"He's as good as just about anyone that I've ever coached," said Arizona defensive coordinator Mark Stoops, whose past students include former NFL first-round picks Ed Reed and Antrel Rolle. "He's got the instincts. He's got the range. He has all the intangibles you want."

Although Brooks' 202 career tackles - 9 1/2 for a loss - two interceptions, 15 pass breakups, two forced fumbles and three fumbles recovered have done a lot for the Arizona defense, his work as a leader has been most beneficial.

Last season, it was his job to acclimate three freshmen into the cornerback positions.

The results? One freshman All-America selection, two All-Pacific 10 Conference selections and a player expected to contribute on both sides of the ball this season.

"DB is a mentor, on the field and off the field. He's been a big brother to me," said sophomore receiver-cornerback B.J. Dennard. Brooks hosted Dennard on his recruiting trip to Tucson and convinced the all-state player to become a Wildcat. "He was about 50 percent of (my) decision to come here."

"(Darrell's) been a big leader as far as defense and (for the) team," said the all-freshman corner, Wilrey Fontenot. "He's just been there to lift you up and (tell you) it'll be all right. He's a good person to be around and someone you want to be like."

The role of big brother/mentor has been something Brooks has embraced.

"I think I kind of accepted this position after (Lance) Briggs and Bobby (Wade) left," Brooks said. "I take a big-brother approach to it, try not to be all in their face, but definitely adamant about what's going on. I try to be as positive and motivating as I can."

"He's a coach on the field," said Mike Stoops. "The guy does great things the way he plays. He just brings a lot of enthusiasm and energy to our team."

All of that enthusiasm and energy has earned Brooks a spot on the watch lists for the Thorpe Award, given to the best defensive back in the nation, the Lott Award, given to the top safety, and for preseason All-America honors.

Despite all of the individual attention, the only time Brooks' voice gets louder and more excited is when he's talking about the team.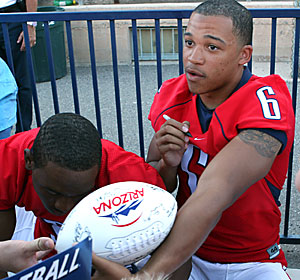 Josh Fields/Arizona Daily Wildcat
'He's as good as just about anyone that I've ever coached,' defensive coordinator Mark Stoops said of Darrell Brooks. The senior safety has been mentioned as a preseason All-American candidate. Oh yeah, he graduated in 3 1/2 years and is working on his master's degree in psychology.
"It's an honor to be recognized, especially by national publications, but it doesn't mean anything," he said. "It'll mean something at the end of the season, because that will mean we played well and we overall accomplished our team goals."
Service with a smile and a handshake
Brooks sits at an autograph table surrounded by 30 or more people. The crowd is made up of dads, grandmas, students, babies. Their ages range from 8 months to 80 years, all wanting an autograph and their own 30 seconds with the Wildcats' safety.
This time Brooks is wearing his turf shoes, practice pants and his No. 6 jersey, but the wide eyes and grin remain.
He goes through all the activities of a good politician - shaking hands, smiling for posed photos. He even grabs a baby and nearly plants a kiss on his forehead.
"I like being around the fans and kids in general," he said. "It's fun for me. The kids are excited. The parents are fun. The Tucson fans are awesome.
"They're always so positive, and the least I can do is come out here and shake a few hands," he said. "I just love mingling with them."
The situation at the autograph session is a far cry from that at Frog 'N' Firkin, where more than 30 people passed by Brooks and not one gave him a second look, despite his face being plastered across copies of a newspaper lying on nearly every table.
The only little kid he had contact with was the one he saved from spilling a pitcher of iced tea.
"I blend in a lot with the student body," he said. "There's hardcore fans that will recognize me, and I don't have a problem conversing with anybody."
Perhaps it's the lack of attention he receives when he's in class and in his social life that have led Brooks to a highly successful academic career.
He earned his psychology degree in December, just 3 1/2 years after arriving in Tucson, and is about halfway toward a master's degree.
"That was something I had planned from the (start)," he said. "I wanted to put myself in a position where I gave myself options. I don't like to be cornered, where I'm forced to do things."
He said family has played a big role in everything he's done, and that his mother, father and older brother have earned their undergraduate degrees.
"My family takes great pride in their education, so I was always going to get it," he said. "I got it done faster."
Although a shot in the NFL undoubtedly awaits Brooks, he wanted to make sure he had a backup plan.
"We'll have to see what the NFL has to bring," he said. "If that lasts a couple years, great. If it doesn't, I think I've established myself and made enough connections that I'll be just as successful off the field as I was on the field."
If he can't have the title of NFL free safety, Brooks said he'd gladly be called the next Arizona athletics director.
"That's my goal," he said. "Me, (Livengood) and (university president) Dr. (Peter) Likins were talking the other day. Dr. Likins is leaving this year, and as soon as Jim leaves, I'll just be waiting for someone to hire me (for) the AD spot."
Brooks is putting himself in a good spot to take the athletics department's top job by taking an internship with Livengood, learning the ins and outs of college athletics.
Brooks said he works with different areas in the department, including fundraising, NCAA compliance, sales and marketing.
Brooks says he puts in roughly 13-hour days, arriving at McKale Center at about 7 every morning and not leaving until after 8 p.m.
Even if you were to take away his early graduation, his NFL-caliber talent at safety, his aspirations of being this school's next athletics director and his public appearances, Brooks still isn't just your typical UA student.
"He's a great example of a student-athlete," Mark Stoops said. "He has his priorities straight. It's refreshing to see that."


Write a Letter to the Editor