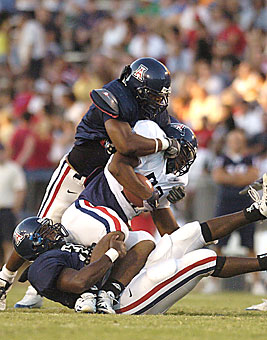 Chris Coduto/Arizona Daily Wildcat

While starting middle linebacker Spencer Larsen recovers from a broken foot, the rest of the defensive unit will look to limit opponent's ground attack and put pressure on the passer. 'The big thing for us is filling our gaps and stopping the run. That's our main emphasis,' said sophomore linebacker Dane Krogstad.

By Roman Veytsman
Arizona Daily Wildcat
September 1, 2005
Print this


To play linebacker for a Division-I college football team, you have to be both fast and strong, with an ideal combination of bulk and bustle.

Oh, and staying healthy helps, too.

With starting middle linebacker Ronnie Palmer out until at least early October with a broken foot, the biggest asset of the Arizona linebacker corps could be its depth.

A total of 10 athletes are likely to see some duty at the position, among them only three upperclassmen.

True freshmen Adrian McCovy and Xavier Kelley, redshirt freshmen Brandon Lopez and James Alford, junior Akin Akinniyi and sophomore Spencer Larsen join redshirt sophomore Dane Krogstad in rounding out the group.

"Having depth is great," Lopez said. "If someone goes down, we'll have backup. We have a lot of young kids who have to learn the system still."

Larsen, an elder statesman because of his two-year Mormon mission in Chile, was hurt during spring and had knee surgery. He isn't expected to be back for at least the first three games of the season.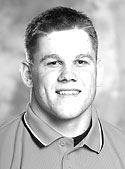 Broken 'backers: Spencer Larsen
Middle, linebacker, sophomore, Knee surgery Out until September
"Those things are going to happen and we have to find guys who can step in and fill in their role. (Larsen's) biting at the bit to get back," said Arizona linebackers coach Tim Kish. "When he gets back in there, he'll compete for a job, so he'll just add depth to our position at that point."
Losing seniors Pat Howard and Kirk Johnson to graduation - both were in the top five in tackles for the Wildcats last season - hurt the unit greatly, but Krogstad said the competition in spring practice will prove helpful.
"This year we're young and we might not have that much experience, but I think the good thing we got is competition and depth, so I think that's our strength right there," said Krogstad, who had 48 tackles last year.
In the 4-3 scheme that the Wildcats run, with only three down linemen, the linebackers have to be versatile. They must help the defensive line stop the run as well as retreat and help the secondary contain the pass.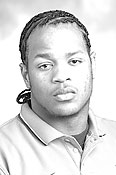 Broken 'backers: Ronnie Palmer
Middle, linebacker, redshirt freshman, Broken foot, Out at least six weeks (retroactive to the week of Aug. 22)
"They have to be tremendously disciplined in their run (assignments), and they also have to be tremendously disciplined in their pass drops," Kish said.
Because of the experience and big play ability of the secondary, stopping the run game will likely be a bigger concern.
"The big thing for us is filling our gaps and stopping the run. That's our main emphasis," Krogstad said. "Then helping out on the pass with the DBs. But our secondary is so good, we have to help out more on the run."
In the one-gap defense, each linebacker must fill his gap, or the opposing offense could shred the whole defensive play into pieces. If the linebackers do fill their gaps, they can create big plays.
"Alignment and positioning are huge because if one person is out of his gap or has a missed assignment, then the whole defensive (effort) is for nothing," Krogstad said. "Because of that one missed gap, they can break a big play.
If the linebackers fill their role - and their gaps on both the field and the roster - it could be a big year for the defense.
"We have to have guys who play consistently," Kish said. "The guys are expected to be leaders of the defense and should be playmakers in this defense. They have to be very disciplined type of players. We're headed in the right direction but we still have a lot of work to do."


Write a Letter to the Editor