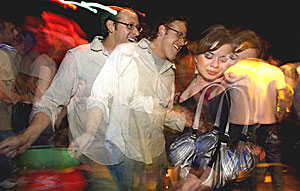 Chris Coduto/Arizona Daily Wildcat

Sophomore cornerback Antoine Cason signs posters during Saturday's Fan Appreciation Day. Fans got to meet players before they took to the field for a final preseason scrimmage. For more information on the scrimmage, see page 31.

By Michael Petitti
Arizona Daily Wildcat
September 1, 2005
Print this


As a rule of thumb, when government officials get involved with nightclubs it's usually for all the wrong reasons. This was not the case when progressive Gov. Janet Napolitano and Mayor Bob Walkup set their sights, in a good way, on Club Congress, 311 E. Congress St., for its upcoming 20th anniversary. The two politicians have both deemed the entire Labor Day weekend - throughout the Grand Canyon State - "Club Congress Weekend."

And why not? Founded in 1985, Club Congress is the longest continuously operating club of its kind (music, art and performance) west of the Mississippi River. So, it comes as no surprise that the club has chosen to honor such monumental news with a huge bash this weekend.

The event is set to feature three days of bands, booze and food (as well as the premiere of local music documentary "High and Dry" for good measure). According to Congress' entertainment director David Slutes, the idea for the event came about rather gradually.

"I had been kicking around the idea ever since I found out we were the longest continually operating nightclub this side of the Mississippi of our kind," Slutes said. "We thought 20 years was a nice time to celebrate our seniority."

We thought 20 years was a nice time to celebrate our seniority.
- David Slutes, Club Congress entertainment director

Slutes should know about seniority. The nine-year veteran worker for the club has a special connection to the place: "I was on the first bill here, in fact, opening for Al Perry," Slutes said. In fact, Slutes' band The Vegas Kids was the first band to grace Congress' stage.
Although Club Congress may now be known to younger generations as one of Tucson's premier music venues, this was not always the case. When it originally opened in 1985 inside the famed Hotel Congress, it was called The Counter Club and featured weekly "theme" parties.
"New young owners took over in 1985 and were approached by some talented artist to make some downtown performance art space," Slutes said. Congress was selected as the place and, as Slutes notes, "the rest is history."
Club Congress anniversary schedule
Friday September 2
Doors 8pm

CONGRESS OUTDOOR STAGE
9:45 Shoebomb
10:45 The Sidewinders
11:45 Giant Sand/The Band of Blacky Ranchette

CONGRESS INDOOR STAGE
9:00 High And Dry Reception
10:00 The Pedestrians
11:00 La Cerca
Midnight The Pork Torta
1:00 Bob Log

IIIRIALTO STAGE
9:15 Ryanhood
10:15 Creosote
11:15 Molehill Orkestrah
12:15 Tesoro
1:00 Dog And Pony Show

Saturday September 3
Doors 5pm

THE AL PERRY ALL-STAR BBQ

5:00 - 8:30 featuring Gila Bend, The Hecklers, Chris Cacavas, Maggie Golston, Tim Gassen and of course, Al Perry and the Cattle. Mesquite-fired Texas BBQ courtesy of Taelyn & Tidypaws.

CONGRESS OUTDOOR STAGE
8:45 35 Summers
9:45 The Knockout Pills
10:45 The Pills/Gentlemen Afterdark
11:45 Tom Walbank and the Ambassadors

CONGRESS INDOOR STAGE
9:00 Mondo Guano
10:00 The Drakes
11:00 Broken Horse
Midnight Chick Cashman
1:00 The Napkins

RIALTO STAGE
9:15 Greyhound Soul
10:15 Naked Prey
11:15 Chango Malo
12:15 Pollo Elastico
1:00 Earl's Family Bombers

Sunday September 4
Doors 5pm

REMEMBERING RAINER: A TRIBUTE BBQ HOSTED BY HOWE GELB
5:00 - 8:30 featuring Howe Gelb and friends. Mesquite-fired Texas BBQ courtesy of Taelyn & Tidypaws.

CONGRESS OUTDOOR STAGE
7:50 Pieta Brown
8:40 The Friends of Dean Martin
9:10 The Friends of Dean Martinez
10:10 Spoke
11:30 Fourkiller Flats

MYSTERY SPOT
11:00 Doo Rag

CONGRESS INDOOR STAGE
9:00 Chris Burroughs and the Nationals
10:00 Less Pain Forever
11:00 The Weird Lovemakers
Midnight Al Foul and the Shakes
1:00 The Solace Brothers

RIALTO STAGE
8:45 Lovemound
9:45 Cosmic Boogie Tribe
10:45 The River Roses
11:45 Green On Red
That history involves Club Congress' gradual transformation from a performance space to a music venue featuring local and national acts. Interestingly, the initial idea for the 20th anniversary of the club was not specifically centered on the club's famous musical entertainment.
"We had originally thought to recreate the original nightclub setting from 1985, when it opened as the Counter Club - art performances and theme nights," Slutes said. "But I realized that Congress had really gained its most local and national notoriety (based) on the live music here. For many years we were the only game in town."
From there Slutes toyed with the idea of asking some of the older local bands from Congress' heyday to play again for the event. However, it soon blossomed into an event bigger than anything Slutes had ever anticipated.
"I know almost every band that has passed through here and thought I might be able to ask a few of the oldsters if they would want to come back and play," Slutes said. "The response was overwhelming: We went from 20 acts to 50, 25 of which are reuniting specifically for the event."
Yes, Slutes' modest plans for an intimate get-together sprawled into the expansive behemoth that has become Club Congress' 20th anniversary. Aside from the music - 50 bands on three stages (Congress' indoor and outdoor stages as well as The Rialto Theatre) - and two documentaries ("High and Dry" as well as the Giant Sand documentary "Drunken Bees"), Slute notes other events that are taking place: "We are also doing art installs, a video screening from as many of the bands here that have made them, two days of music, barbecues and lots of other stuff."
Many of the bands reuniting for the weekend provide a glimpse into the eclectic Tucson music scene of years past. There are new wave/punk pioneers like The Pills/Gentlemen Afterdark, crazy punk-funk rockers like Pollo Elastico, desert rockers like The Sidewinders, and, of course, the granddaddy of them all: guitar legend Al Perry.
Fittingly, Perry, the man who first headlined a gig at Club Congress, has signed on for the monumental event. For Perry (who frequently plays Club Congress), it won't be as much a homecoming as a neighborhood event, like a block party.
"Club Congress is like home," Perry said. "I've played there for 20 years solid now. Other places have come and gone but Congress just keeps going, getting better and better. The vibe is consistently great there."
Regardless of his understandably casual attitude, Perry is excited to see some of his friends and favorites back together and onstage.
"I'm super stoked about Green on Red, the Pills and Broken Horse," Perry said. "A lot, if not all, of the others I've seen 10 or more times already, so I'll just float from stage to stage and socialize."
Along with playing the role of overseer, Perry will also play host as he rocks his own special barbecue set on Saturday.
"It was Dave Slutes' idea actually," Perry said. "He was thinking of the big barbecues they have in Austin. Plus, we just wanted to try something a little different."
Perry - who is admittedly psyched for this event: "I don't get that excited about gigs, least not as much as I used to, but I am super excited about this event" - notes the relevance of this event for the Tucson community and its music scene.
"It's an entirely positive commemoration of the great fucking bands past and present that this town has served up through the years."
A limited number of tickets are still available. Tickets can be purchased online, at the Rialto Box Office, Tucson Zia Records locations and at Bookmans. For more info call (520) 622-8848 in Tucson or toll-free (800) 722-8848. All shows are 21 and over.


Write a Letter to the Editor