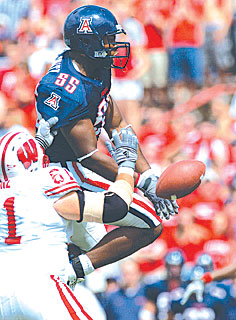 Chris Coduto/Arizona Daily Wildcat

Arizona's pass rush took a hit during last week's loss at Utah. Defensive end Copeland Bryan injured his ankle against the Utes and won't play in tomorrow's home opener against NAU.

By Charles Renning
Arizona Daily Wildcat
September 9, 2005
Print this


The Arizona football team is trying to get over last week's 27-24 loss to Utah, and the Wildcats are hoping a home opener tomorrow night against NAU will have the squad focusing on victory rather than defeat.

"It's a long season, and we have 10 more games, so we have to focus on that and not dwell on what happened last week against Utah," said senior safety Darrell Brooks.

Arizona (0-1) opens its 2005 home schedule tomorrow at 7 p.m. against the cross-state Lumberjacks (1-0).

The Wildcats topped NAU 21-3 last year in Arizona head coach Mike Stoops' debut in Tucson.

The Lumberjacks had Arizona on the ropes in the third quarter, ahead 7-3 and deep in the Wildcats' territory before a forced fumble by Brooks turned the momentum. Arizona went on to score 14 unanswered points.

"They're very similar to the way they were last year," said Stoops about his team's Division I-AA opponent. "Nothing has changed a whole heck of a lot. ... They aren't going to match up and smack you in the mouth for 60 minutes."

Stoops said the Lumberjacks, whom Arizona has played three times in the last four seasons, will try and create mismatches, use stunts and disrupt Arizona's tempo.

Many of the Wildcats agreed that although the Lumberjacks play at the Division I-AA level, they won't be much different than any other opponent on this year's schedule.

"We know we'll have our work cut out for us. We have to play error-free football," said Arizona receivers coach Charlie Williams. "A football team is a football team. When we step on the field they have 11 guys, we have 11 guys."

"They always come in here with something to prove," said Brooks, who also snagged an interception in the win. "They're going to try and put up big numbers. They have tremendous athletes on the field, so you can't take them for granted."

NAU (1-0) at Arizona (0-1)
Tomorrow, 7 p.m.
Arizona Stadium
NAU is coming off a 52-13 win Sept. 1 over Division II opponent Adams State in Flagstaff. The Lumberjacks are led by junior quarterback Jason Murrietta, Tucson prep running back Philo Sanchez and sophomore receiver Kory Marh, who hauled in three touchdowns last week.
One area the Wildcats are hoping to shore up in time for tomorrow's contest is the defensive line. They will have to do so without senior defensive end Copeland Bryan, who Stoops called the team's "best pass rusher, without question."
Arizona gave up 226 yards rushing and didn't record a sack against the Utes.
On offense, the focus flipped to turnovers, mostly with sophomore running back Chris Henry.
In three carries, Henry put the ball on the turf twice, but Stoops said he won't hesitate to throw Henry back into action.
"We're going to give him a chance to play this week," Stoops said. "Chris has played well for us all (during fall) camp and probably is our most improved player on the team."
"We should correct those mistakes we had in the first game and be a lot better," said freshman receiver Mike Thomas. "They're a good football team, and we'll just have to jump on them early."


Write a Letter to the Editor