September 12, 2005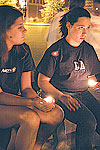 Four Years Later: UA students remember
Vigil held for 9/11, Katrina victims
Students and residence hall employees gathered yesterday for a candlelight vigil to remember the attacks of Sept. 11, 2001 four years later.
About 30 students attended the small vigil in the Highland Commons plaza, organized by the Posada San Pedro residence hall council and hall director Ailton Coleman, to remember and share experiences from Sept. 11 and also to honor the victims of Hurricane Katrina. [Read article]



Evacuees moving on from TCC
Two weeks ago, Alan Jovivett woke up in his New Orleans apartment without power.
Yesterday, the 57-year-old longshoreman sat in a wheelchair at the Tucson Convention Center preparing to relocate to temporary housing as the center closed its operations.
Jovivett, along with his wife, Fanta, were among the last of the 85 hurricane evacuees to leave the TCC because Jovivett suffered from a knee injury in the chaos that followed Hurricane Katrina. [Read article]



Bernsen calls on alumni for child care
Despite missed meeting, pres pushes reform
A student government cabinet meeting to address the issue of child care on campus was canceled last week because ASUAPresident Cade Bernsen could not attend.
Bernsen was absent from Friday's scheduled meeting due to a prior commitment with the Alumni Association. He said this meeting ran longer than expected, which is why he could not make it to the discussion regarding child care. [Read article]



Quick Hits
Last day to increase units, avoid fees
Today is the last day to increase units or have unpaid registration charges without a $250 late charge. This includes internships. Any questions can be directed to the department adviser.
Brewery aims to raise $25K
Gentle Ben's Brewing Co., 865 E. University Blvd., plans to raise $25,000 for victims of Hurricane Katrina. For a $20 contribution, the donator can receive a hurricane-relief fund T-shirt and a free pint of beer or beverage of choice, according to a press release. All of the donations will be directed to the Red Cross. Those who wish to donate but don't have $20 can buy red and blue heart-shaped Mardi Gras beads for $1. A keg modified to look like a piggy bank has also been welded to the floor in the restaurant lobby for extra donations. [Read article]




Country music returns to UA
A band recently nominated for three country music awards will take the stage Friday at UA's Centennial Hall for their last college-venue performance of the year.
The Universities Activities Board booked Sugarland, a fast-rising country music group, in May just before the band decided to end its college tour, said Ginger Eady, coordinator for campus activities and UAB advisor.
The band is making the UA their last college stop because their success and popularity have grown exponentially since their debut, landing the band a bigger national tour with Brad Paisley, Eady said. [Read article]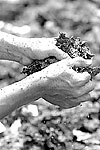 UA researchers studying THC
Studies on naturally occurring chemicals in the human brain that are very similar to marijuana may lead UA scientists toward new developments for pain treatments, neurological disorders, obesity and addiction.
Scientists are analyzing endocannabinoids, a naturally occurring substance in the brain that is closely related to cannabis, or marijuana.
Endocannabinoids are present in every human brain regardless of whether the person smokes marijuana, said Edward French, UA pharmacology professor. [Read article]




Cops get $21K traffic tool
New gear will help UAPD slow campus speeders
Police already conduct frequent traffic stops on campus and now they plan to crack down on fast drivers even more with a new radar system that will help officers detect and curtail speeding, officials said.
A new speed-monitoring device known as LIDAR, or Light Detection and Ranging, was implemented Thursday and will measure a speeding vehicle's velocity like a radar detector, according to a press release. [Read article]



Flashback
Today
1953 - Sen. John Fitzgerald Kennedy of Massachusetts marries Jacqueline Lee Bouvier, a photographer for the Washington Time-Herald, at St. Mary's Church in Newport, Rhode Island.
1953 - Six months after the death of Joseph Stalin, Nikita Khrushchev succeeds him with his election as first secretary of the Communist Party of the Soviet Union.
1977 - Steven Bitko, leader of South Africa's "Black Consciousness Movement," dies of severe head trauma on the stone floor of a prison in Pretoria. Six days earlier, he suffered a major blow to his skull during a police interrogation in Port Elizabeth. [Read article]



Fast Facts
Things you've always never wanted to know
The Statue of Liberty's tablet is two feet thick.
There are on average two credit cards for every person in the U.S.
The slogan on New Hampshire license plates is "Live Free or Die," which are manufactured by prisoners in the state prison in Concord.
Egyptian brewers, who wanted to taste in-process beer without removing the fermenting ingredients that floated on top of the container, probably invented the straw. [Read article]




showAds('bigbutton')?>






showAds('mediumbutton')?>

showAds('wildlinks')?>