September 12, 2005


Arizona runs past Jacks in home opener
Cats dominate first half, hang on for home-opening win
Senior safety Darrell Brooks said it best following the Arizona football team's home opening win over NAU Saturday night.
"A win's a win," he said. "It wasn't pretty, but we got the win."
The Wildcats (1-1) jumped on the Division I-AA Lumberjacks (1-1) early and held on for a 31-12 victory at Arizona Stadium.
"I thought Northern Arizona played a feisty game all night," said Arizona head coach Mike Stoops. "They gave us some problems doing some things." [Read article]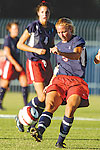 Soccer routs Penn, wins tourney
The Arizona soccer team closed out a four-game road swing by winning the Princeton Invitational with a convincing
4-0 victory over Penn on Saturday.
"It was nice to put in a good performance to finish four games on the road, but we also had the incentive of capturing the tournament title," said Arizona head coach Dan Tobias.
Senior midfielder Mallory Miller scored her third and fourth goals of the season for the Wildcats (3-1-1), both off assists from senior midfielder Nikki David. [Read article]



Dyck plugs hole, volleyball rallies past Santa Clara
Minus a top player and coming off its first loss of the season, the No. 15 Arizona volleyball team defeated Fresno State (31-29, 30-25, 19-30, 30-23) in the Bronco Invitational on Saturday.
With junior setter Stephanie Butkus on the sideline, the Wildcats (5-1) rebounded from a four-game loss Friday to host No. 25 Santa Clara that ended Arizona's four-game winning streak.
Butkus went down with a knee injury in the final game of Arizona's sweep over No. 18 UC-Santa Barbara on Thursday. [Read article]




Game Analysis: A tale of two halves for Cats
A college football game lasts 60 minutes, but for Arizona's 2005 home opener Saturday night against NAU, half of that time was enough to ensure a victory.
Arizona posted 298 total yards in the first half en route to a 24-3 halftime lead, which they rode out to down NAU 31-12.
"This first half we felt pretty good, (but) I'm not very happy with the second half right now," said Wildcats offensive coordinator Mike Canales. "But we had four possessions in the fourth quarter, and we put it in the end zone in the fourth quarter. That's important to us." [Read article]



Commentary: Number magic: 6 ways to get to Sin City
One win, of course. Two wins, duh. Three wins, sure. Four wins, possibly. Five wins, ehhh.
Six wins? Oh, what dreams may come?
That is the magical number your Arizona football team needs to reach to make it to their first bowl game since 1998.
Yep, if the Wildcats win six games this year, they have a great shot at making the Las Vegas Bowl in, yep, you guessed it, Las Vegas.
Close your eyes and imagine this - you're walking down the Strip after a few two-dollar drinks at Barbary Coast, slapping hands with everyone sporting a "Stoops for President" T-shirt, while avoiding those guys that slap down the porn fliers. [Read article]




showAds('bigbutton')?>






showAds('mediumbutton')?>

showAds('wildlinks')?>