September 13, 2005


Vehicle driven by student hits pedestrian
A UA student hit a man who was walking in a crosswalk yesterday evening at the intersection of East Speedway Boulevard and North Mountain Avenue.
Abdallah Nelson, 19, was traveling south on Mountain Avenue and turning left headed eastbound on Speedway Boulevard when she struck Timothy Hart, 26, while he was walking in the crosswalk at about 5:45 p.m., said Officer Dallas Wilson, a Tucson Police Department spokesman. [Read article]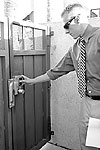 Frat battling 6 MIPs
Members of a campus fraternity are fighting underage drinking charges because they say undercover police officers threatened and intimidated students last month after sneaking onto private property.
When an underage drinking task force comprising members of the Pima County Sheriff's Department and the Arizona Department of Liquor Licenses and Control entered Kappa Sigma's fraternity house around 10:50 p.m. Aug. 26, they did so without probable cause, the fraternity's president said. [Read article]



Vaughn set to crash Centennial
Vince Vaughn, star of the hit summer movie "Wedding Crashers," is set to emcee a stand-up comedy show Monday in Centennial Hall.
The 30-day tour of "Vince Vaughn's Wild West Comedy Show" started yesterday in Los Angeles, and the show will come to its eighth stop when Vaughn takes the stage at UA on Monday.
The show also features comedians from the world famous Los Angeles Comedy Store like Ahmed Ahmed, John Caparulo, Bret Ernst and Sebastian Maniscalco. [Read article]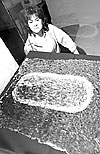 Rare Tibetan artifact on display
In honor of the Dalai Lama's upcoming Monday visit to Tucson, the Arizona State Museum will temporarily display a Tibetan artifact from its collection, officials said.
The exhibit, which opened yesterday and will run through Sept. 22, is open to the public and features a rare section from a robe that belonged to the Ninth Panchen Lama, Qujie Nima.
Ken Bacher, a Buddhist and vice president of Arizona Teachings, said the exhibit was purposely timed to coincide with the Dalai Lama's visit. [Read article]



Quick Hits
Registration fees begin today
Students adding units today will now be charged a $250 late registration fee.
Hurricane poetry blog formed by UA graduate
UA poets who are struggling to process the catastrophe of Hurricane Katrina can log onto www.katrinapoetry.com, to share any thoughts and poetic material with other UA students.
The site was started by Andrew Dobbs, a UA alumnus who graduated last year with a bachelor's degree in creative writing. [Read article]



Playboy model to sign issue today
A few encouraging words last spring from her boyfriend changed UA student Leah Russo's life.
Russo, a communications junior, auditioned for Playboy's "Girls of the Pac-10" issue last spring during open auditions in Tucson and is now participating in the media tour.
"My boyfriend saw an article in the Wildcat and told me to try out," Russo said.
The 20-year-old will be signing copies of the "Girls of the Pac-10" today at the Quick Mart at 1250 E. Fort Lowell Road from noon to 2 p.m. [Read article]



Campus Briefs: Student leaders collaborate to get donations
Groups in the Center for Student Involvement and Leadership are hosting a six-day drive for donations to be distributed by the World Care organizations for victims of Hurricane Katrina.
Student volunteers from the Panhellenic and Interfraternity councils, National Pan-Hellenic Council, Associated Students of University of Arizona, Blue Chip and University Activities Board are also collecting donations on the UA Mall and outside Park Student Union, 615 N. Park Ave. [Read article]




Fast Facts
It is impossible to lick your elbow.
There is a Superman logo somewhere in every episode of "Seinfeld."
Wearing headphones will increase the amount of bacteria in you ear 700 times more than normal.
The toughest tongue twister so far known in English is "Sixth sick sheik's sixth sheep's sick." Try saying it five times fast. Or try saying it one time slow.
The golden dart frog is the most poisonous frog on earth, and the skin of one frog could kill up to 1,000 people. In recent years, a painkiller with 200 times the power of morphine has been found in the skin of the frog. [Read article]




showAds('bigbutton')?>






showAds('mediumbutton')?>

showAds('wildlinks')?>