September 14, 2005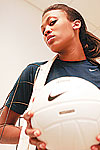 Glass set to end career with a bang
Kim Glass strided over to the edge of the court, jumped aboard a skateboard and proceeded to ride across the McKale Center floor, listening to the screams of teammates observing their leader's season possibly flashing before their very eyes.
As the 6-foot-3 senior with a sore shoulder landed safely on the ground a few feet later, she walked off the court with a confidence befitting a player who has done everything for the No. 20 Arizona women's volleyball team over the past four years but set up the nets. [Read article]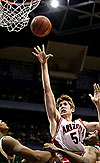 Pastner's Notebook: Walters, Radenovic filling void left by Frye
In this edition of Pastner's Notebook, Arizona men's basketball assistant coach Josh Pastner talks about the status of the Wildcat big men.
Wildcat: With (former center) Channing Frye gone, there are some really big shoes to fill. Is Kirk Walters, who worked out with Los Angeles Clippers center Chris Kaman over the summer, ready to step into a bigger role?
Pastner: Kirk has really made some great strides. From where he was as a freshman to where he is now, he's 180 degrees better than people could have ever believed back when he was a senior in high school. [Read article]




Soccer Notes: David earns Pac-10 player of the week
Senior midfielder Nikki David of the Arizona women's soccer team entered the weekend's games against Princeton and Penn with one assist on the season.
She ended the weekend with one goal and three more assists and as a result earned co-Pacific 10 Conference Player of the Week honors, the first such honor in David's career.
"Yeah, right place at the right time," said David of her performance in New Jersey. "Someone was on the other end to put away my passes." [Read article]




Football Notes: Motorin' Krogstad steps in for injured teammates
Sophomore steps up while learning position on the fly
Ever since last spring the Arizona football team's linebacker unit has been banged up.
First, it lost potential starter Spencer Larsen in spring practices because of an injured knee. Then, senior Randy Sims and redshirt freshman Ronnie Palmer went down in fall camp, just a few weeks before the season opener at Utah.
With the corps looking more like a M*A*S*H crew, the team needed someone to step in and fill the void. [Read article]




Candrea, Lowe mourn loss of Olympic softball
No softball player wants to lose a championship game on a passed ball, but the sport has lost its spot in the 2012 Summer Olympics by its suffrage equivalent - a single vote.
"I was devastated, obviously. I was very disappointed," said Arizona softball head coach Mike Candrea, who coaches Team USA and is awaiting the official results of the team's new roster. "There is not much more we can do right now but strategize and try to fight to get softball back into the games." [Read article]




showAds('bigbutton')?>






showAds('mediumbutton')?>

showAds('wildlinks')?>