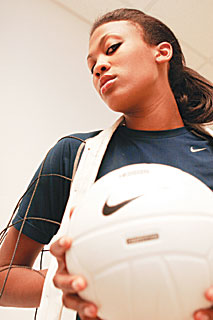 Jacob Konst/Arizona Daily Wildcat

Outside hitter Kim Glass is putting a national championship at the top of her priority list this season.

By Michael Schwartz
Arizona Daily Wildcat
September 14, 2005
Print this


Kim Glass strided over to the edge of the court, jumped aboard a skateboard and proceeded to ride across the McKale Center floor, listening to the screams of teammates observing their leader's season possibly flashing before their very eyes.

As the 6-foot-3 senior with a sore shoulder landed safely on the ground a few feet later, she walked off the court with a confidence befitting a player who has done everything for the No. 20 Arizona women's volleyball team over the past four years but set up the nets.

After rewriting the Wildcat record books and racking up national awards, what's left for the outside hitter who has become the face of the program?

"The most important thing is, I want to win a national championship," Glass said. "About my personal accomplishments, I'm not really worried about that. I'm more concerned about overall outcomes of the game."

Individually, there's not much more for Glass to accomplish. Her laundry list of achievements include being named the 2002 AVCA National Freshman of the Year, receiving second-team AVCA All-American honors as a freshman and third-team as a sophomore and earning All-Pacific 10 Conference honors her first three seasons.

Glass entered this year third all-time at Arizona with 1,526 kills. She also holds Wildcat single-season records in kills, attempts, matches with 10 or more kills and matches with 20 or more kills.

While Glass said these accomplishments do not mean much to her now, Arizona head coach Dave Rubio said she will reflect on them more after this season.

"It's just a testament to the kind of career she's had here and the kind of player that she's become," he said.

This year, Glass is on her way to another impressive season, leading the Pac-10 in kills per game (4.65) while ranking third in points per game (5.50) and seventh in service aces per game (0.45).

While she has dominated on the court, as a senior Glass has embraced the role of leader, an especially important position for Arizona's young team.

Kim Glass
Kim Glass – No. 86
Outside hitter – senior
6-foot-3
Lancaster, Pa.

Career Statistics



2002: 112 games played, 556 kills, 280 digs, 44 service aces, 65 blocks
2003: 116 games played, 650 kills (school record), 337 digs, 46 service aces, 82 blocks
2004: 66 games played, 320 kills, 194 digs, 28 service aces, 48 blocks
2005: 20 games played, 93 kills, 62 digs, nine service aces, 12 blocks
"I expect this to be her best year," Rubio said. "What I'm seeing now is she's really influencing the good nature of the program, and I think that's something she'll be proud of when she's finished, how influential she was not only just as a person who led the team in drills but also because she cared for the younger players and really was an influence on the environment on the floor, how good it was."
Glass said that she sees herself as a leader, making sure that she's always working hard because of the underclassman next to her following her lead.
"I've totally transformed my personality on the court in practice and my communication to the coaches," she said. "I hold myself accountable more on every play, every ball, just making sure that I'm an example."
Fellow senior outside hitter Jennifer Abernathy, Glass' best friend since their junior year in high school, said Glass is both a great friend and teammate.
"She is the best teammate in the whole entire world," Abernathy said. "She's kind of crazy, very funny, always cracking jokes. Usually she's the only person that laughs at her own jokes."
When Glass' injured shoulder that caused her to miss 10 games last season and forced her out of Team USA volleyball action this summer, she used her personality to land a job as a Hooter's waitress.
Glass said most of her customers do not recognize her as a volleyball star, but sometimes her work has served as good publicity for the team.
"Sometimes they're like, 'You play volleyball, don't you?'" Glass said. "I have some who are like, 'We're coming to the games now.' It's kind of a good way to network people a little bit, get some more people to the games, some more fans."
While Rubio said he does not expect Glass to be back at full strength "for a little while," her mere presence on the court changes the game in the Wildcats' favor.
If Glass' shoulder holds up and she stays off the skateboard, she could have the kind of season that makes her one of the greatest players in Wildcat history.
"She's certainly one of the top players that I've coached," Rubio said. "I think there's actually a couple on my team that are terrific, and Kim certainly right now is considered one of them. We'll see.
"Is she the best? I think depending on how this season finishes up, and how she performs during the season, will determine a lot."


Write a Letter to the Editor